So I'm starting my second Boba Fett helmet. This is gonna be another Empire helmet, since I hate the Jedi costume in its entirety (sorry if I offended you, but I'm also not changing my mind). What I have so far is my 3D printed base helmet, all the bits and bobs that go on the helmet (with the exception of the clear part of the rangefinder and the lens for the polaroid thingy), everything I need to smooth out the print lines, and all the paints I need except silver.
The bucket itself is printed from a model made by a guy on TDH called
stryker181
who based his model off of RafalFett's model. Everything else beside the helmet is RafalFett. I only went with the stryker181 model for the bucket since his is higher poly, which means less sanding down the geometry lines.
There's still print lines obviously, but you can see in this next picture the difference in geometry lines on the back panels between the stryker181 model in black and my old helmet. The old one was a model I got off of Etsy, and I tried my hardest to sand down the geometry lines, but they're still visible:
It's very very faint, but I can tell and that's all that really matters. Also note the size difference between the two helmets. The biggest problem I have with the stryker181 model is how big it is (my fault for not checking the size before I printed it) and how thick the walls are. I've heard that stryker181 made his models thicker due to the plastic he was printing with, but I don't have that problem. The thickness of the walls, specifically near the visor section, is something I'm personally really particular about, but this helmet is just a little too thick for my liking. I'll probably at some point make my own model based off RafalFett's for my own uses. Anyways, on to making this bucket into Boba.
I'll be using the tried and true Bondo method for smoothing out all those unsightly print lines. That means smearing Bondo Glazing and Spot Putty all over the helmet and the other pieces, working it into all the cracks and crevices, and then sanding it down. You then repeat until the desired smoothness is achieved, and hit it with a good coat of filler primer... and then sand that too. I did this with all the armor pieces from my last costume, but this time I don't have any time constraints, so I'll take a bit more time to really get this one smooth.
After that I can start painting. I don't yet have my silver can or some humbrol maskol, which I've heard is a good option for masking fluid. The last masking fluid I used was a bottle of Winsor & Newton that I "borrowed" from my sister (she's off at college so I'm sure she wouldn't have minded), but I guess that stuff separates when it gets old or something, because it was REALLY thin like water. I thought that was just how it's supposed to be until I saw some videos of people using it, and it was way thicker there. Anyways, I picked up my spray paints, and this time I only screwed up on 2 colors! It's fine, I can send them back, but here's what $70+ worth of spray paint looks like:
They're all Rust-Oleum 2X Ultra Cover, which is the brand you'll find at most hardware stores. My local Walmart even had a good selection of colors.
From left to right it is...
● Claret Wine
● Colonial Red
● Rustic Orange
● Harvest Peach
● Khaki
● Fossil
● Oregano
● Moss Green
● Evening Navy
● Slate
● Dark Walnut
I'll probably end up playing around with the color selection, mists of other colors and whatnot, but that's the list as it stands now.
And here's the colors compared to my old helmet:
Old color - Moss Green
New color - also Moss Green
Old color - Colonial Red
New color - also Colonial Red
Old color - some camouflage brown along with a black wash
New color - Dark Walnut
Old color - Deep Teal (along with I think a greenish wash over the top)
New color - Evening Navy
Old color - Moss Green
New color- Oregano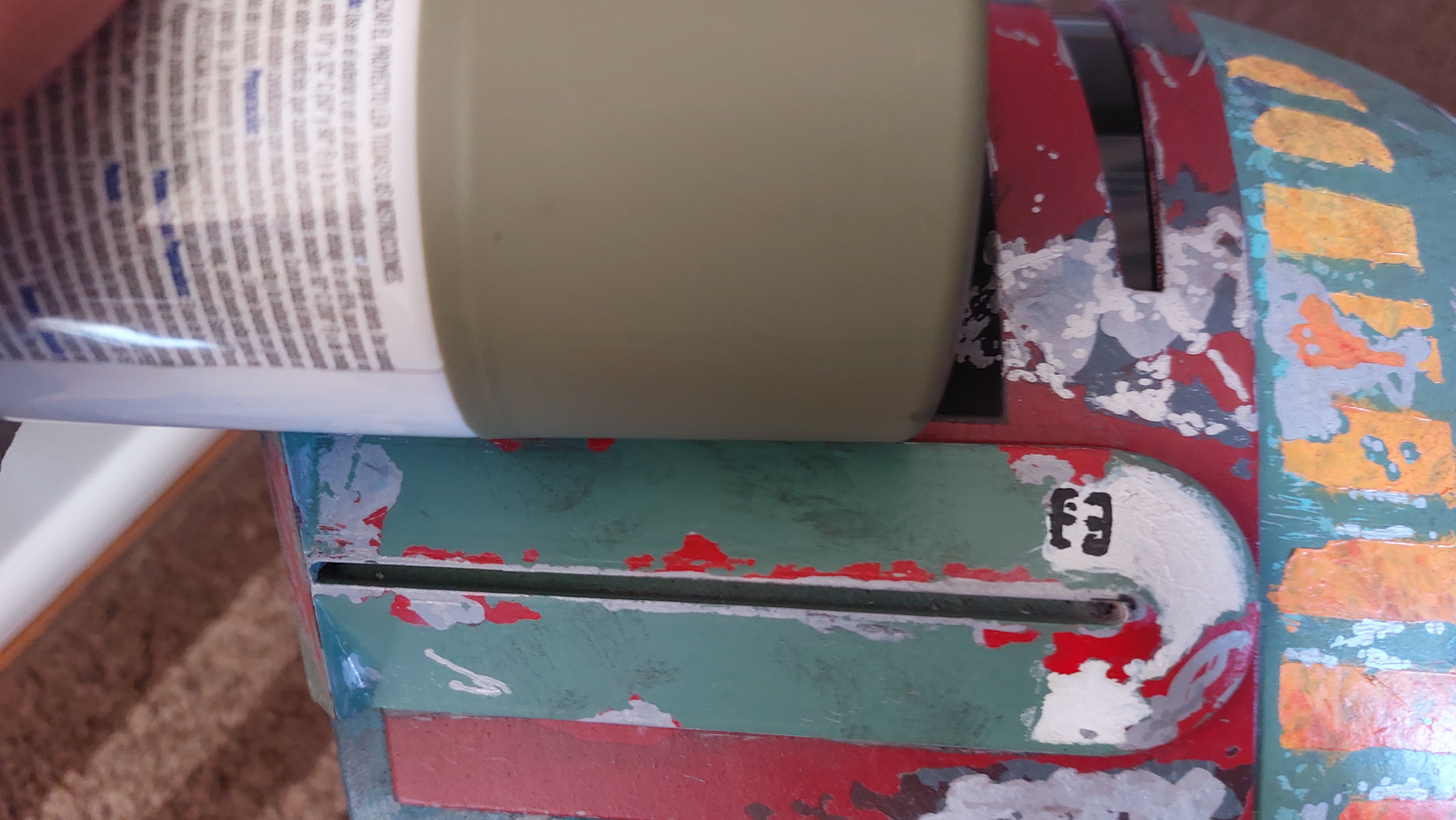 Old color - Nutmeg
New color - Khaki
And now comparing my new spray paint colors with the mixed acrylic paint I used on my last helmet...
Slate
I think I got this one nearly perfect last time with just acrylics
Fossil
The old one was clearly darker, but I'm not sure which one I'll like better until it's on the helmet
Claret Wine
I swear this is comparing to the dark maroon, but this new color really does look like the mandibles. I'll probably have to mist this with some Dark Walnut.
Harvest Peach
Again, past me did a really good job on this one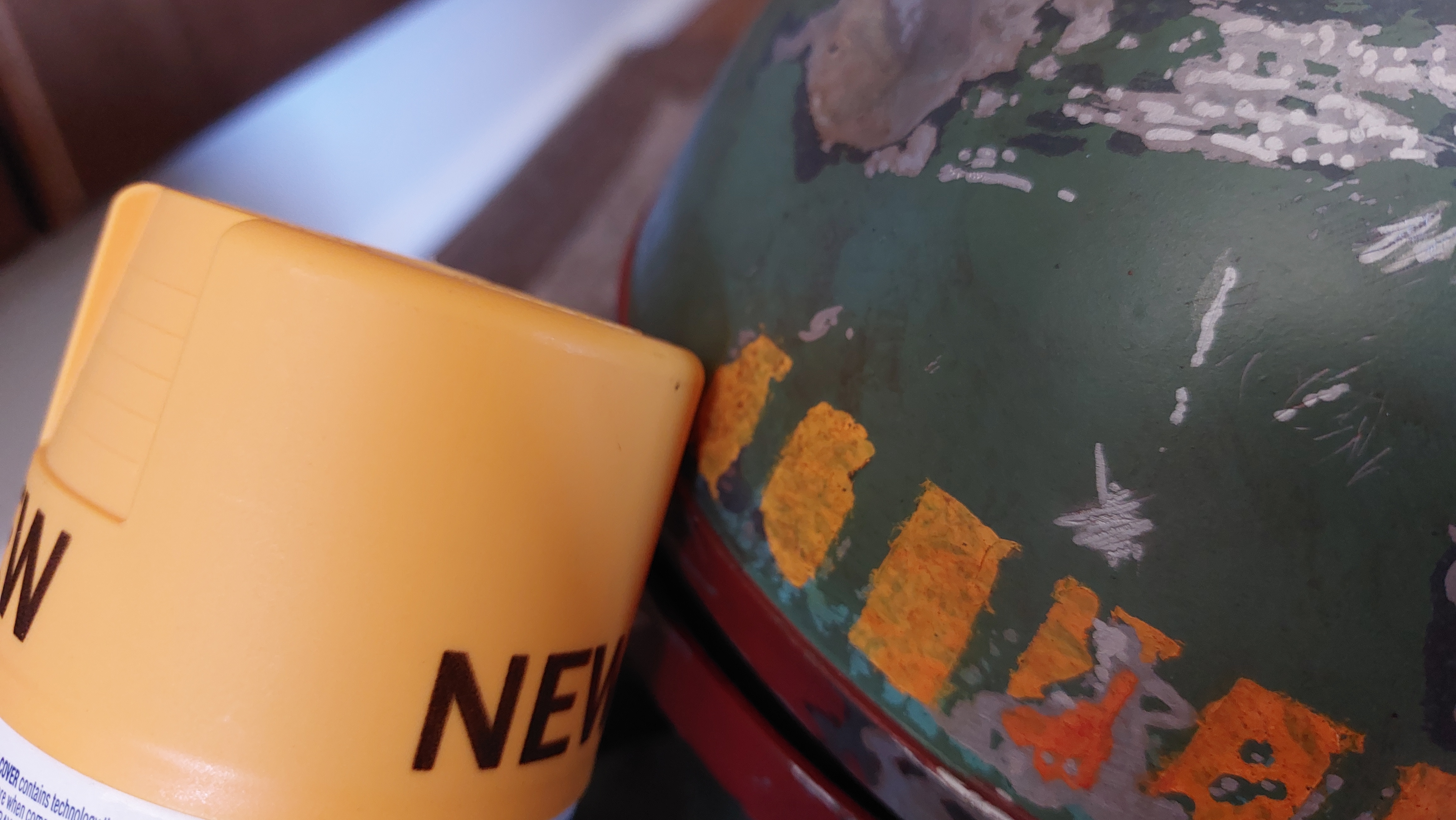 Rustic Orange
Past me might have put a little too much red in the back. We'll see.
And one more picture with the new helmet and all the spray cans around it
I also forgot to mention, two of these colors are matte, one is gloss, and all the rest are satin. I'm still trying to decide whether I should go with a satin clear coat or a matte clear coat. Someone really needs to invent a finish between matte and satin already. Just for reference, I used a satin clear coat on my old kit, and you can see from the pictures that it's fairly shiny. I don't know if I like that or not.
Last edited: