Hi there!
I haven't finished the paint job on my first scratch build yet, but I already started on my second build of which I might be tempted to make a casting :rolleyes.... if I figure out how to do that!
Anyway, since I got so many inquiries about how to actually deal with Alan's templates, here's is my approach. With plenty pics o'course.
First of all, I start out by taping the biggest parts of the W
F templates (pages 15+19 and 16+20) together as shown in these pics: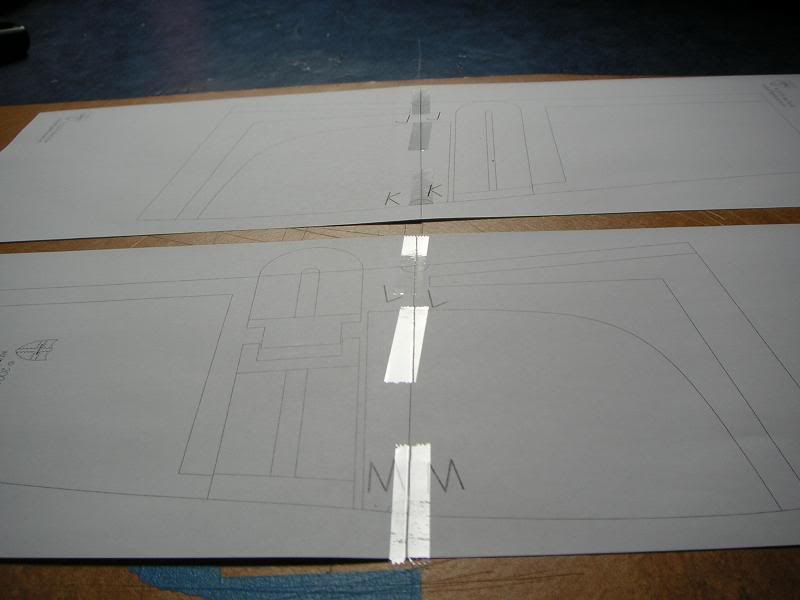 Then I transfer them onto the cardboard (2 mm thickness here in metric Europe) and cut out one big piece which forms the "Outer Layer".
I do the same for the 4 parts ( pages 13+17 and 14+18 ) forming the "Inner Surface" and bend this large piece into shape very slowly and carefully.
I do this by moistening the cardboard first with a misting bottle (for spraying plants) or wet spunge. Don't soak it though!
I bend it around the shape that is formed by pages 9 and 10 called the "Dome Base Right/Left side":
I join the two ends of the cylinder shape by glueing them together with an extra piece of cardboard, as such:
Phew!
Let's leave that to dry for like 12 hours at least.
Back soon. Now I'm going to check out that
HOT
thread about the 1986 Fett helmet by Banzai88! Very exciting stuff!
Later,
Peter
__________________
"With great power comes great responsibility"
Last edited by a moderator: