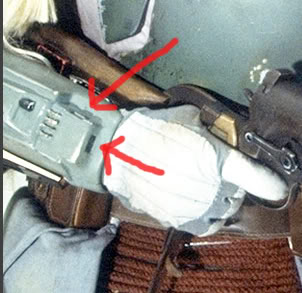 Hey guys… just trying to pull together my FP gauntlets and these two greeblies/ buttons have me stumped. I'm not sure if they've ever been identified or not. They seem to only be on the ESB gauntlet and not the ROTJ version. They one on the front of the gauntlet looks like it may be sort of "port" for a cable… or something, the other seems to just be a square push button.
:confused
Anybody have any ideas? Is there any sort of off-the-shelf item I could use for these? I'd like to get something as accurate as possible to the screen used item, but if it means I'll have to look through piles of European 1960s word processors for the next 10 years… I think I'll just go to Radio Shack and find something close enough.
Sorry for the size of the pic… I'm on my work computer and don't have all of my ESB ref pics. Thanks for looking!
Last edited by a moderator: