I started this ESB build in 2009, but for reasons out of my control, like never getting my original fully paid armor order from some feckless character calling himself 'Fettpride', among others, the project got put on hold.
My motivation for this build is different than my ROTJ. Because the ESB costume simply does not exist anymore, my goal is to try resurrect that costume as a museum-quality build with as many vintage found parts, original techniques and vintage paints as possible to match the on-screen original as accurately and authentically as possible.
Parts list ​
lineage parts
vintage found parts
unconfirmed found parts
from makers of the original costume parts
​
Helmet

- MCR-ESB (restored to circa 1979 condition)

Helmet MQ-1 Circuit Board

- vintage MQ-1 calculator board.

Helmet Honeywell Micro Switch

- vintage Honeywell micro switch, date stamped 1978 week 41
Helmet Rangefinder - Terminal Fettler

Helmet Rangefinder Eye Piece

- vintage polaroid SX-70 found part, correct version with angled lens
Helmet Metal Ears - Elstree Precision Co., Limited Edition Re-Run Set #EPC15
Helmet Metal Borden - Elstree Precision Co.
Helmet Chin Cup - vintage found part

Helmet Chin Straps

- probable vintage found part,

late 70's Standard Everoak motorbike helmet

Helmet Interior Harness

- vintage Joe Brown Climbers helmet
Helmet visor - smoked acrylic plexiglass sheet, heat-shaped in mold made from MCR lineage helmet visor
Helmet interior electronics - all vintage found parts build
Bonnet/cowl - Clothears
Armor - currently revamping for accuracy (starting July/21)

Knee Darts

- vintage Michell sweep arm part (cone) + Dark Side (cylinders)
Armor Collar Studs

-

possible vintage found part: Litton Royal 242PD adding machine keys, ebay

Chest Armor Light Display - Fettronics, programmed for the scene 371 display
Jetpack Harness - Mojo Fett & Bobby Fett UK v2 screen accurate harness with four panel waist belt (2010)

Jetpack Harness US Divers Belt Buckle

- vintage found part, eBay
Jetpack Beacon - Serenity (2010)
Jetpack Beacon Lighting Kit - custom 6 volt bulb setup
Jetpack metal collar - MachineCraft replicas

Jetpack Stabilizer

- vintage Michell sweep arm part
Jetpack Thruster Greeblies - Dark Side

Jetpack Micro Mega Endodontic File

- vintage red 90 (I don't believe it's blue)
Jetpack Hooks and Clips - Bobby Fett UK? Mojofett? Uncertain
Gauntlet Kit - MinuteFett
Left Gauntlet Glenross Dental Expander Screw - cast metal replica from original vintage found part, courtesy of Evilhemmes

Left Gauntlet 'Laser' with Copper Tip

- Elstree Precision Co., Limited Edition Re-Run #EPC29

Left Gauntlet keypad

- vintage MQ-1 calculator part.

Gauntlet Micro Mega Endodontic Files

- vintage red 45, silver 70

Right Gauntlet Darts

- one vintage Michell sweep arm part, remainder are Machine Craft nickel plated magnetized replicas

Right Gauntlet Ever Ready Minilight

- vintage found part
Cape - vintage WW2 US Army half shelter
Wookie Scalps - made from scratch using nylon hair from Etsy
Flak Vest - Clothears
Flight Suit with neck seal (One Piece) - Clothears
Hip Pouches - Clothears
Gloves - Clothears

Girth Belt

- custom made with real mohair and roller buckles matching more closely to original
White Vinyl Ammo Belt -HandmadeHorrorShop on Etsy/TDH

Sidearm Holster

- vintage Nemrod holster, ebay

ESB Sidearm

- vintage model Pulce 40, ebay

Shin Tool Sonic Beam Weapon

- Paterson RC Print Squeegee from B&H

Shin Tool Anti-Security Blade

- Paterson RC Print Squeegee from B&H + 1 Michell stylus brush vintage found part with 1 Mojofett replica

Shin Tool Survival Knife

- Paterson Stirrer
Shin Tool Mystery Tool - aluminum tube, 30mm wide x 3.5mm thick, Amazon.com
Boots - Imperial Boots size 11
Boot Spikes - Probably Mojofett
ESB EE3 Blaster - Sidewinder (I sold my original vintage webley flare gun with all found parts -- too heavy for manny display)
ESB EE3 Blaster sling - simple leather strap, Amazon
Okay, starting with the old Pulce 40 which was in storage for a decade. Going to do the holster while I'm at it.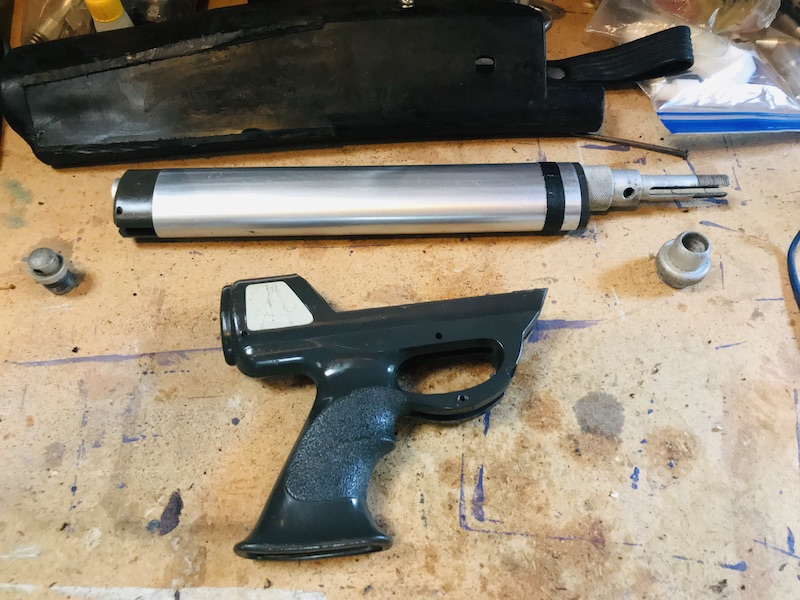 Floquil 110601 is hard to come by anymore. Anybody know a good match for that old paint? Or better yet, anybody have any leftovers they don't need?
Last edited: