I started this ESB build in 2009, but for reasons out of my control, like never getting my original armor order after a decade of waiting, among others, the project got put on hold. Some of these parts where purchased a decade ago and the info of who I got them from has been lost. But during the crazy downtime of the pandemic, I am committed to completing ASAP.
Parts list (vintage found parts in bold):​
Helmet - G4/G5 lineage ESB resculpted for ESB production time period by Minutefett (still in production)
Helmet Paint Job - currently undecided
Helmet MQ-1 Circuit Board - vintage found part MQ-1 calculator.
Helmet Honeywell Micro Switch - vintage accurate switch
Helmet Rangefinder - Terminal Fettler
Helmet Rangefinder Eye Piece - vintage polaroid SX-70 found part
Helmet Metal Ears - Elstree
Helmet Metal Borden - Elstree
Helmet Chin Cup - vintage found part, ebay. But is currently not the correct version. WTB correct 3-hole version
Helmet Chin Straps - vintage found part, ski-doo helmet, ebay
Balaclava - by TDH member from 2010. no record who made it. Might replace.
Hero Armor - WastedFett
Shoulder Armor Lineage - MinuteFett
Knee Darts - Russrep? and vintage Michell Sweep arm part
Armor Collar Studs - vintage 1970's calculator keys, ebay
Chest Armor Light Display - Fettronics
Jetpack - Man of War or Bobby Fett UK. Not sure. Think it's Rob's.
Jetpack Harness - Mojo Fett first (and only?) run 100% screen accurate harness with correct vintage 4-stripe seat belt strapping, circa 2010. (Might be designated Mojofett V2 or V3?)
Jetpack Harness US Divers Belt Buckle - vintage found part, eBay
Jetpack Beacon - unknown maker. Maybe Mojofett? First available reproduction to have brass topper with top dome, circa 2010
Jetpack Beacon Lighting Kit - Fettinator Industries making my own 12v bulb setup
Jetpack Stabilizer - vintage Michell sweep arm part
Jetpack Thruster Side Greeblies - Russrep?
Jetpack Thruster Front Greeblies - Russrep?
Jetpack Micro Mega Endodontic File - vintage found part, red 90
Jetpack Hooks and Clips - Full Metal Fett? Mojofett? Uncertain
Gauntlet Kit - MinuteFett
Left Gauntlet Glenross Dental Expander Screw - cast metal replica from original vintage found part, courtesy of evilhemmes
Left Gauntlet Rocket with Copper Tip - rebelscum.com
Left Gauntlet keypad - vintage found part, MQ-1 calculator.
Gauntlet Micro Mega Endodontic Files - vintage found parts, red 45, silver 75
Right Gauntlet Darts - one vintage Michell sweep arm part, remainder are Machine Craft nickel plated magnetized replicas
Right Gauntlet Ever Ready Minilight - vintage found part
Cape - another member on TDH who I cannot recall, circa 2010
Wookie Scalps - planning to do these myself
Flak Vest - Clothears (currently on order)
Neck Seal (Attached to Flight Suit) - Clothears (currently on order)
Flight Suit (One Piece) - Clothears (currently on order)
Girth Belt - Ovation Centaur mohair girth, Amazon
White Vinyl Ammo Belt - HandmadeHorrorShop on Etsy/TDH (working with him to source correct vinyl)
Hip Pouches - Clothears (currently on order)
Gloves - Clothears
Sidearm Holster - vintage Nemrod holster found part, ebay
ESB Sidearm Pulce - vintage model Pulce 40 found part, ebay
Shin Tool Sonic Beam Weapon - Paterson RC Print Squeegee from B&H
Shin Tool Anti-Security Blade - Paterson RC Print Squeegee from B&H + 1 Transcriptors Engineering stylus brush and 1 Michell stylus brush vintage found part
Shin Tool Survival Knife - Paterson Stirrer
Shin Tool Jetpack Adjustment Tool - scratch built
Boots - Imperial Boots size 11
Boot Spikes - Probably Mojofett
ESB EE3 Blaster - Sidewinder (I sold my original vintage webley flare gun with all found parts -- too heavy for manny display)
ESB EE3 Blaster sling - simple leather strap, Amazon
Okay, starting with the old Pulce 40 which was in storage for a decade. Going to do the holster while I'm at it.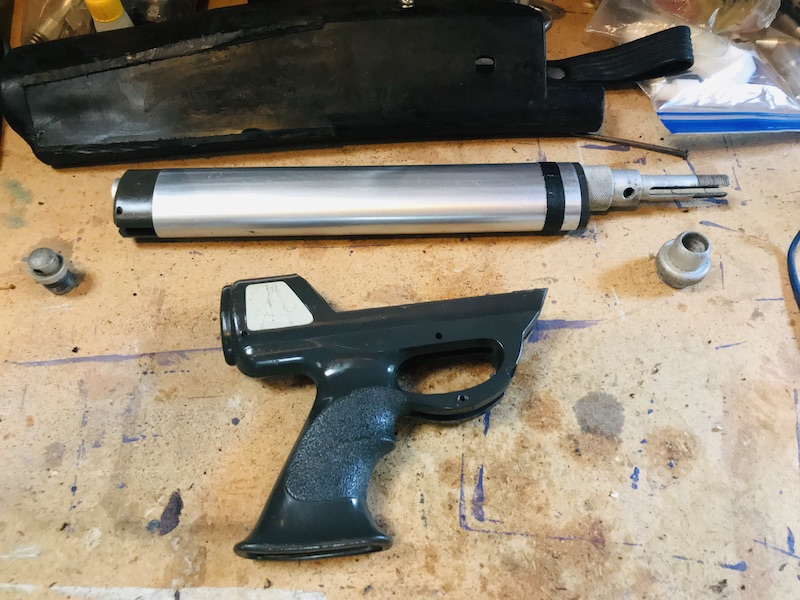 Floquil 110601 is hard to come by anymore. Anybody know a good match for that old paint? Or better yet, anybody have any leftovers they don't need?
Last edited: