I just realized I never posted this on TDH, but in May of this year I completed my ESB Boba Fett. I owe a lot of people here on this forum credit for providing their parts and services so here I go:
Helmet: ASOK Budget CC/ Painted by AFFO$ / JC27 light kit
Vest / Neck Seal: Bat Ninja
Flight Suit: Arkady
Chest / Back Armor: RKD / Imperial Outpost Armory- painted by 22ssplit
Cod/ Kidney / Knees: Bobamaker - painted by 22ssplit
Gauntlets: FP2 kit- assembled and painted by 22ssplit
Jet Pack: Fettseven, assembled and painted myself
Jet pack Frame: BBF Replica's
Divers Buckle: Original US Diver found part
Ammo Belt & blaster sling: 99 cent taco
Girth belt: ManofWar Studios 2014
Boots: Manofwar Studios 2014
Cape & Wookie Braids: Woodman
Holster: Nemrod (FP Cast I believe?)
Blaster: Sidewinder with Electronics
Shin tools: Patterson found parts and cast replica parts
Gloves: Saint Nasty
Fettronics ESB chest display
Darkside light beacon.
Ok, here we go! Like all builds this one started from very humble beginings. I ordered and received my flight suit from Carole (Arkady on TDH) and a poorly painted ESB ASOK. I tried to strip the paint job off and start over but ended up ruining the CC finish so I had to purchase a new ASOK budget Boba CC. I have 3 of these helmets and love them all because I have a fat head and they just fit me good.

New helmet!
ASOK Helmet
I knew right away that I wanted this helmet to be as perfect as possible and felt that skill still eluded me so I sought out AFFO$ on TDH to paint it for me. I was absolutely thrilled with what he delivered back to me:
FettSeven Jet Pack
I have been lugging my MOW Jetpack around for 2 years and I love it, but I also wanted to check out the Fettseven fiberglass one which is smaller/ lighter. Here is a little side by side comparison to see the difference for yourself.
All-in-all I really enjoyed working on the Fettseven jetpack and it is much lighter. Arguments could be made that it might look too small on really large Fett's, but I have seen smaller ones in use for sure.
This was the first project I used the Humbrol paints and airbrush on. I have to admit that I absolutely LOVED IT!
Base green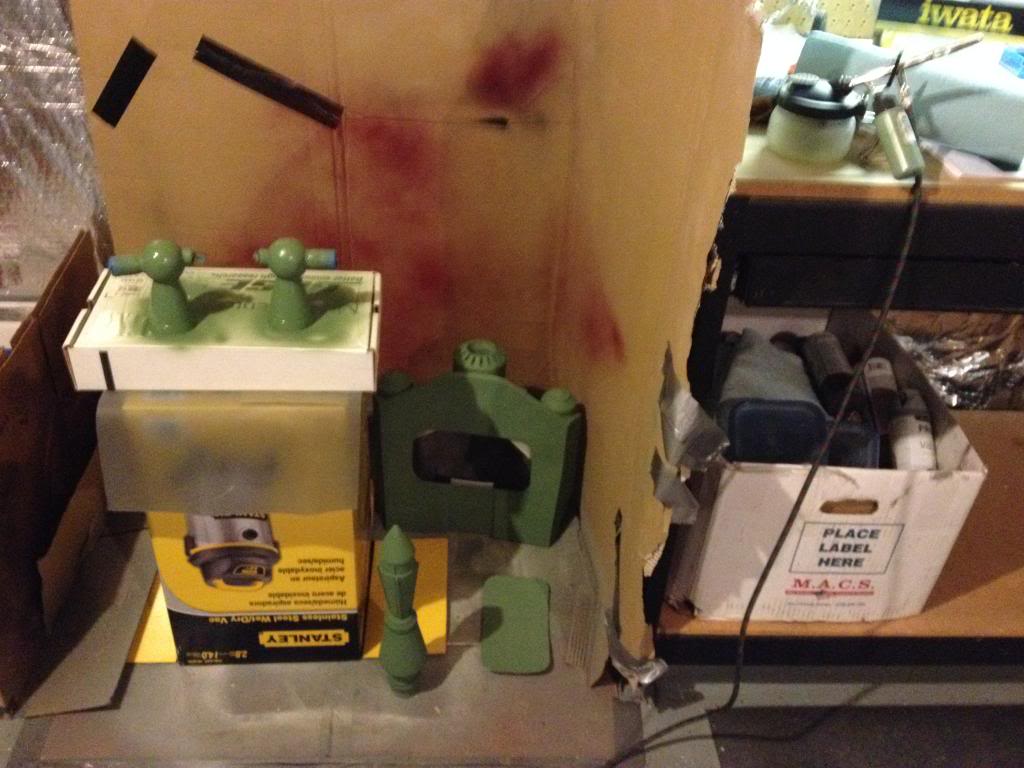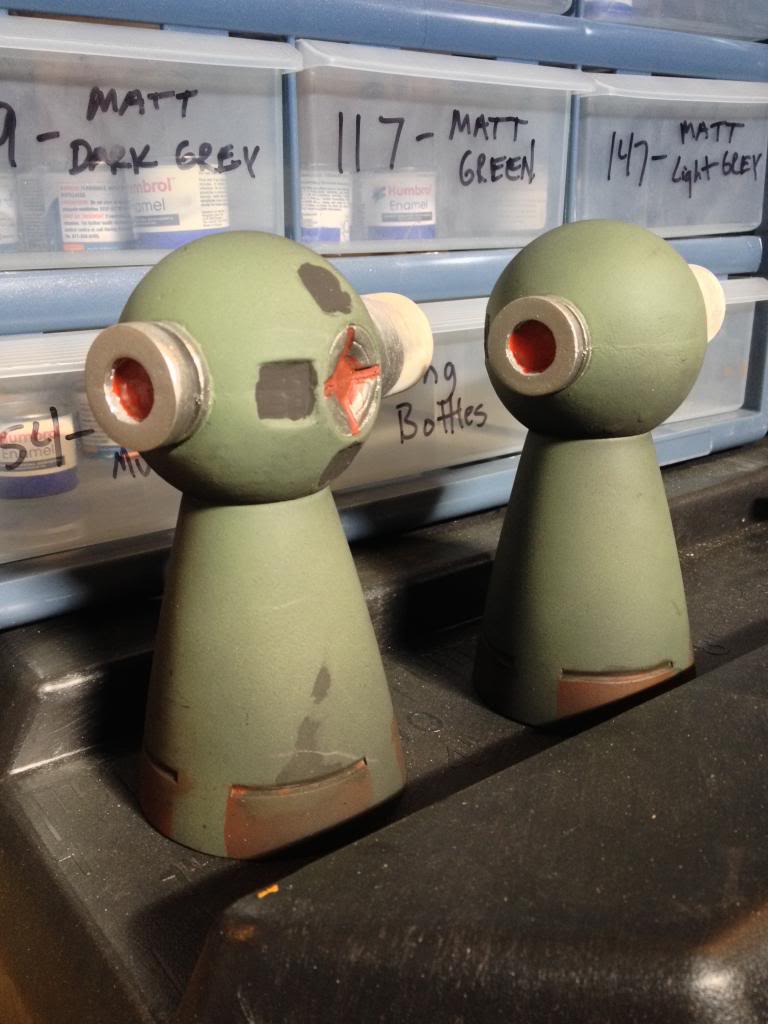 Airbrush work complete
Installing the Dental expander & Darkside Light Beacon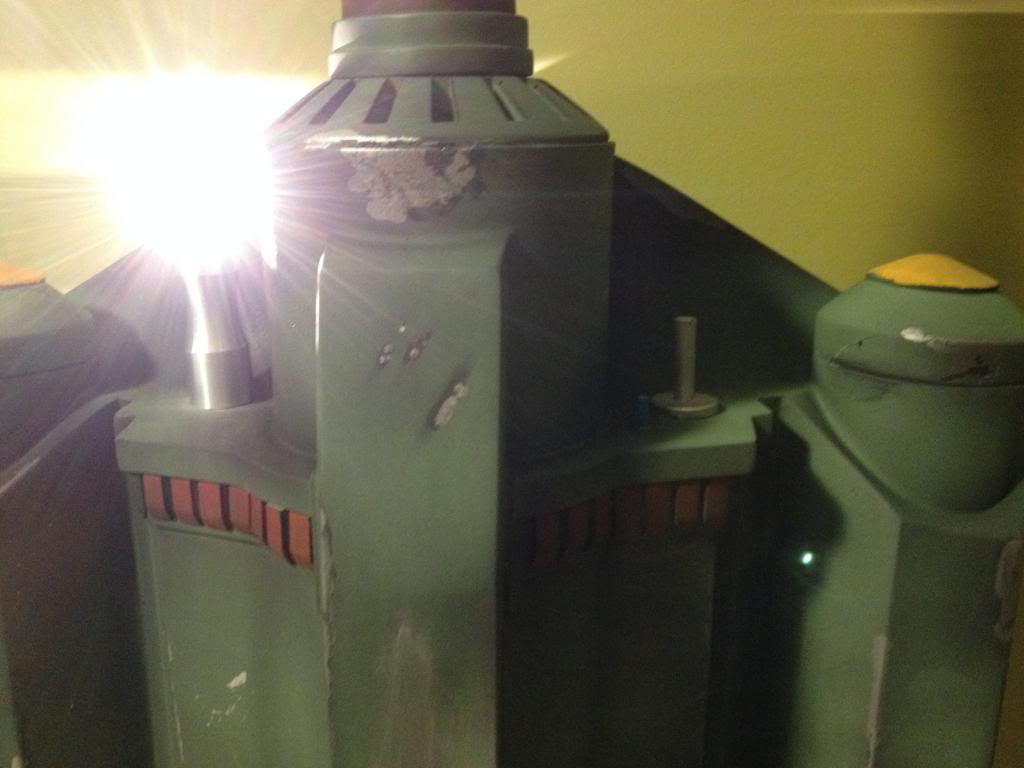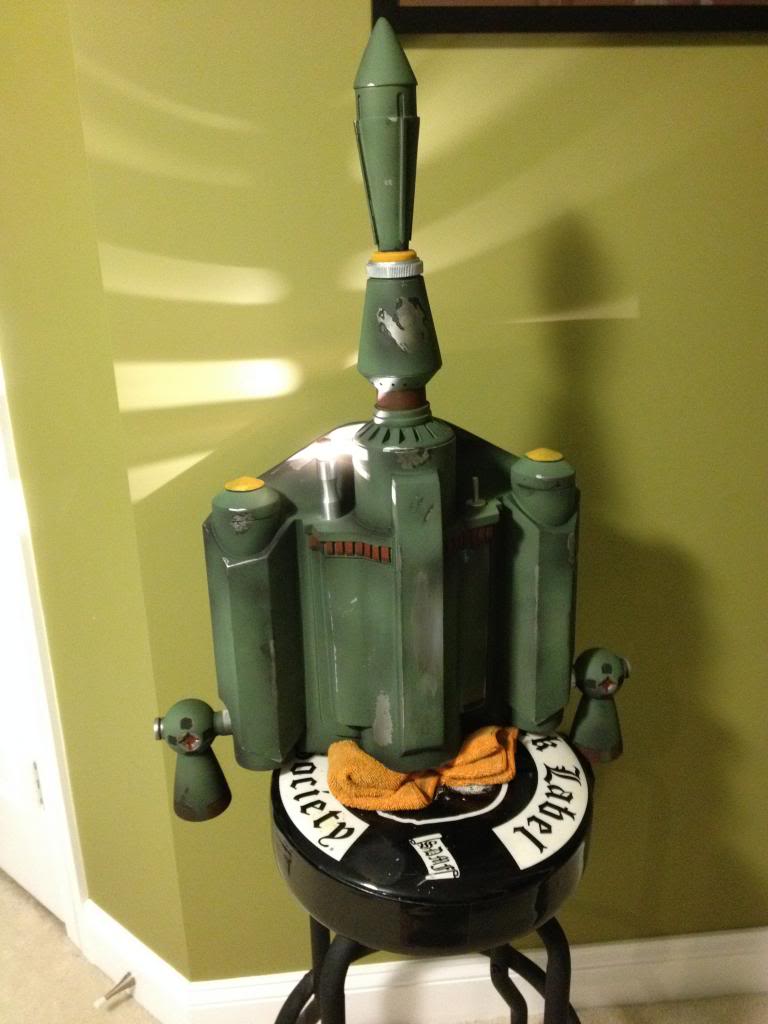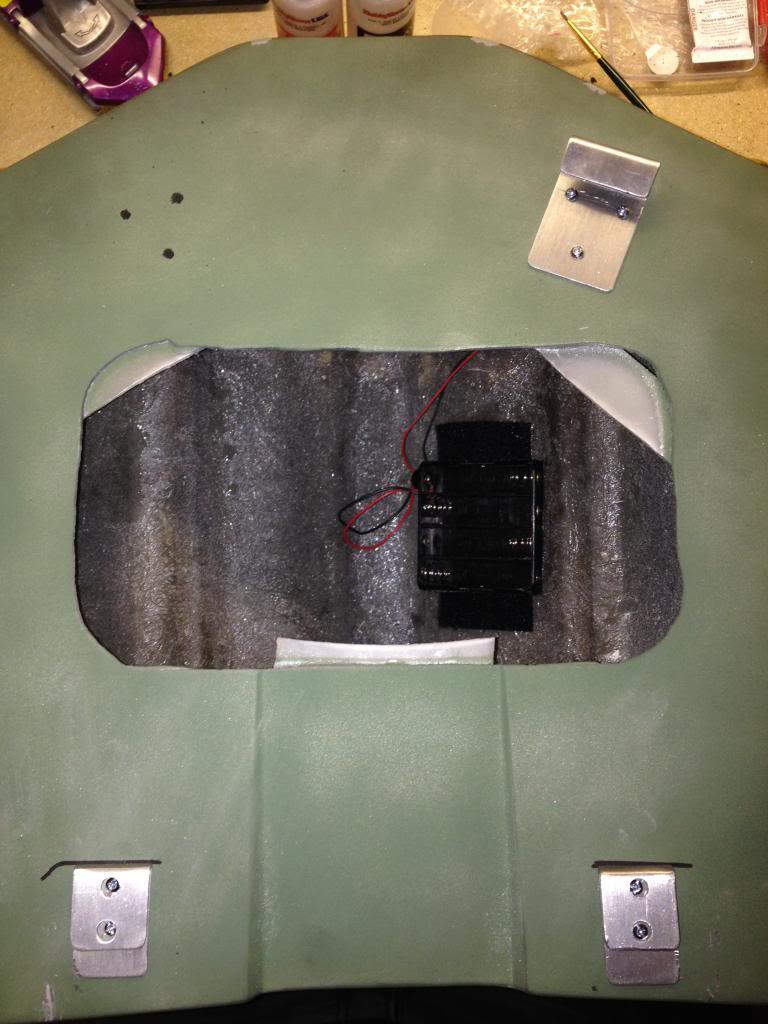 weathering by hand using Windex/ Acrylics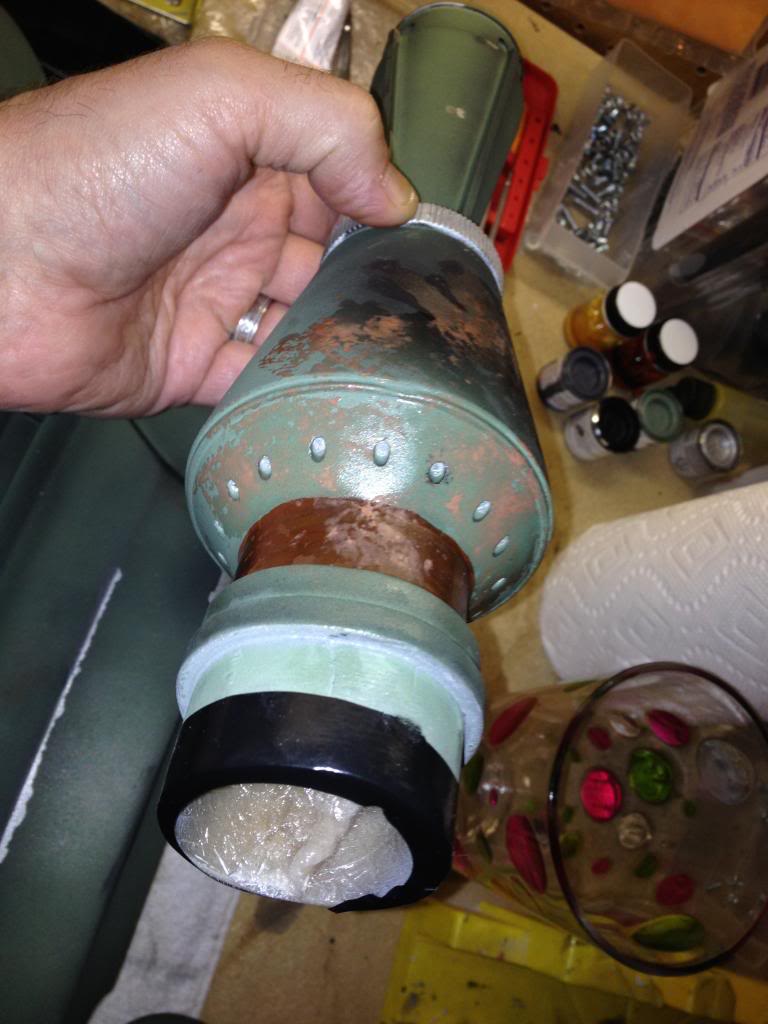 Note: I found a single wrap of black electrical tape around the base of the rocket assembly is perfect to hold it in tight without moving around yet easy to remove for transport.
Hand Painted details & Complete!
Also pictured is my Sidewinder blaster with 99 cent Taco sling and a real scope, BBF Replica's harness with the left side replaced by a real vintage US Divers belt/ buckle.
2014 MOW Boots
Hand painted the black pane, then airbrushed on the weathering. Followed up with hand weathering mix of Windex and black acrylic paint.
The Armor
I love Imperial Outpost Armory, so I started out with a full order of RKD's but in the 2 years this project sat I picked up a couple other parts from FP (guantlets) and Bobamaker (knee, kidnet, cod) that I decided to use instead due to how well they fit me and the fact they were mostly finished.

A time for a little honesty here- although I was busy with work, family, moving into a new house and trooping I did go through a big dry spell where I wasn't motivated to get into my workshop and work on this because I was having too much fun playing video games. I literally couldn't force myself to get started again so I needed help. I watched a lot of WIP threads go on and saw some really good talent on TDH. I even contacted david Ellis (22ssplit) about 9 months ago to paint, but backed out because I thought I was going ot do it... which I didn't of course, lol. I finally decided to go ahead and commision it to him which would force me to work on my Jet Pack and get this build finished (which it did!). I was ery happy with the work he did on it and I highly recommend his work to anyone. I added a few scrapes and detail work then sealed it all in a nice dull coat.
I fit the pieces and connected with bolts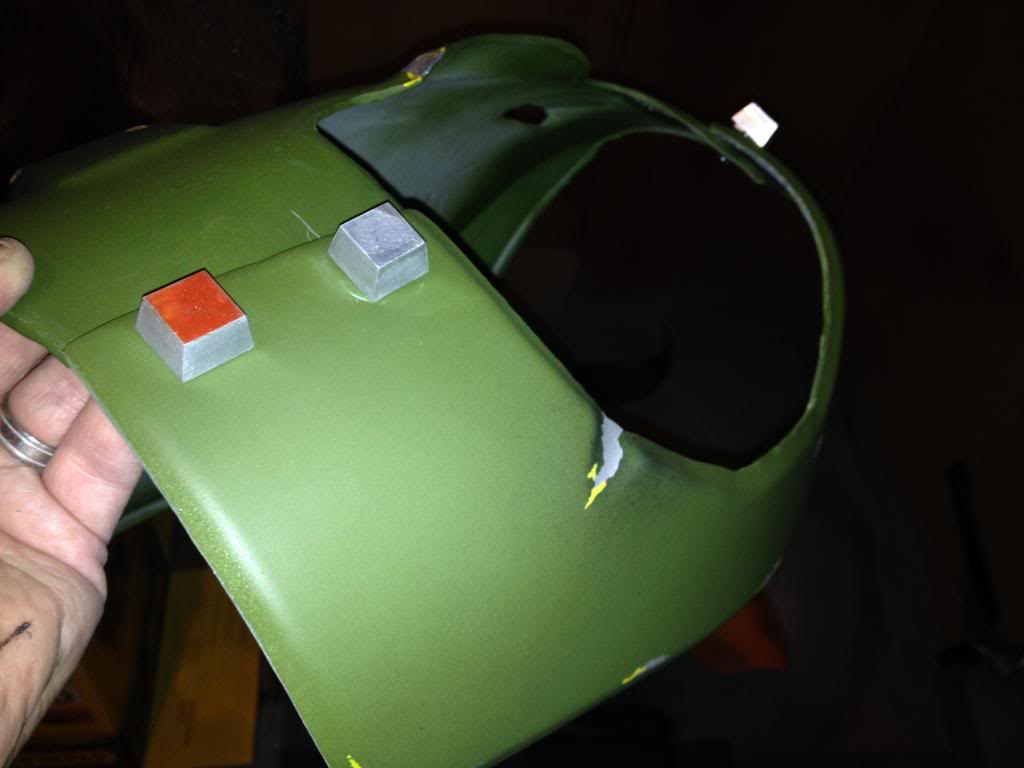 A test fit revealed I had a huge "hump back" going so I had to trim and heat gun it back into normality.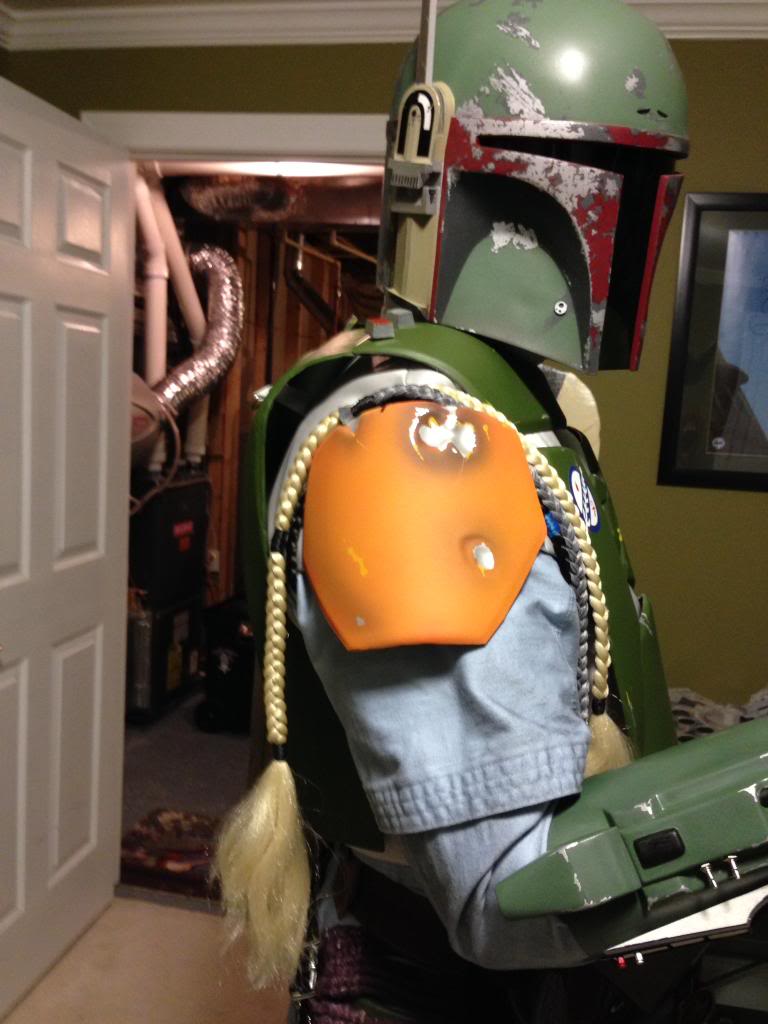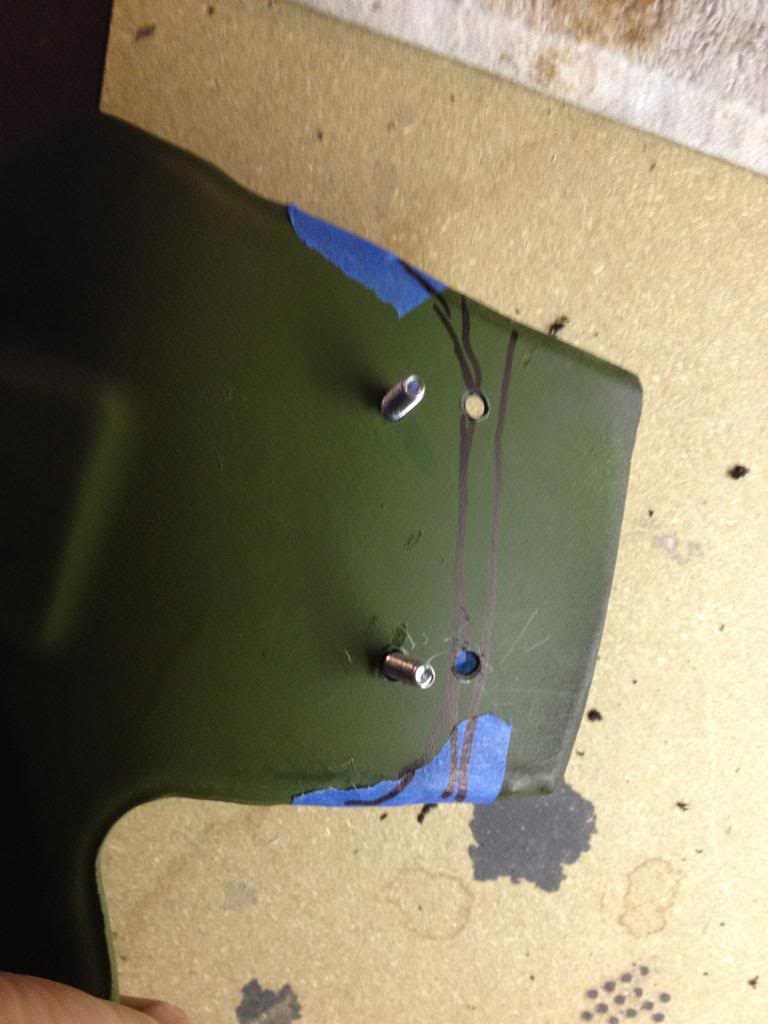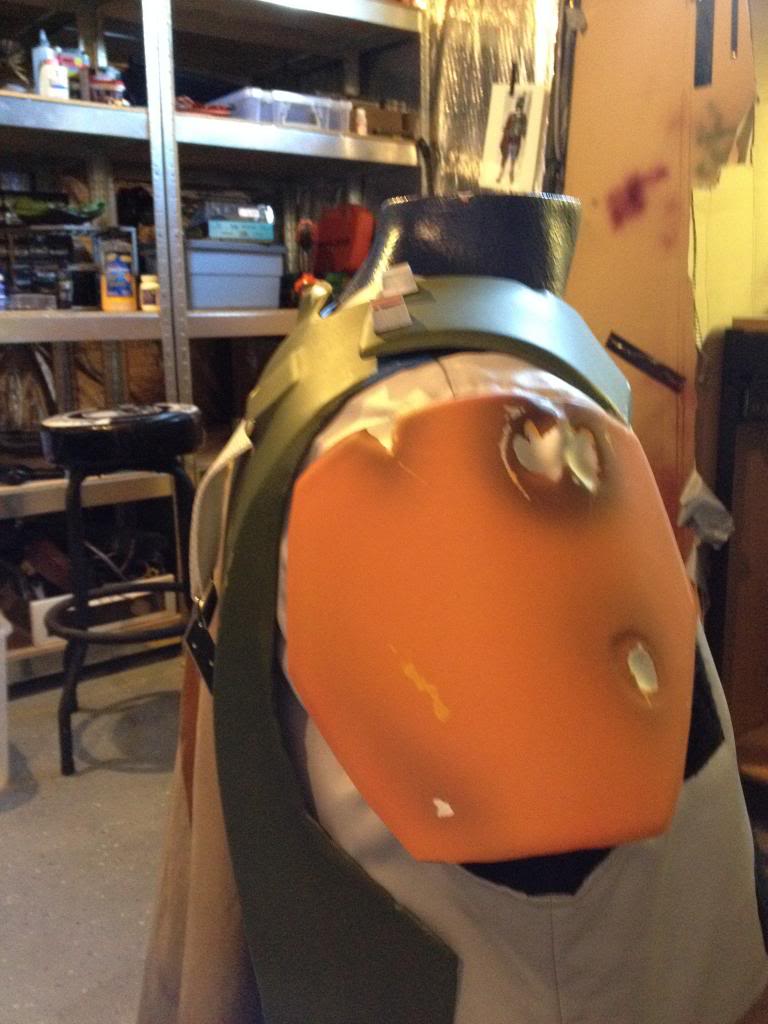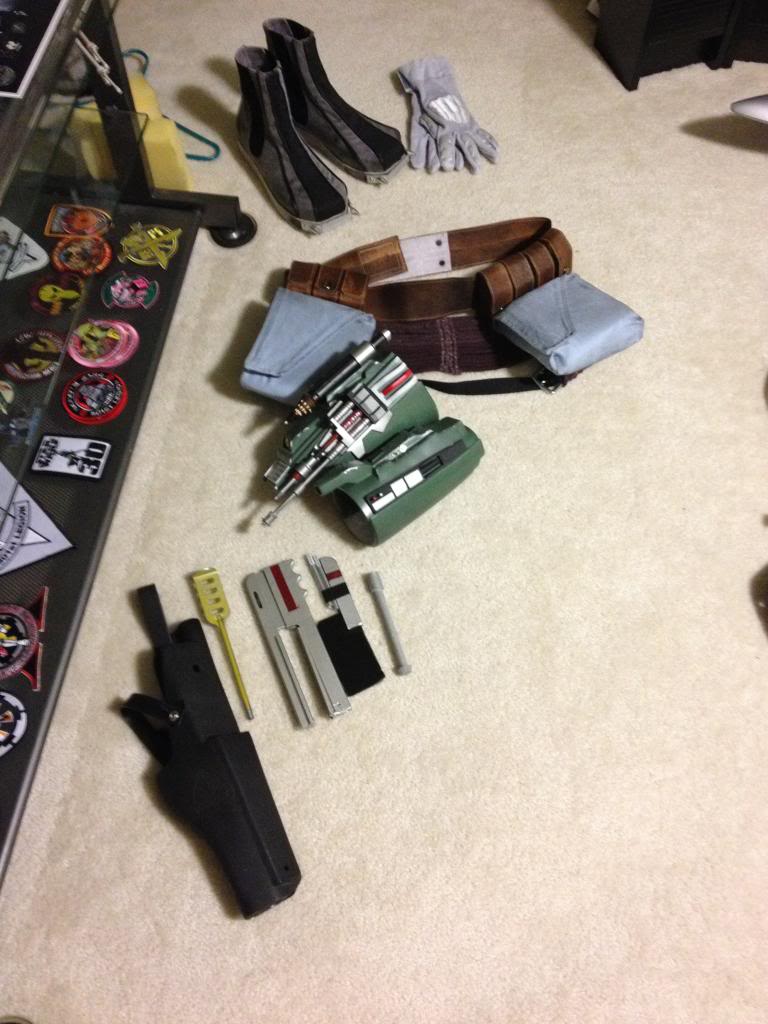 I worked out a hose attachment using a wire, black cloth, and some 5 minute Epoxy. I won't take credit for the idea since I most likely saw it in a WIP thread somewhere.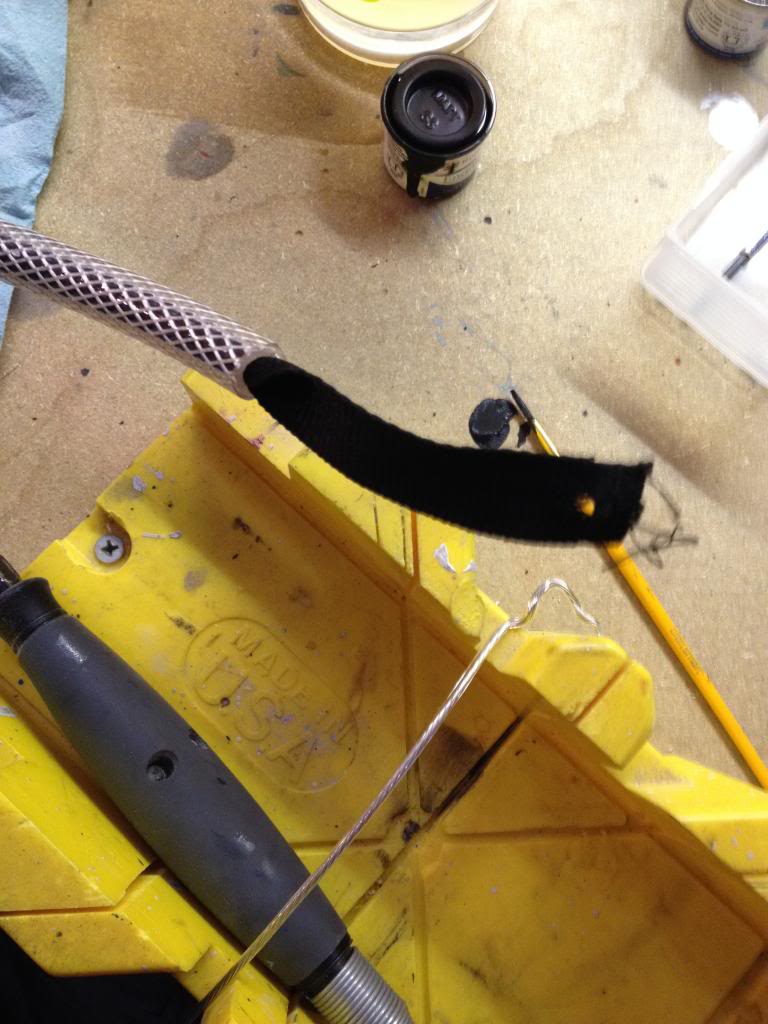 Added even more weathering & grime...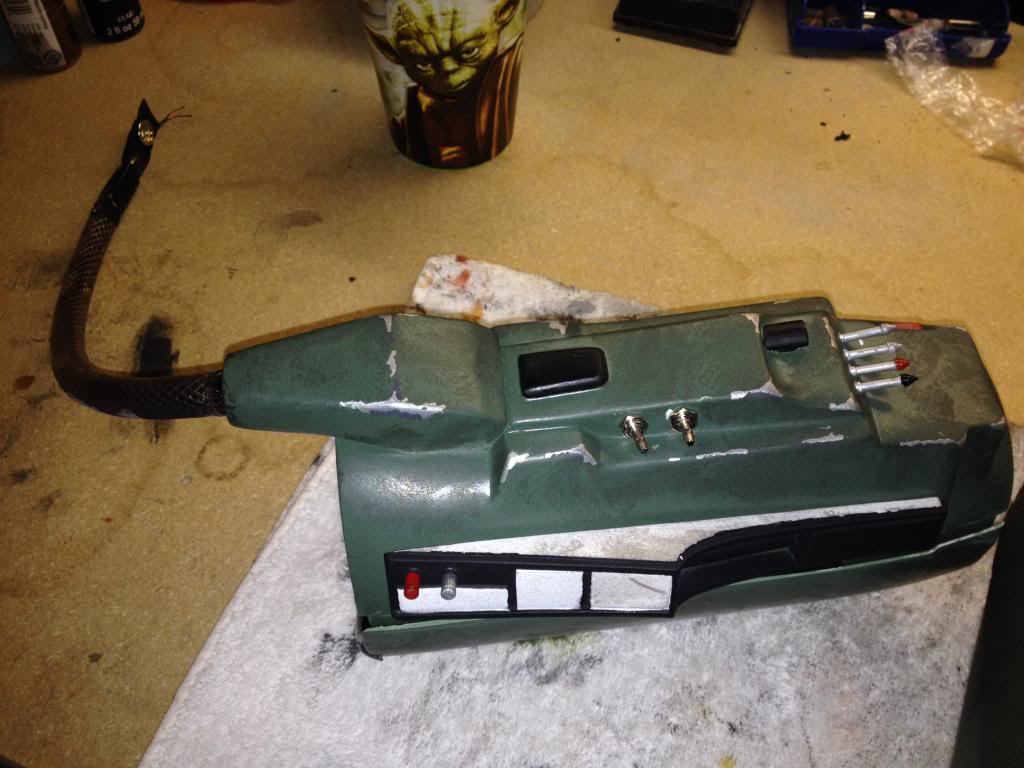 Softparts
I am so very lucky to have my wife. Not only is she a complete Star Wars nerd (like me), but she is also a very good seamstress and has years of experience (before we met) doing SCA costumes. She was very helpfull in attaching my Bat Ninja neck seal to my flightsuit, made me some killer button holes for my vest, and sewed on all my velcro for my armor attachment. I have never done armor attachment with velcro before and must say that I like it a lot better than nuts & bolts like my other costumes.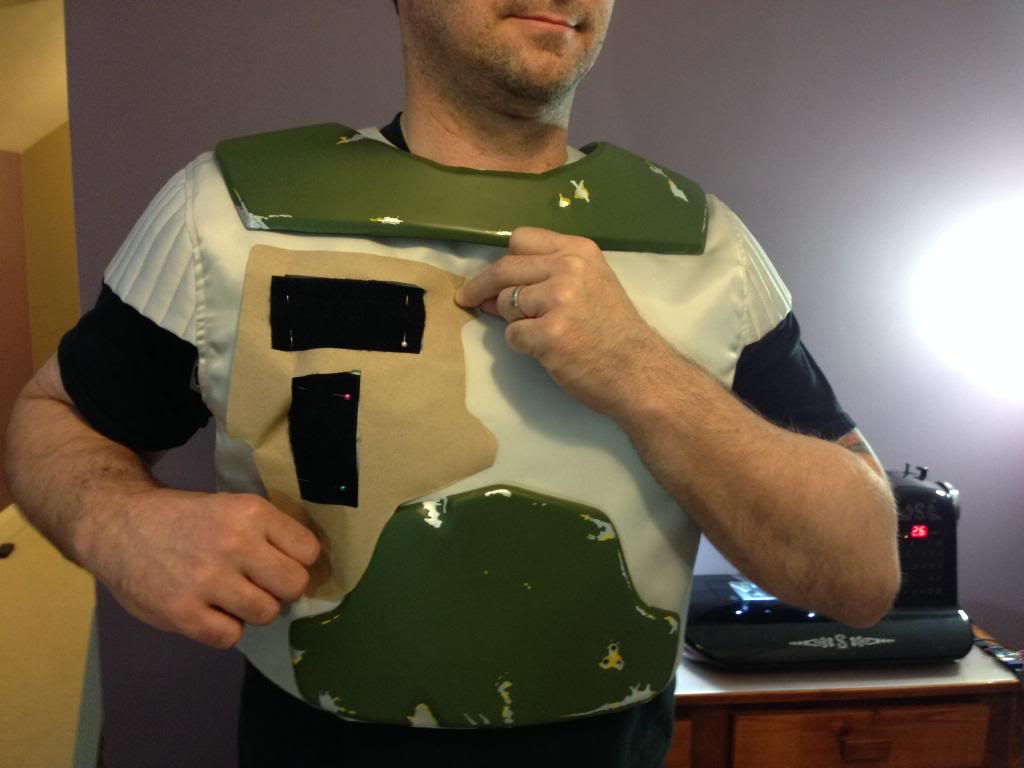 I cut, died, and snapped/ velcro'd the knee bands and Boba-thong.
Final weathering and getting it ready for submission
Star Wars is a dirty universe and I like my costumes to look it.
Helmet
Iattached the RF with the JC27 light kit to the stalk by drilling and epoxying 2 bolts into the stalk, then drilling holes in the bottom of the RF and epoxying it in there. I also applied some more weathering to the RF, stalk, and helmet to get it just the way I wanted it.
http://s329.photobucket.com/user/hanka54/media/Boba Build/IMG_2757_zpsd02b753f.jpg.html
Flight Suit
I used a combination of Dark grey and Black Humbrols, some black acrylic, and even a little rattle can in the process of getting the flight suit the way I wanted it. I know the flash can hide it or wash it out so I had my wife capture how it looks up close in this image.
Pictures for submission
Like most of you, I tried to make my GML's job approving this as easy as possible so I tried to follow / duplicate the pictures in the CRL to the best of my ability. I tried to have my ties on the back of my girth and how the jetpack sits on the frame to be as close as possible in the photo shoot. I bought my wife a green screen kit last year and it sure has come in handy (since it also came with black and white back drops) for submission pics. We chose to use the all white background and ensure nothing else was in the frame except the costume for review. I also left the optional items (EE3 & Pulce 40) out of the shots. I have a nice Pulce 40 that I am working on, but it isn't finished yet. Also, my wife is still learning how to use her overly complicated camera and we have some issues to work on to get the focus/ lighting perfect, but it was good enough and I only had to do one photoshoot to get approved.
Excuse the cheesy smile ( I was still getting use to the idea of finally being Boba Fett)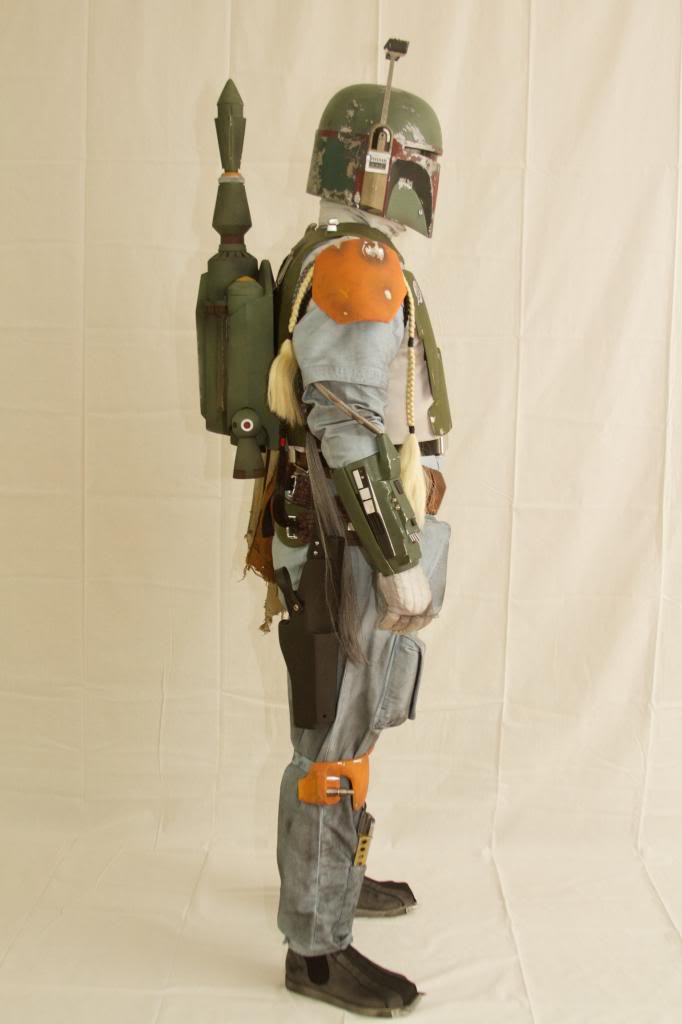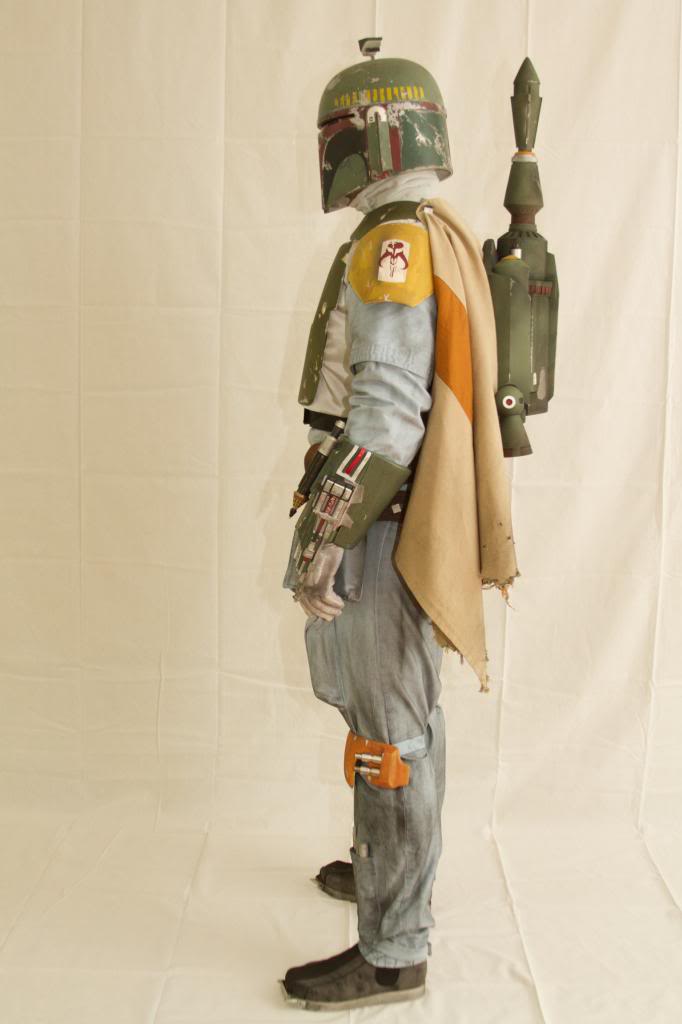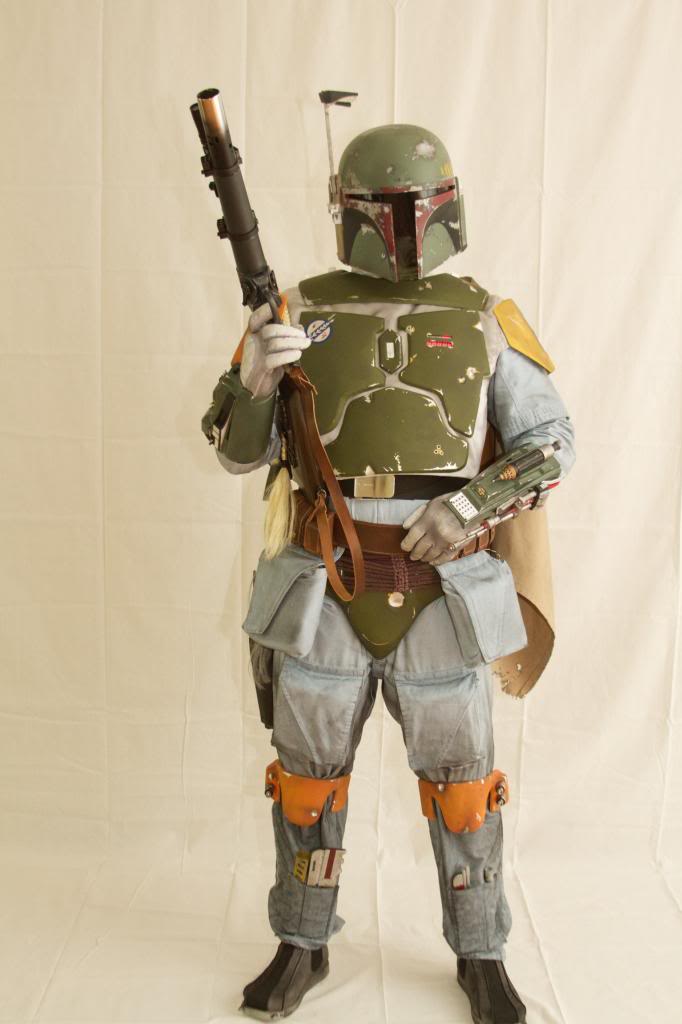 APPROVED ON 7 MAY 2014- Woot!