Hi all,
In researching the braids, I recently discovered this method of braiding that I am 100% sure was used to create the black and white braid.
It's called a 'herringbone braid', instructions on how to do it can be found here:
http://home.columbus.rr.com/dreamweavers/braids/herringbone.htm
or here:
http://www.dreamweaverbraiding.com/braid_examples/braid_examples_herringbones.htm
http://www.hairboutique.com/tips/tip462.htm
Unfortunately, I can't figure out for the life of me how to do these braids. :facepalm I had a contact make a prototype at substantial cost to me that confirms that I am right on this braiding technique.
Below are some comparison pics. My black and white braid isnt perfect, but I think its the closest anyone has come yet, and I am positive that this is the right method.
Hopefully this technique will be of some use to you guys who have my braids and want to 'upgrade' with the accurate technique.
I AM NOT OFFERING THE ACCURATE HERRINGBONE BRAID FOR SALE. Though, you could probably convince your Mom or Sisters, or wife or girlfriend to help you out!
OSK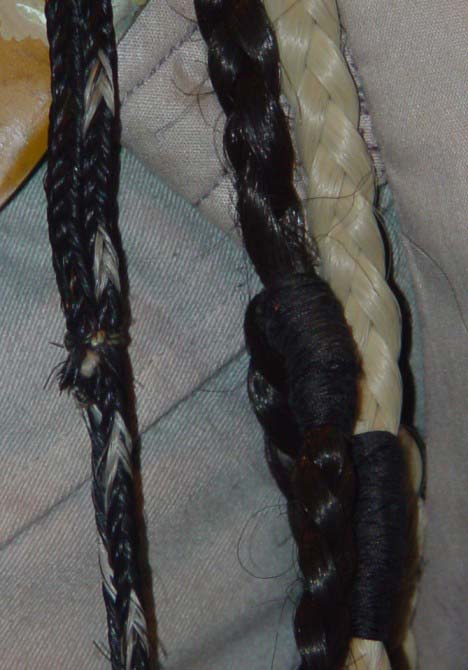 Last edited by a moderator: