Here are a couple of pics of a Fett that was completed in two days. Yes, that's right....2 days. It's not screen accurate but was very well done with the time frame we had to work with. The only pieces that were finished at the beginning of this project was the helmet and all the soft parts such as the jumpsuit, spats, vest, etc. The other parts that we did have, but were not finished, was a broken gauntlet kit from ebay and a crappy jet pack ABS kit that came with what seemed like a million pieces.
The armor was created with Sintra, given all the battle damage and shaping, and then was painted to match the helmet. The logos on the chest and left shoulder are hand painted...no decals. The boots were made from an old pair of motorcycle boots utilizing epoxy, yarn, and paint. The gauntlets were assembled, painted, and given all the little bells and whistles such as the hose connectors, etc. The jet pack was a monster to assemble but came out fairly well. The shin tools are also made out of Sintra. The blaster is made out of PVC pipe and Sintra plastic.
I hope you enjoy and would love to hear any feedback on this project. Thanks for looking.
Chris
TK4293
P.S. Sorry for the fuzzy pics.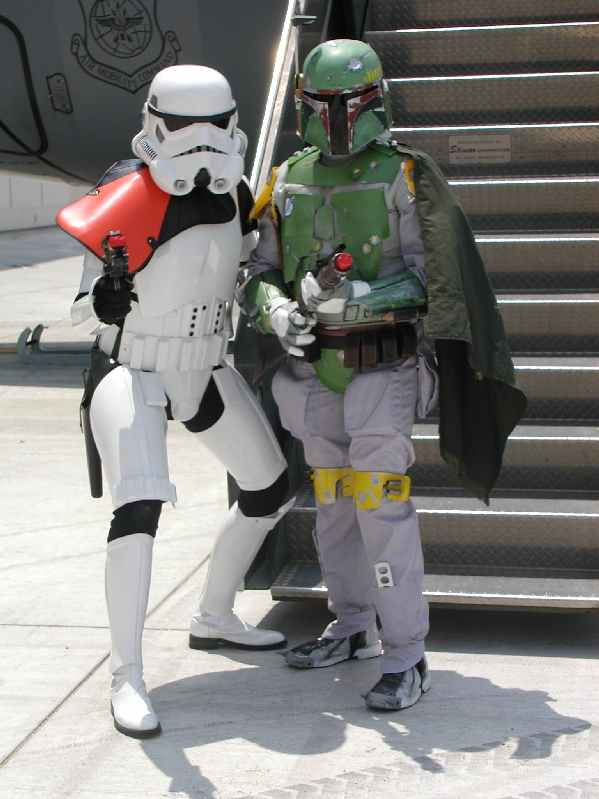 Last edited by a moderator: