The adventure has begun and feedback is welcomed! I've been collecting pieces and parts for a little more than a year and am happy to get some real work started on this. I seem to get more work done through the holidays than any other time of year. My primary reference is the ROTJ hero armor for the visible parts, with help from the exhibits on hidden parts when needed.
Armor is from Will/RKD (presumably one of the last sets he made and I was very sorry to hear of his passing). After lots of sanding and trimming, it's coming along well. I'm using Rafal's ROTJ templates (which are amazing) to mask out the large damage areas with a combo of mask fluid and plain old tape. Smaller bits and details will be added topically with acrylics.
For paint, I decided on rattle cans and after lots of research on this site, settled on a layered approach of Metallic Silver, Striping Yellow (inverted can), and Hunt Club Green. The shoulder bells also got an under-coat of Rustic Orange, as well as a mist over the yellow. They still don't seem orange enough to my eyes. The additional detail colors will be applied topically, along with the weathering. I'm awaiting my decals from Delucks Designs.
Question: on the ab plate, what's the best way to emphasize the three holes? Are they drilled all the way through the plate and is a backing plate attached to the back of the armor?
***EDIT FROM THE FUTURE:
for easy reference, below is a final list of the parts and materials I used for this build:
Helmet
Helmet (Fiberglass ROTJ) - AnimeFan
Helmet Paint Commission - FettFullof Dollars (AFFo$)
Helmet Visor - T-Visor.com
Armor
Armor – Backplate - RedKraytDragon/RKD
Armor – Shoulders - RedKraytDragon/RKD
Armor – Collar - RedKraytDragon/RKD
Armor - Chest Set - RedKraytDragon/RKD
Armor - Cod plate - RedKraytDragon/RKD
Armor - Kidney plate - RedKraytDragon/RKD
Armor - Knees with inserts and foam - RedKraytDragon/RKD
Armor - Metal Collar/Cod studs - RedKraytDragon/RKD
Gauntlets
Gauntlets (fiberglass) - Darth Voorhees
Rocket (metal) - Machine Craft Replicas
Darts (metal) - Machine Craft Replicas
LED Light (left gauntlet) - Crumdum
Buttons (right gauntlet) - Mouser Electronics
Flamethrower buttons (left gauntlet) – Darth Voorhees
Hoses - Duda Energy (Amazon)
Soft Parts & Belts
Flight Suit - Arkady
Vest - Arkady
Spats - Arkady
Collar - Arkady (attached to flight suit)
Pouches (belt) - Arkady
Gloves - Mike M.
Belt (ammo) - Woodman
Belt (girth) - Woodman
Braids - Woodman
Cape - Woodman
Balaclava (light gray, 2-pack) - Amazon
Jetpack
Jetpack - Master Blaster (from TDH Cargo Hold)
Harness (temporary) - Man of War Studios
White webbing (1.5") - Country Brook Design brand from Amazon
Loops/rings (1.5") - Amazon
Clips (trigger/hook) (1.5") - Amazon
Divers Belt (Future Upgrade)
Harness (accurate) - Big Dane (Future upgrade)
EE-3 Blaster
EE-3 Blaster - Hyperfirm/HFX
Shin Tools
Shin Tool set - Man of War Studios
Found part - Paterson RC Print Squeegee - B&H Photo
Found part - paint stirrer - B&H Photo
Electronics
Chest Lights - Fettronics
Wireless Mic - Pyle-Pro PDWM96 Lavalier Wireless Microphone System (Amazon)
Amp (Ivation Portable Voice Amplifier) - Ivation (Amazon)
Headphone Adapter - Hosa MHE-100.5 .25" Adaptor (Amazon)
Jetpack Beacon light - Machine Craft Replicas (Future upgrade)
Misc/Supplies
Knee darts - Machine Craft Replicas
Decal (chest) - DeLucks Designs
Decal (shoulder) - DeLucks Designs
Knee straps and thong (1" white strap) - Amazon
Paint - Gray Primer (Rustoleum) - for all parts - Home Depot
Paint - Metallic Silver (Rustoleum) - for all parts - Home Depot
Paint - Striping Yellow (Rustoleum) - for shoulders/knees - Home Depot
Paint - Hunt Club Green (Rustoleum) - for armor - Home Depot
Paint - Claret Wine (Rustoleum) - for gauntlets (sprayed over black) - Home Depot
Paint - Orange (Rustoleum) - misted over shoulders/knees - Home Depot
Paint - Matte Clear Coat (Rustoleum) - Home Depot
Paint - Testors Dull Coat - Amazon
Pins with clutchback (50) (for armor attachment) - Amazon (eBoot brand)
Pins - improved locking backs - Amazon (eBoot brand)
Epoxy - Quick Cure - BSI-201 - Amazon (Bob Smith Industries)
Adhesive - Devcon 22045 Plastic Welder (25ml) - Amazon
Lamin-x 148S Smoke 4" x 8" Universal Film Cover Sheet (for chest lights) - Amazon
Carbon paper - Porelon
Cargo Bin - Plano Sportsman (OD Green) - Amazon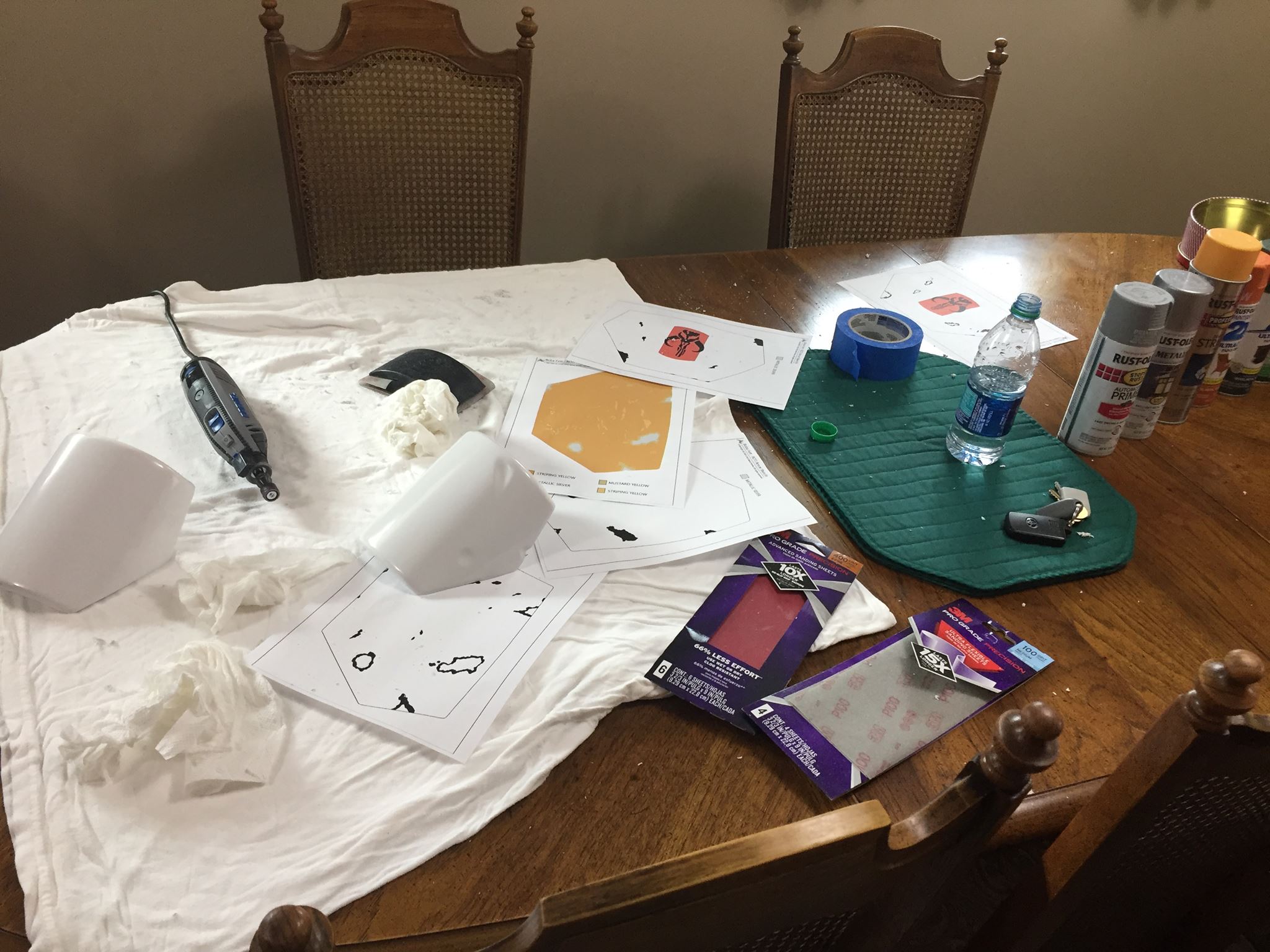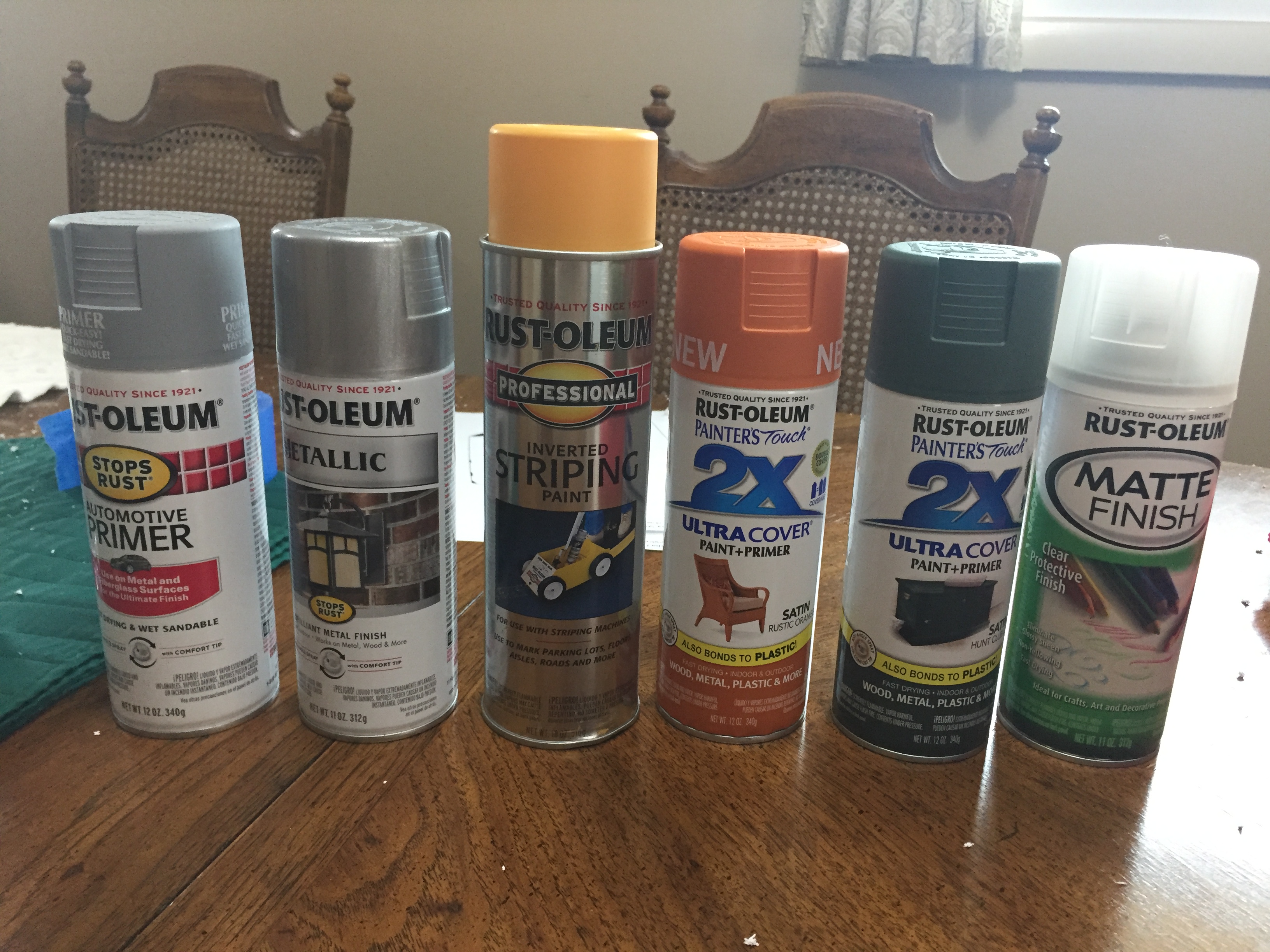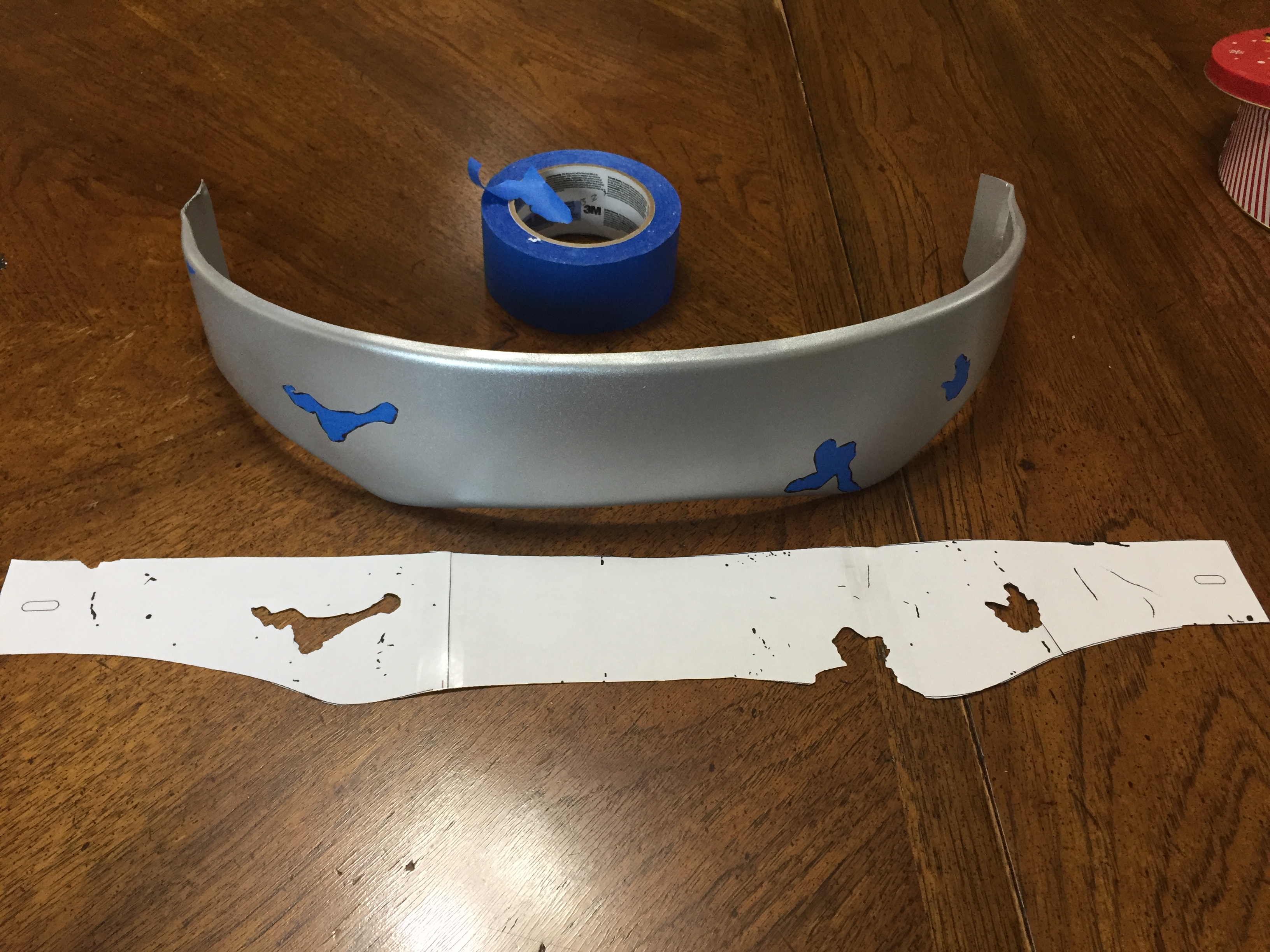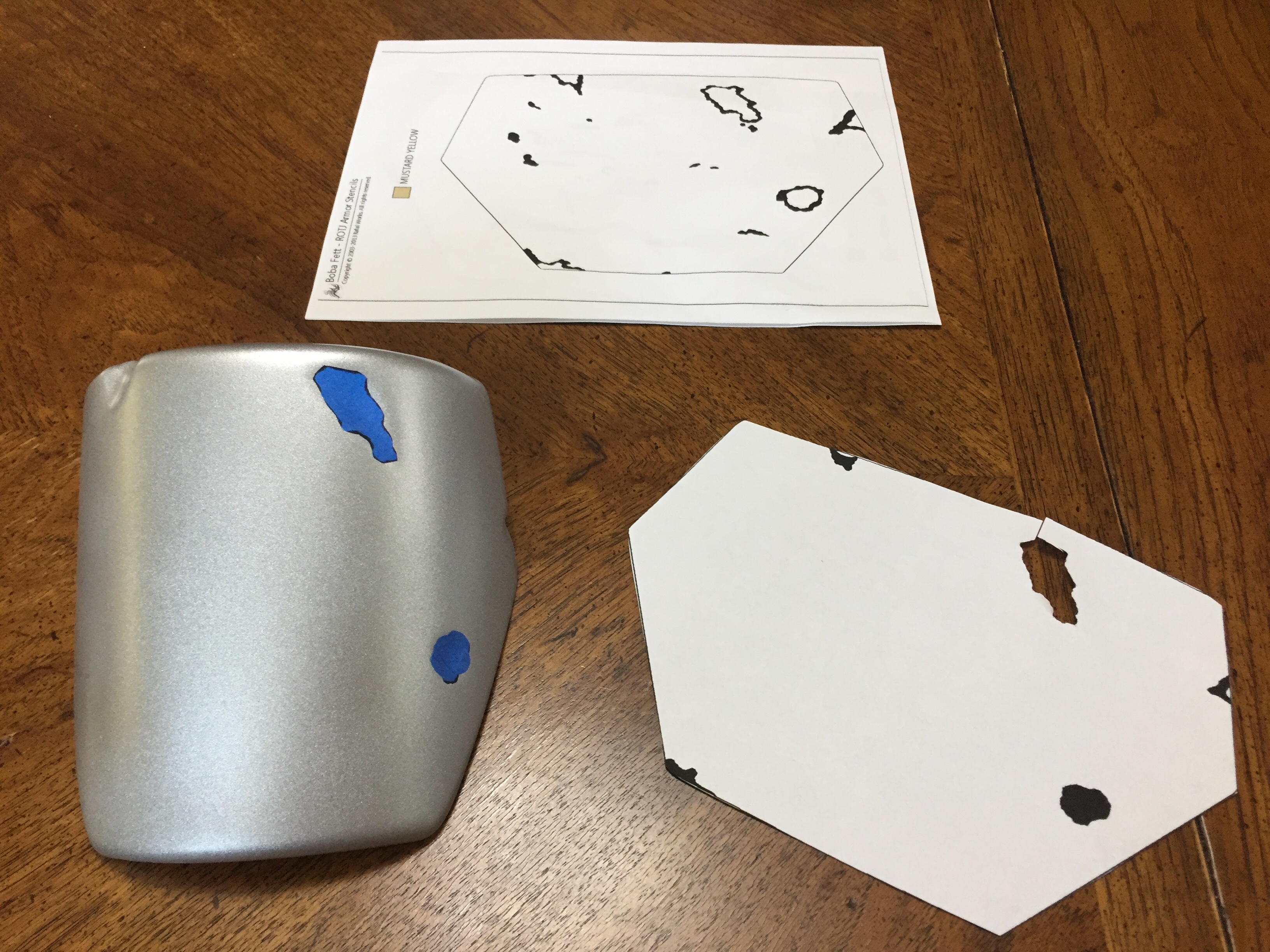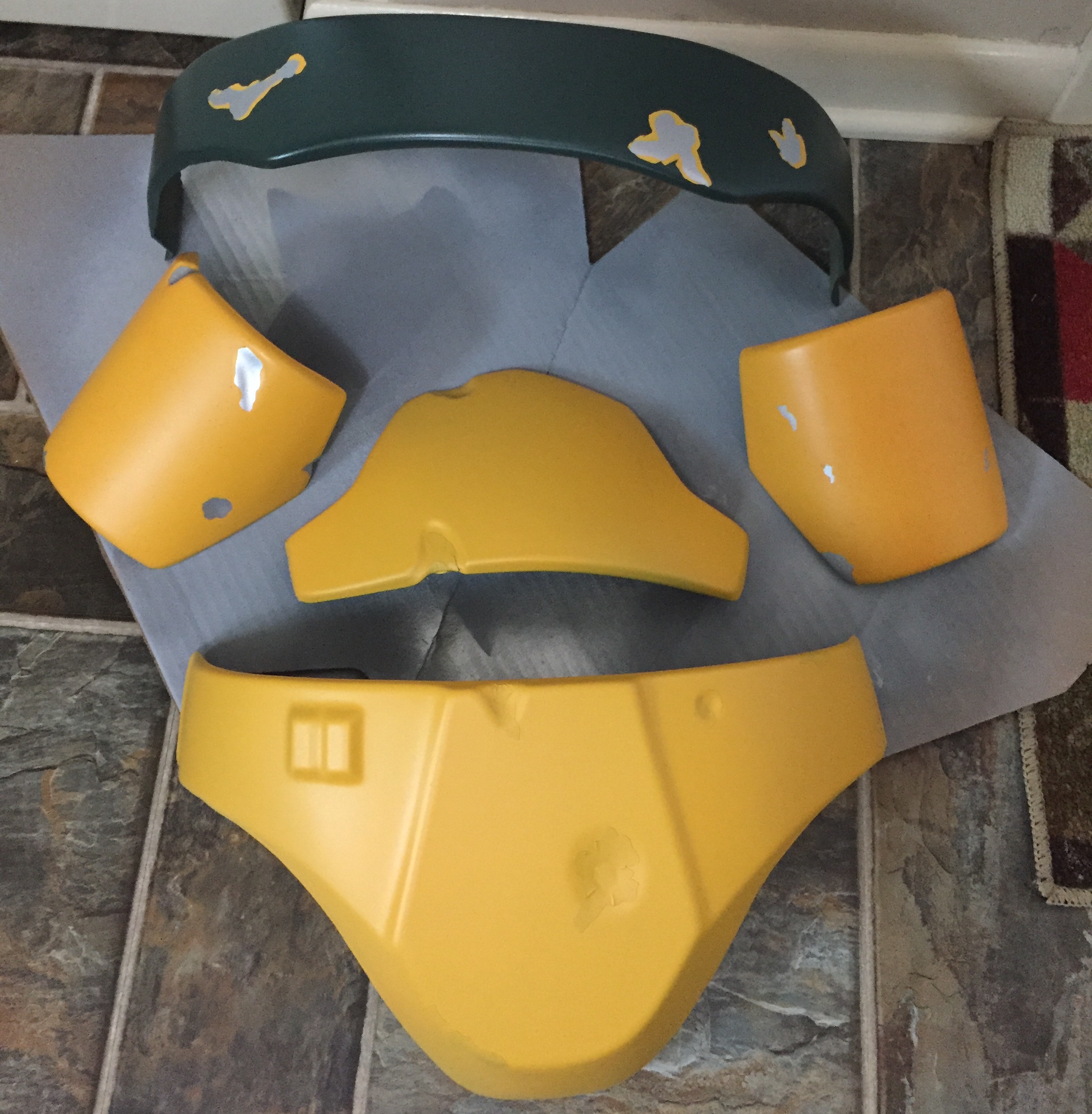 Last edited: