I know this has been discussed before, just recently in fact, but I lost track of the thread. I'm going to bring it up again, just because I've been looking closely at this and I'm not sure yet what is going on. My apologies if this has been definitively answered elsewhere already. I have a funny feeling
RafalFett
has probably put this to bed multiple times. Again, my apologies.
We're all familiar with this pic:
the question is, are these two different versions? What's confusing is that it's presented in the same series of pictures, and would seem to be the same piece just turned to the side, and either the model stepped into frame or left the frame, depending on which picture was taken first. However, that doesn't add up. For one, the color looks much lighter on the one to the right. But more compellingly, the chin straps are attached to opposite sides in each picture. The one on the left has the strap attached to the right side of the cowl, where the one on the right has the strap attached to the left side.
The only way these two pics depict the exact same piece is if the neck strap has velcro attachments on both ends, which seems highly unlikely, or the pic on the left is a flipped mirror image, which also seems unlikely for a number of reasons. What further confuses this is the other photo that shows the model wearing what appears to be the left-side version, but not the right-side version: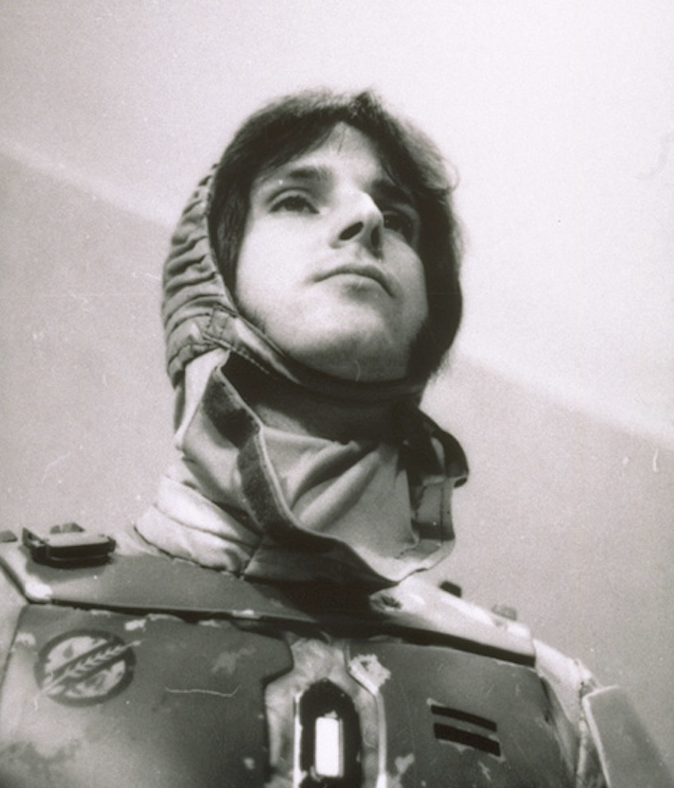 So we know the model was present and suited up for the left-side photo even though he was not in the background like the right-side photo. It is almost certainly the same photo shoot, for both shots then. So then, they had the two versions of the head covering in the same shoot..
1) but they only modeled the one and not the other?
2) Or they did model the second version, but we just don't have that picture?
3) Is it largely agreed that these are two different versions above?
4) If 3 is yes, which of the two was used for ESB?
5) Both versions have the section/flap that attaches to the helmet interior. Since they did not use that part during filming, do we know if this was physically removed from the piece or was it simply tucked away into the neck?