Hello all,
Well after much tooing and froing about what to make for Auckland
Armageddon
(and Melbourne and Sydney & Adelaide) besides a ridiculously glittery frock (
Glinda from Wicked
) I finally decided to start work on a project that should be nice and timely
Last year I stumbled across The Old Republic website and was really curious about one of the avatars being used. Fairly soon after I spotted the full length concept art for her and it was clear she was art work around the female Bounty Hunter class.
And then the Deceived trailer came out and I was blown away. The cinematic looks amazing and the female bounty hunter just went from "cool" to "*** I have to make that!" The details in the trailer make the bodysuit a wonderful challenge
http://starwars.wikia.com/wiki/Shae_Vizla
I debated about this for a while as I wasn't sure if I was up to making the armour or if I would get other armour projects done first as a real test. Well it didn't happen and the bug has bitten hard again with the new GG statue just released and the teaser for the next trailer that has just played in the states. The teaser that is, the trailer is a few days away
She has finally gotten a name which was also another prompt to get my butt into gear and make it.
Another was my continued allergy to Epoxy Resin. My loathing for plaster (well my current inability to work with it easily which is about to change) is matched only by my loathing of polyester resin also so I get to test some urethane again with parts of this project
This armour appeals as I can build it the way I started to build my Female Templar armour last year with sheet plastic and styrene glue. It's how I customised my Mara Jade greaves too.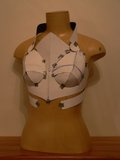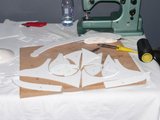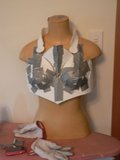 That project is stalled for a while
And TK shins heavily modded with styrene strips.
I have some amazing rubber coated heavy duty stretch fabric that I have already used for one costume and will use for this. I also bought some more of the heavy faux suede I used for my Leia boots for the leather parts of this costume.
I got a soldering iron for Christmas and have been honing up on my 6th Form physics- electronics and circuits so I can make the jet pack, gauntlet and helmet ear bugs light up. Slightly nervous about this but I have enough LEDs to practice on and ruin
The helmet I am sculpting as it's cold enough that even my budget stuff is nice and carvable in this weather
An hour of slapping plasticine onto a head form (duct taped to my head size)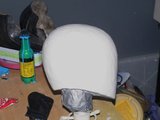 15 mins with a metal ruler and a little more plasticine on the face.
And felt tip pen on bodysuit for the crazy piecing:
I am trying mostly for the look in the cinematics but am also using images of the statue, t-shirt, concept art and whatever else may come up. Though they do all differ quite a lot!