Hey everyone! My name is Samantha, and for the past 2 years I've been in the process of developing my own Bounty Hunter costume with my fiancé, Ponte…so we've been pretty much working on this since we met. We've already been to a few cons together (NYCC, Awesome-Con DC, Dragon-Con) and while I had my Kaylee (Firefly), Peacekeeper (Hunger Games) , and Leia costumes, I always really wanted to don a concealed Star Wars costume that accompanied his Boba. My BH's name is Sath Rexen (he came up with it…sounded Star Warzy enough to me).
We both agreed on a mission statement for this build: Keep the costume true to the aesthetics and accuracy of the original movies and create a convincing character that's "just another bounty hunter in the background"; before the invention of Mandalorians and other post 80's lore. Only using weapons, greeblies, and equipment from items Pre-1980, we wanted to create something that stayed true to the original Lucas prop-builders' design, creating something that looked like it belonged in the 1970's prop warehouse. We spent a solid year acquiring quality armor (Fettpride and Emma Swanson), going to gun shows to pick up metal parts and materials, and coming up with the overall color scheme for the bounty hunter.
I'm a HUGE Clint Eastwood fan (I made this super apparent on our first date), and without trying to shoehorn The Man With No Name, we still wanted to keep the gist of Boba's Pre-Production influences in both weathering and demeanor. You'll see a lot of throwbacks to the Pre-Pro Bobas, which give the public a glimpse at something that was never on screen but still has lineage to them.
Ponte's painting the helmet, shoulder/knee armor and gauntlets, as well as constructing the custom blaster while I'm taking care of the chest/collar/back/cod armor, all of the soft parts, and the jetpack.
Pre-weathered. He loved the lineage of the GMH Pre-Pro 2 helmet so he kept all of the gashes, cuts, and scrapes from the original mold but reworked the surrounding damage. We also filled in the dent and gave it a debris/scattered pock mark damage. He wanted to add the Pre-Pro I eyes, but I wasn't a fan, sooooooo.......he came up with the very orange, 1970's looking stripe, which I love:
Weathering, pigments, Exacto blade/dental pick abuse, and some killstripes!
Few more close-ups:
The side caps were just done last night...pics tomorrow!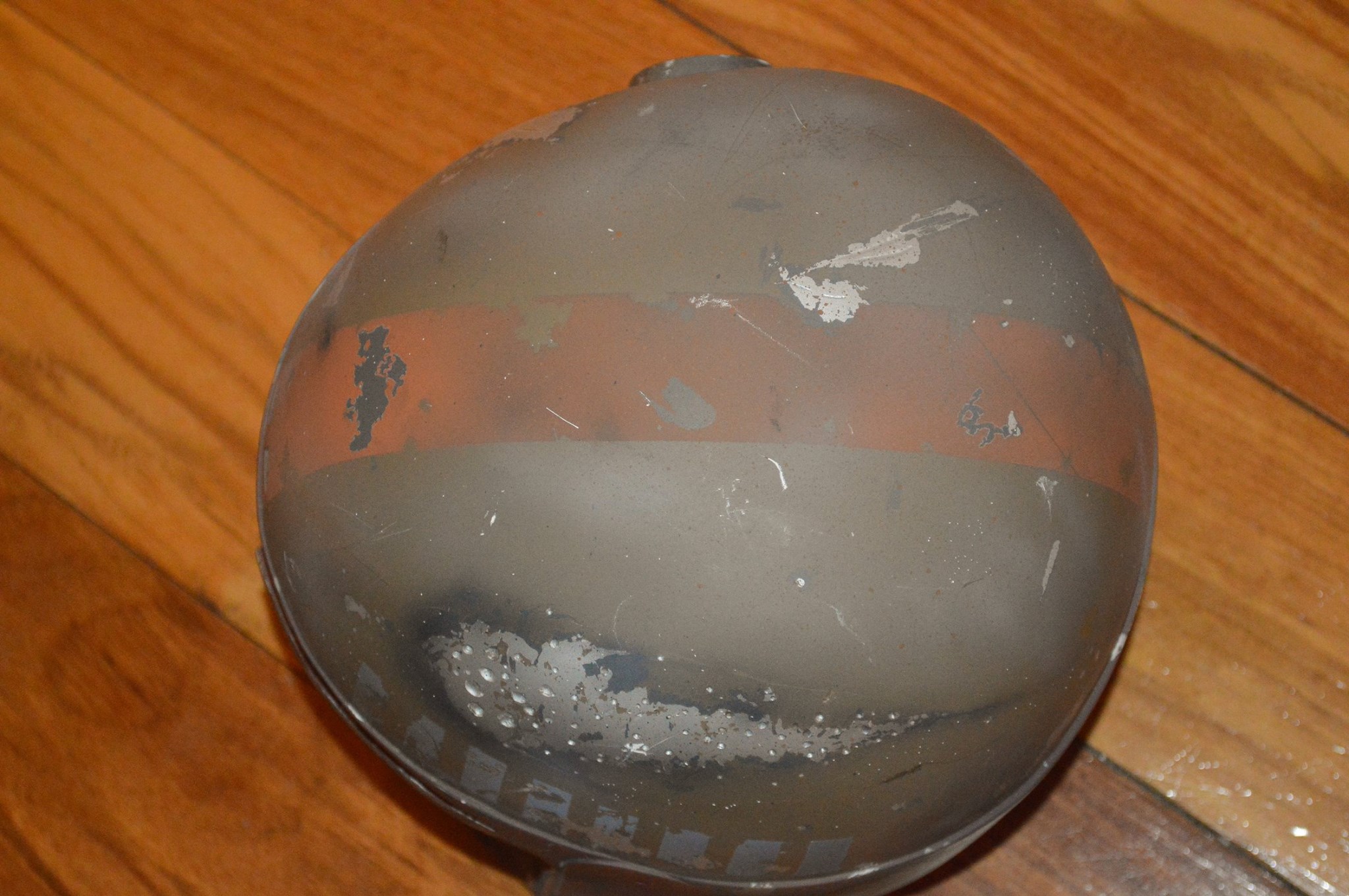 Last edited by a moderator: