A new costume - The Rebel Commando - as seen on Endor.
I do a lot of long troops for the ''Joker Squad'' based in the UK and its time I had a second costume ''a soft costume'' it helps rotate if there are two fett's on a troop or my body is smashed and I need a brake
This one is once again made from anything and everything I could find.... I enjoy looking for parts as much as I do putting things together. I didn't document this one in as much detail as the Fett build but you will get the idea...
So the hat....based off the AN-H 15 flight cap this was used as the base for the Rebel Commando. so I had to make one.... and I got to say I do like using the sewing machine now I been using one for a few months now since I started modding my flight suit and I gotta say it worth learning to use...
I had no templates for this so I used a cap I knew fit my head to sew around...
start with the top section, stripping material and sewing in the pattern.
Moving way on I got the ear muffs on the leather side sections stitched in and the little clips... also the doughnut is taking shape..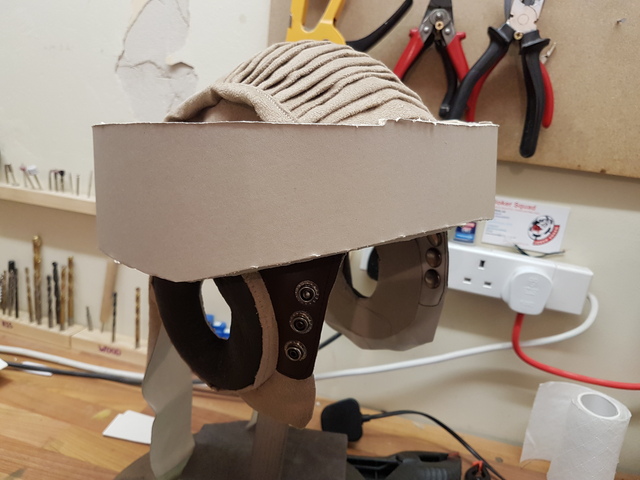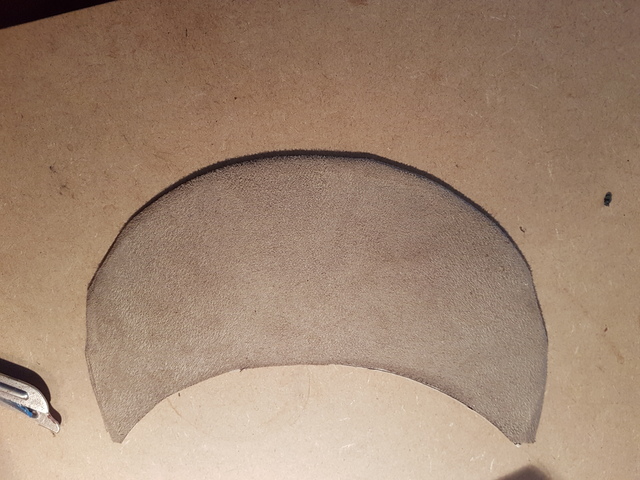 put two and two together way down the line and its almost done...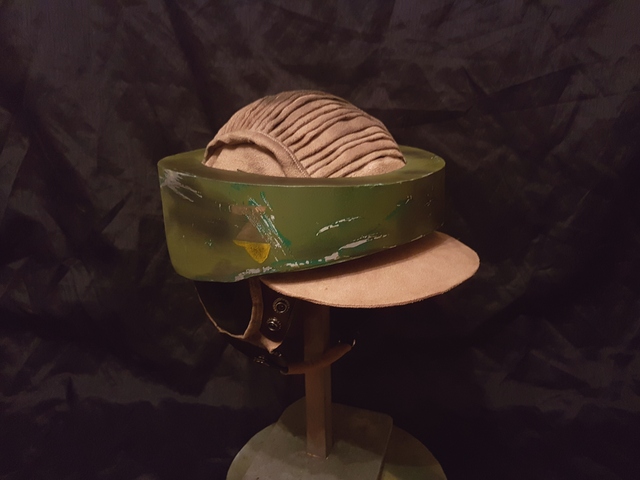 I have finished it since this photo was taken...but will save it for the end...
Now the blaster rifle is a tricky one, it was a cut up M16 lower and upper receiver with greebllies all over it.... I live in the UK and M16's will get you 10 years in jail just for looking at one! I wasn't going to buy an air soft toy as its far to expensive, and not scaled enough.... I do however have a friend in the states who did have access to an M16 and a ruler
. so he sent a bunch of measurements over to get me started..
So I made it from wood as I wanted it to be heavy and ''move right''
All bolted together no glue as much as I could get away with it. I wanted all the screws and details like that to be in place as much as possible and I can also take it apart if need be..
and here is what I ended up with....
My version of the A280 Blaster.....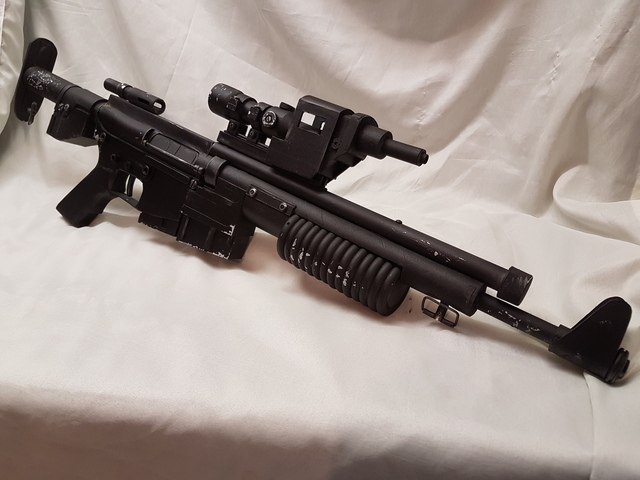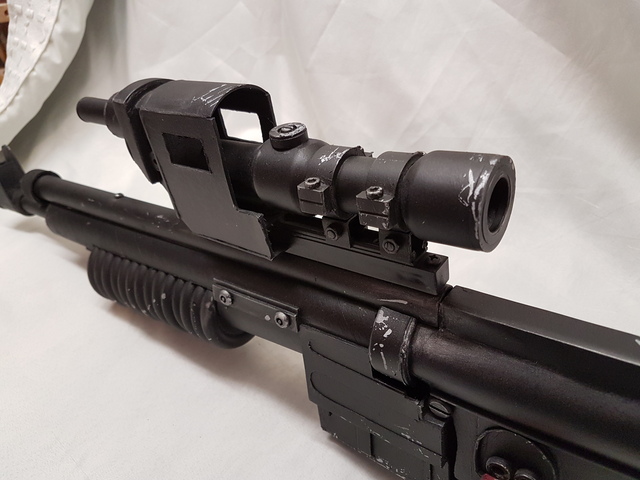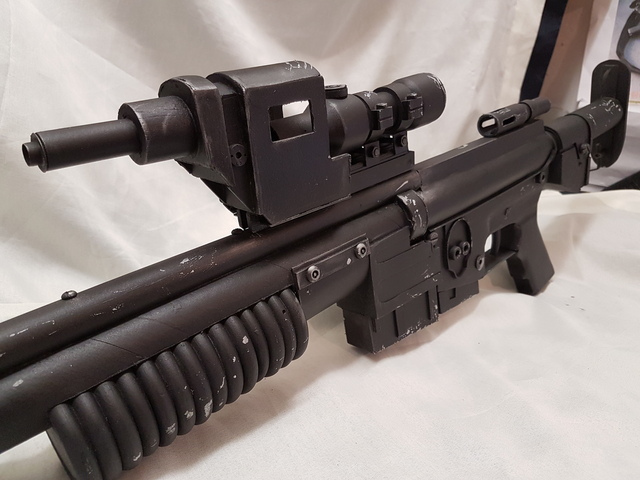 I got to work on the back pack, I wanted the two box version...started with a frame and the boxes..
the boxes are just that, boxes made out of old folders, the frame is just electrical piping (plastic) and blow torched into shape... I think from what I understand the original Alice frame was a ''Boy Scout frame''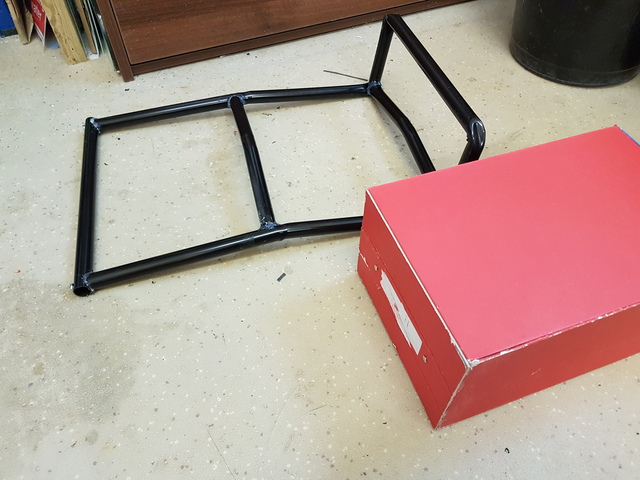 I went into over drive with this and added all the straps, nuts bolts weld line etc.... stitched together the box covers and made the greeblies, add a little paint and its almost done... again I have finished it since this pic but will add more photos at the end,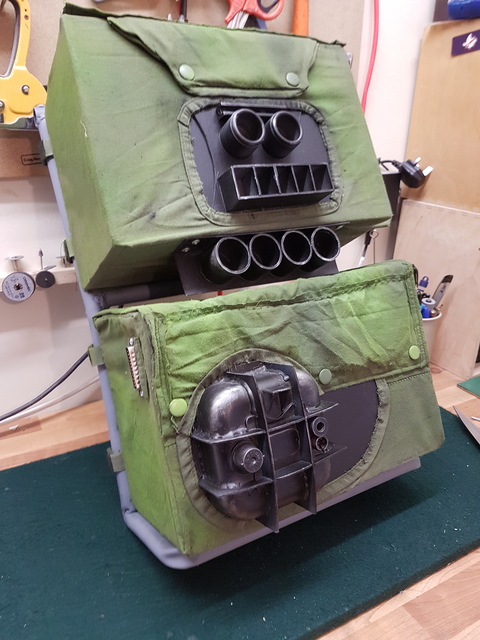 I got a tone more done but need to take some pics and add it to the build thread.... but I have done the trench coat, gloves, bandolier, belt, got a side arm and holster made (why not).. explosives and so on...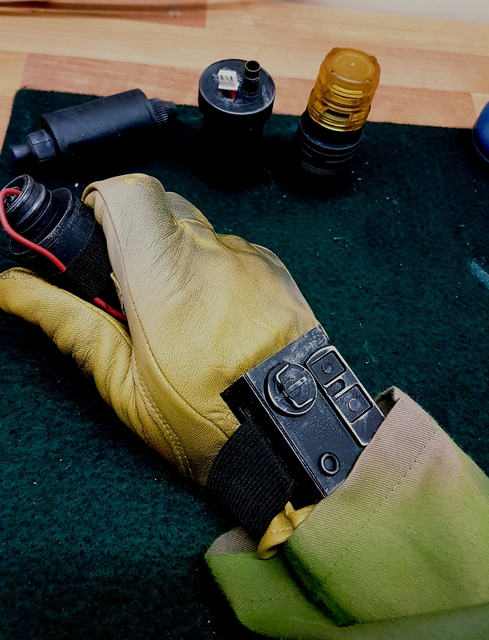 I will post more soon......