Hey everyone. I am working on my ROTJ Hero build out of aluminum
here
. During my drawings and file conversions and dimensioning of the right side of the helmet, I saw the same thing I always see about it that bothered me forever. The range finder rotation point. So i just plunged into hundreds of pictures and got lost in the whole thing (per the norm). So I wanted to point it out and talk about it. If this has been discussed before we an just delete the thread. I also want to put my theory into practice on one of my helmets even though it isn't screen accurate. So here goes.
I borrowed the photos from the 501st Boba ROTJ HERO reference sheet and modified them to show my theory. Pardon my terrible Photoshop abilities and the kill markers being on the wrong side.
I believe that the designers of the suit had originally planned or thought to emulate the range finder "ear" to go up and down with the rotation forward and back up. It just looks too perfect. Here is the range finder in stored position. We all see the shape of the 2 parts of the right ear and the angles between the 2 match.
The top part of the ear is shaped to slide into the lower part of the ear. The 3 holes look to be electrical/signal connection points that connect the top and bottom halves of the right ear.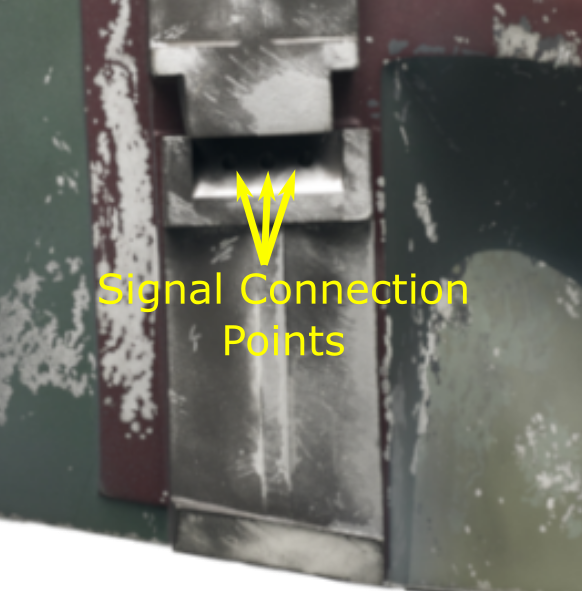 So as the upper portion of the right ear slides down, the range finder rotates down and is in the usable position like the pic below making connection to the rest of the helmets electronics to deliver range information.
Notice the left ear is clearly level with the top red rim. It begs to back up the operational theory. Ok that's it! Let me know what you guys think. I am definitely going to build a helmet like this.