A friend recently acquired a fiberglass Fett helmet off eBay and I had a chance to take a look at it. The eBay auction had read, "
Boba Fett
prop replica, made about 1995, was provided to me by Lucasfilm Licensing when I was sculpting SW toy prototypes. I'm not sure if it was from Don Post Studio, or not, but it doesn't have any maker's mark. The parts on the sides of the helmet are cast aluminum, the reticle is resin and missing the front piece. There is a black lexan lens, still with the protective sheet."
The seller corresponded that he was an artist working for Applause and received this helmet from Lucasfilm Licensing as an art reference helmet for a Fett toy he was sculpting and in that correspondence related that he received this helmet roughly mid 90's - possibly even early 90s but it's been too long to recall exactly.
I had limited time to snap the following shots, so if you need additional pics I'll have to coordinate that, so bear with me. Of the following, if they aren't closeups, are photographed at 6-foot distance to minimize perspective distortion.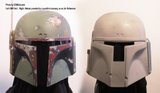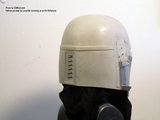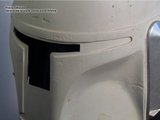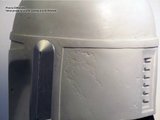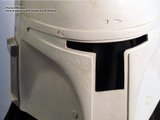 The rounded eye corners and the rounded cheek hollow upper corners remind me of the SgtFang "Mystery Helmet" when it first came out. The mandibles have two scalloped out semicircles and this helps the asymmetrical T-visor to line up properly. The rounded corners lead me to wonder if this was from a similar lineage to the SgtFang, but the SgtFang seems to have a more rounded skullcap like the MR, whereas this has a slightly more squarish/trapezoid feel like the Don Post Deluxe.
What struck me was the tooling scars all over the helmet, and they seem to correlate with the Don Post helmets of the 90s era, but the mass produced helmets deem duller in detail. Here on this Lucasfilm helmet, they are crisp. The fiberglass is tan/brown but there is gray primer. In some areas the primer hasn't quite fully covered all the tooled scar holes. At this rate, I can't tell if the tooled details are inherited from its mold or if done afresh, but the level of detail is quite nice. I wonder if the Don Post Deluxe fiberglass Fett helmets came this crisp, but don't have reference images to help assess that.
The brow appears deeper than the SgtFang's. That gives me a bit of hope for this helmet.
Comparing it to the MR, the left (as you look at it) ear platform has been sanded. The skullcap does seem a bit narrow in width. What's interesting is that the side ear platforms seem shorter than the MR, so I wonder if at some point Lucasfilm had made a plug and had it modified in size to create a new template for Lucasfilm Licensing, and if one of those helmets - possibly even this very one - was used as the Don Post Master. Perhaps it was made a touch smaller to impose tells that would distinguish this sufficiently from a production piece. There is a #3 written in pencil on the wearer's right ear platform. But whether that means helmet #3 or matching ear piece #3 is unknown. The ear pieces are metal and are somewhat beaten up in appearance as opposed to a pristine machine finish. If they created variants in size and shape, the ear set that best matched might have been a "#3".
If indeed that this is smaller than a production helmet, I imagine it would be a fun project for me to build a casting of this out into a larger helmet.
I would love to hear your thoughts, especially Art, as I understand he has a soft spot for the Don Post Deluxe Fett (funny, but since I come from more the Vader side of the house, each time I see the words "Don Post Deluxe" I think of a certain Dark Lord helmet...).
Last edited by a moderator: