I have been gathering parts for my ROTJ Hero Fett build.
So far I finished the Jet Pack which I 3D printed. See build thread here:
I'm new to the forum and came across RafalFett 3D printable Jetpack. All I can say is WOW!!! I own (2) 3D printers (FDM & SLA) and do some 3D modeling and am a prop builder. I decided to give this a try. I want to build a Fett costume and troop with the 501st. This may be a way to get started...
www.thedentedhelmet.com
I've got everything except a helmet and gauntlets.
Almost everything was bought by referencing what others had done on TDH. This is an amazing resource for all things Fett. Thank you. Hopefully I will be able to contribute to help others in the future.
I wasn't going to post pictures of used parts I bought, only things that I made or somehow modified or weathered for this build.
One of the things I did on my own was source a wireless mic & PA system. I wanted one that allowed the aux input to play at the same time the mic was being used. The unit is called Hisonic and is available on eBay for $30. Here is a link to their site for the specs, but search Amazon or eBay for much better prices.
Hisonic HS388U 10 Watts Rechargeable 3-in-1 Mini Audiopod: Voice Amplifier with UHF Wireless Headset Microphone + Portable Speaker + Digital Voice Recorder
hisonic.us
The plan is to play Fett quotes from the game Battlefront that are triggered by low profile buttons in the fingertips of the gloves through the PA system but still have the ability to talk when necessary. The playback unit is available from Adafruit and is very easy to setup and use. You will need to know how to solder though.
Would you like to add audio/sound effects to your next project, without an Arduino+Shield? Or maybe you don't even know how to use microcontrollers, you just want to make a sound play ...
www.adafruit.com
I added a LiPo battery and regulator/charging board to mine to make it self contained.
The finger tip switches are attached to small rounded pieces of plastic cut from an OJ bottle. They are slid inside the glove so no cutting or sewing is required on the glove itself. I am using ethernet cables to get to the playback unit which will be in my thigh pocket with the PA system. These are the cheapest smallest connectors I could come up with that had at least 6 wires. There is a female ethernet jack under the gauntlets where the gloves plug in. This way the buttons and short ethernet cable can stay in the gloves.
Pictures coming soon of the actual wiring.
My doodle of the wiring.
I 3D printed my shin tools from Rafalfett's files using my SLA resin printer. The paint is all rattle can with the exception of the orange & burgundy strip which was airbrushed and rust which was dry brushed.
Thanks again RafalFett!!!
This was my first time using liquid stencil. It is easy to use and remove.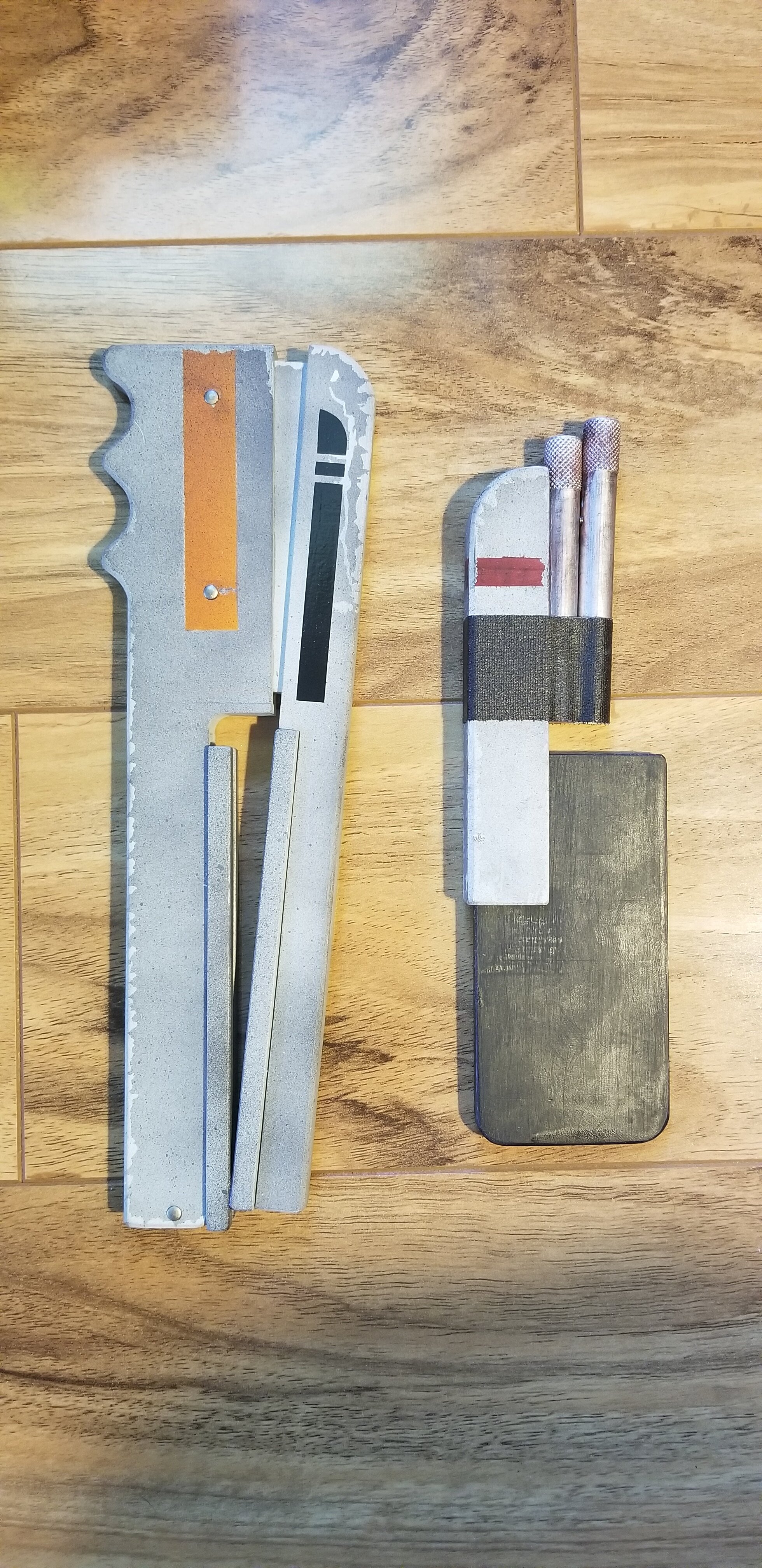 Comments and critique are always welcome.
Last edited: