Ok guys, the bolo cord has arrived. It's made from a brown leather that is more pliable than the tooling leather bolos I am used to. It reminds me of the MJ Trim cord; but 4-ply, larger in diameter, and without the glossy'ness. I threw together a quick girthbelt out of it for my son to see how it worked, and I like it. Its pliability made a very comfortable girthbelt. I did roll it up and gave it a quick acetone bath at the bottom of a bucket (just swirled and splashed it around) before gluing it because I noticed it was still kinda oily from either the finish or moisturizer.
It did come in 30 yard rolls (I had requested 25 yard rolls) so I'll need to unspool each roll and measure it out so there's enough for everyone. If there's anyone who needed more than 25 yards due to making a longer or wider girthbelt, please contact me again.
It'll start shipping out asap for those that don't need a backing piece.
-Cruzer
Oh, also a few people have contacted me about buying the leather backing piece if I have left over leather from the hide I'm cutting mine from for my girthbelt run, and so they don't have to go out and buy a whole hide for themselves. If anyone's in need of some leather backing for their girthbelt, please post and I'll see what I can do. The nearest Tandy is a little over an hour's drive away...so I'll have to see if I will be heading up that way. Depending on the sizes of the girthbelts, I can usually get 7-8 backing pieces out of a hide. So, I'm estimating $10 for a backing piece if the hide runs around $80, if I remember correctly. I like to use 2-3 oz leather for that piece.
There may also be some who need the back cover (covers the string and gap in the back), if so, post and I'll see about that too.
EDIT: I transfered the original order list (bolo only) so it can be updated with shipping info.
Foxbatkllr-25 yrds-paid +backing-paid ...shipped
Benkenove-50 yrds-paid +backing ...shipped
Brad1957-25 yrds-paid ...shipped
acyang-25 yrds-paid +backing & cover-paid ...shipped
Eskilax-25 yrds-paid
Loanstar-50 yrds-paid ...shipped
Jango Newbie-25 yrds-paid + backing-paid ...shipped
Maniacman7-25 yards-paid ...shipped
FettFanatic-25 yards-paid +backing & cover-paid ...shipped
Bountys Hunted-25 yards-paid ...shipped
Steelblitz-25 yards +backing & cover-paid ...shipped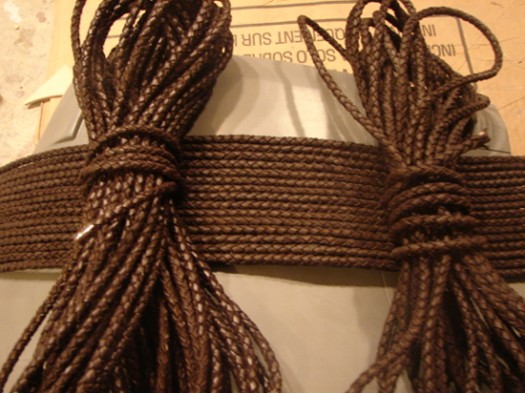 Last edited by a moderator: