I found TDH after wasting a few dollars on a DP 97 helmet. I thought it would be an acceptable display piece, *** what a mistake. After searching here I found enough good ideas to start salvaging this POS.
I want to thank all the smart people that posted their work, so I'm adding my 2 cents here. Hopefully this will help others working on a budget. This helmet will end up as a Jango display when all is done.
First item of repair was the lack of flair at the bottom and the general shape problem. I saw numerous references to using hot water to soften the vinyl. While washing the helmet i found that my tap water was hot enough to make it pliable but it heated up too large of an area. I spent $20 at Home Depot for a heat gun so I could focus on smaller areas individually. The common solution to retaining the shape by using a Craft Ring looked like a great idea. I purchased 2 10 inch rings from Hobby Lobby, So far I've only installed one at the bottom, that should be sufficient. I cut the ring so its just long enough to reach from ear to ear and squeezed it down to fit comfortably inside the lower lip. With the heat gun i was able to form it to follow the curve nicely and let the ring push out the bottom to what looked good. I ended up being 9 inches wide from ear to ear and 9.5 inches from front to back. I purposely did not cut out visor area yet because it helped hold the front together and spread the cheeks apart. I purchased a visor from
T-Visor.com that will fit very well when i clean up the inside surfaces. Now I was able to straighten each ear separately with heat gun so they looked even. Next problem was the warped/curved lower cheeks.
I made a template out of scrap plywood to match the shape of outer lower cheek, used a piece of soft packaging foam on the inside so it would conform to bumpy surface and backed that with another piece of wood. After heating entire cheek i clamped the area flat until it cooled. Now just a little bondo and sanding will make the cheek areas look good. The final big problem was the flat dome, after sitting in a box for 15 years it looked quite stupid. I didnt include any before pics, im sure you all know how bad it looked. I saw a member said a guy used a mannequin head to reshape the dome but the inside was so bumpy and uneven that would just transfer those bumps outward. (and i couldn't talk my roommate into letting me use his head !) Im using a 6 inch diameter shipping tube as a work stand so i needed a formable object to push the dome onto. What worked for me was a bag of rice inside a ziploc bag sitting on top of the closed end of tube, it allowed me to heat the whole dome and push it over the rice bag while forming the roundness with my hands. As far as i can see the main shaping is done minus a little bondo sanding, then its ready for some paint. Thanks again to all here at TDH for the info. I'll post more when i can get more done.
EDIT..I had to make front not look so flat, mandibles needed to flair out more at the bottom. New size of bottom skirt is 8.5 ear to ear and 10 front to back.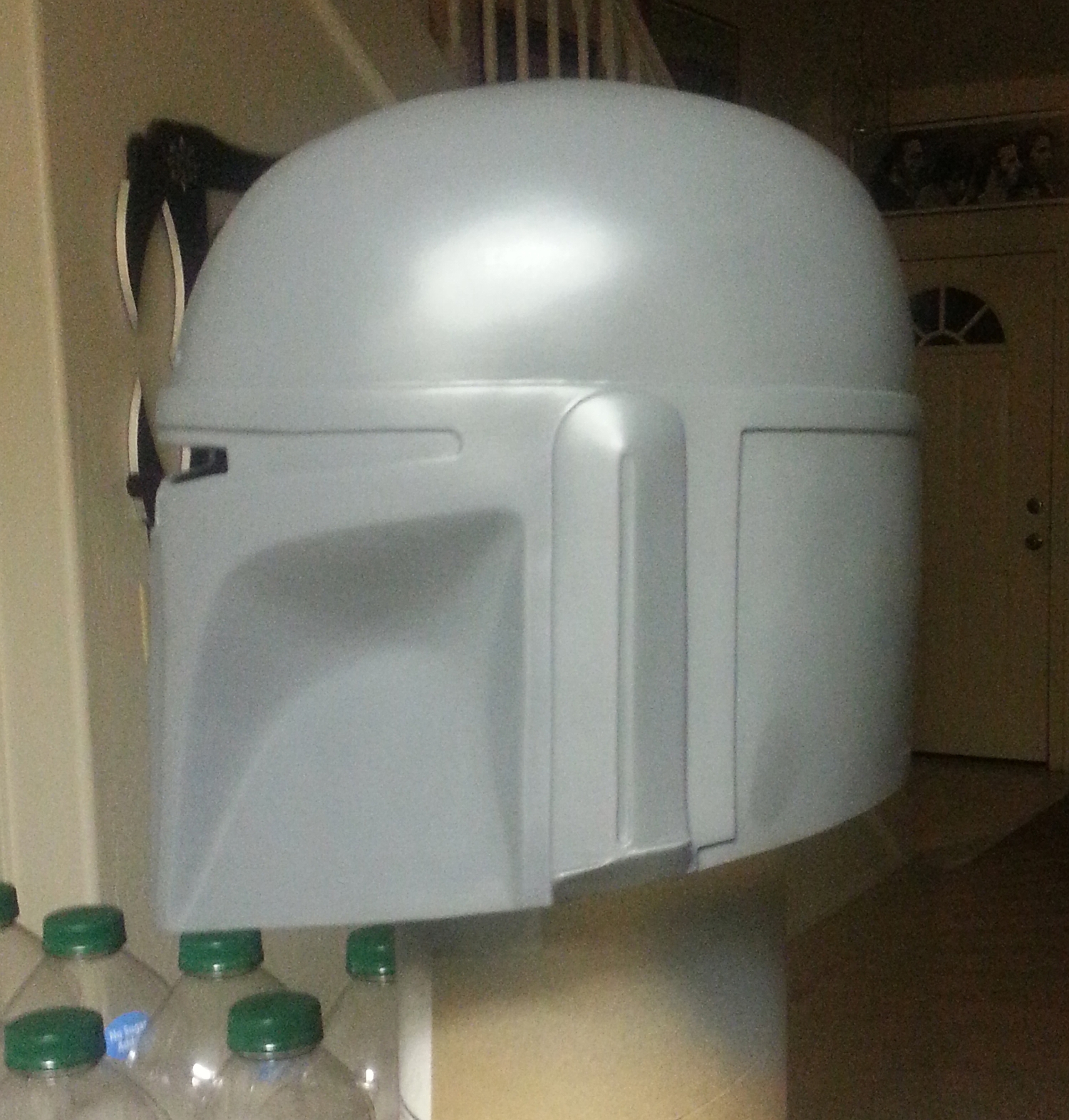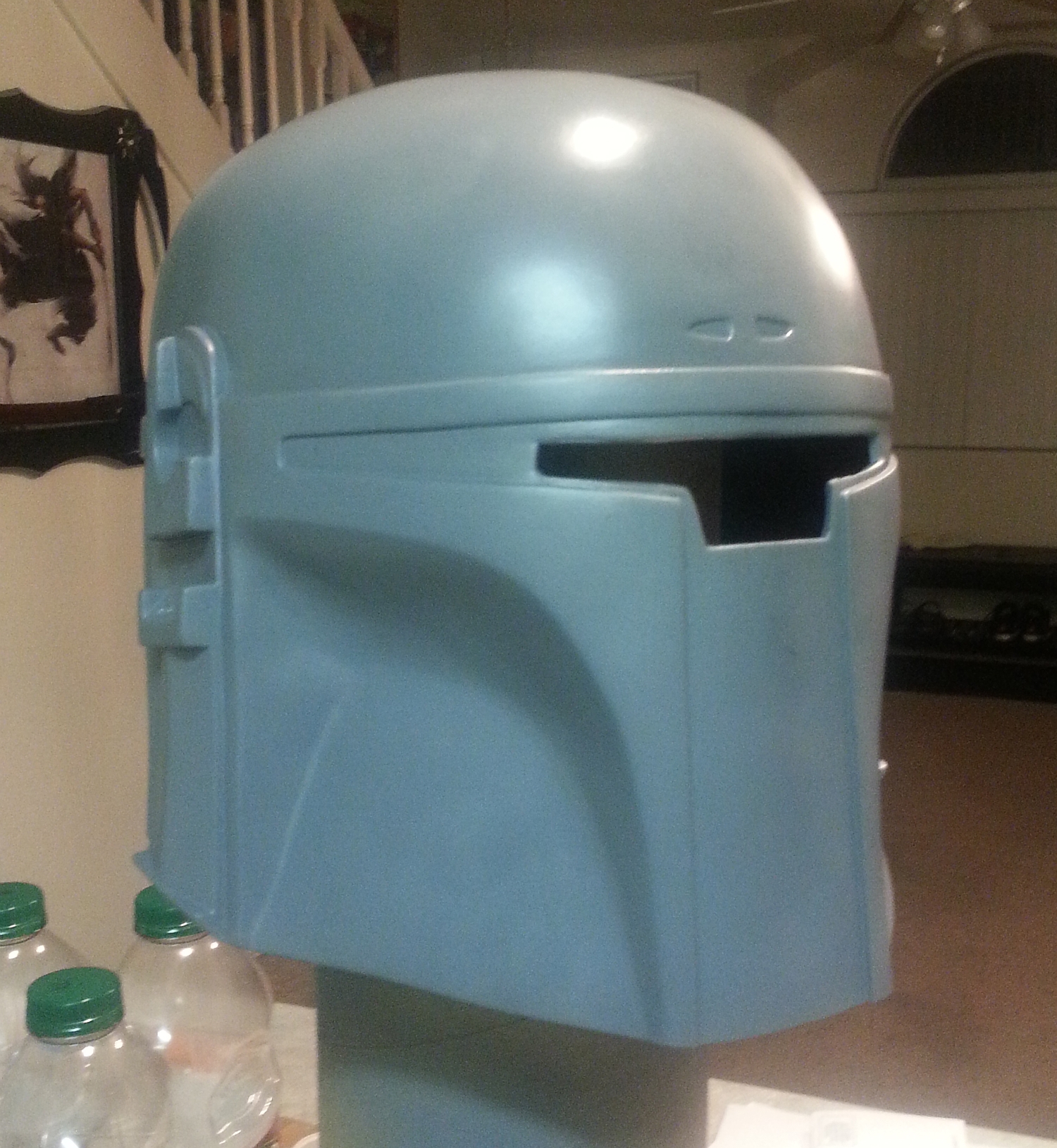 Last edited by a moderator: