Havoc's ROTJ scratchbuild finished. New pics
Finally got around to posting pics! Here's the work in progress of my ROTJ Fett blaster. I started off with a 2" barrel, a scope off ebay and a stock I made from maple.
Next I made the receiver and grip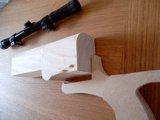 After this I reaslised I had made front of the barrel too fat so rebuilt the front end adding home made fins and the muzzle which I turned on a lathe.
Finally, I added the details and greeblies and re-worked the scope mounts (made from an old aluminium ruler) and gave it a coat of primer.
I'm about to start the painting/weathering so I'll post more updates soon.
Really pleased with it so far. Can't wait to get it finished.
Special thanks go to wizardofflight for his Webley plans, without which I wouldn't have managed this and to Sidewinder for the barrel fin dimensions.
Last edited by a moderator: