Hello all,
I am offering a new and improved V2 set of stickers. Far more accurate then my origonal sticker were, not to say they were far off but I was given some kickin' good photos from TylerDurden to help with this project and used them to revise the designs to make the as close as you will EVER get.
The chest sticker has been revamped to fit the Acctual size the read deal is.
It works for all current sets and is a tad smaller then the previous "large" but a tad bigger then the "small" was. Its a one size fits all but still 100% accurate sticker.
PM me and I shall Put you down for a set.
DONT FORGET TO INCLUDE YOUR TDH HANDLE AND WHAT TYPE OF STICKER YOU WANT!!!
The price will be $10 a set shipped with cardboard to keep it from bending in the mail and transfer paper.
Custom Mondos!!!
I can do any custom design or design a decal for you if you need one. The minimum for any custom job is $25 due to my printer costs but there are few things I cant do sticker wise.
Shoot me a pm with any interest in this.
below the sticker art examples see a pic of my weathered chest sticker on MLC armor.
Note: the stickers shown weathered are V1
Price - $10 for 2 sticker set of your choice. Shipped any where in the US or Canada (Includes cardboard to keep stickers flat and transferpaper)

ALL STICKERS SHIPPED 3/15/07
Ronin677 - ROTJ - Paid - Shipped
TxFett - ROTJ - Paid - Shipped
WhiteWulf - ESB Sholder - Paid (for Sholder) - Shipped
DaddyFett - 2 ESB sets - Paid - Shipped
FettOfficer - 2 ESB sets - Paid - Shipped
Devilstar2k2 - ROTJ - Paid - Shipped
Astromark - ROTJ - Paid - Shipped
Gonzo Fett - ESB sholder - Awaiting Payment
Rat Fett - Chest Emblem - Paid - Shipped
PSberetta - ROTJ - Paid - Shipped
kbrosseau 2 Chest Stickers - Paid - Shipped
Rudy G. - ROTJ - Paid - Shipped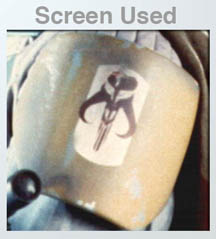 Last edited by a moderator: