Thought I'd share some progress on my helmet. At the time I bought it I had yet to find TDH and thus I was unaware of many things including re-casters and as such I found myself purchasing a fiberglass bucket off of eBay for what I believed was somewhat of a good price. However in the amount of time spent afterwards in salvaging, in my approximation and from comparisons here on TDH, a subpar (at best) fiberglass Fett helmet.
I have taken pictures of the bucket out of the box up until this point where I have masked it off for painting the dome and lower cheeks.
For anyone who is interested or would like to provide constructive criticism on any observations it would be much appreciated.
Thank you in advance.
**Here it is right out of the box. I wasn't sure if I needed to be happy or frightened seeing a fiberglass Fett for the first time.
**Here it is after about 15 hrs spent cutting out the visor section and key holes and trying to level out the inside so later I could affix a visor.
**Here it is after sanding is finished and I've added about 20lbs of Bondo (I KEED I KEED) but really I filled quite a bit :cry and the first couple of coats of primer have been applied sanded and washed...ready for this chrome overcoat.
**And here it is getting a nice masking prior to the *yet* to be applied Panzer Olivgrun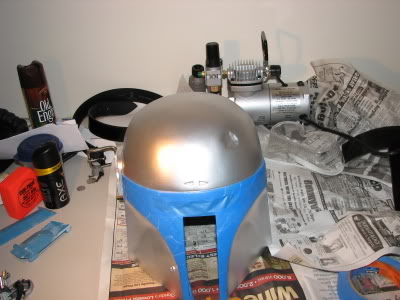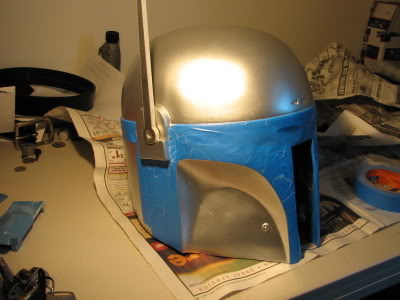 Stay tuned...
That's approx. 25 hrs just babying this helmet so far. I wasn't sure it would have taken that long but it has been great so far although I wish I would've found TDH sooner
.
Cheers!
Last edited by a moderator: