I guess it was inevitable after I got into costuming that I'd end up doing a Boba Fett. I've been lurking on here and other forums for the better part of a year planning it all out. I really like the non-SE ROTJ look. I wondered why I bucked the trend on this and realised I had a toy of that look when I was a kid, so that colour scheme is what I really associate with Boba.
Anywho, my plan is...
Armour, helmet, jetpack, shin tools, ammo belt, flightsuit, vest, neckseal, pouches, spats, gloves - Boba Maker
Chest Electronics - Fettronics (Recieved)
Jetpack harness - Signed up for the current run of Big Dane's harness kit
Girth Belt - I've ordered one from ReGeekedProps, but if it's iffy, I'll fall back to this one and dye it
Wookiee braids - scratch build
Cape - scratch build from a half shelter
Boots - Crowprops (Received)
Gauntlet hoses - Reasonably sure this will work
EE-3 - Sidewinder
rangefinder server and lights (though I know they're not strictly necessary) - I bounced around following suggestions, but got hold of one of NeoFett's kits and will check how that matches the stalk and helmet
Hollow rangefinder stalk (for the lights) - MachineCraft Replicas (Received)
Metal spikes for the boots - MachineCraft Replicas (Received)
Paints - following templates by RafalFett and others, I was thinking of using Humbrol enamels, but they've been a sod to work with in some tests, so I'm probably going to switch to Archive-X for the helmet at least. Armour may end up using Tamiya. I'm deciding on that.
Will probably also get a micon to do the voice - My Temuera Morrison impersonation isn't bad, but a bit unreliable!
The only thing I've really done is the braids. I followed
this guide up to the ~6 min mark
for the pineapple knots.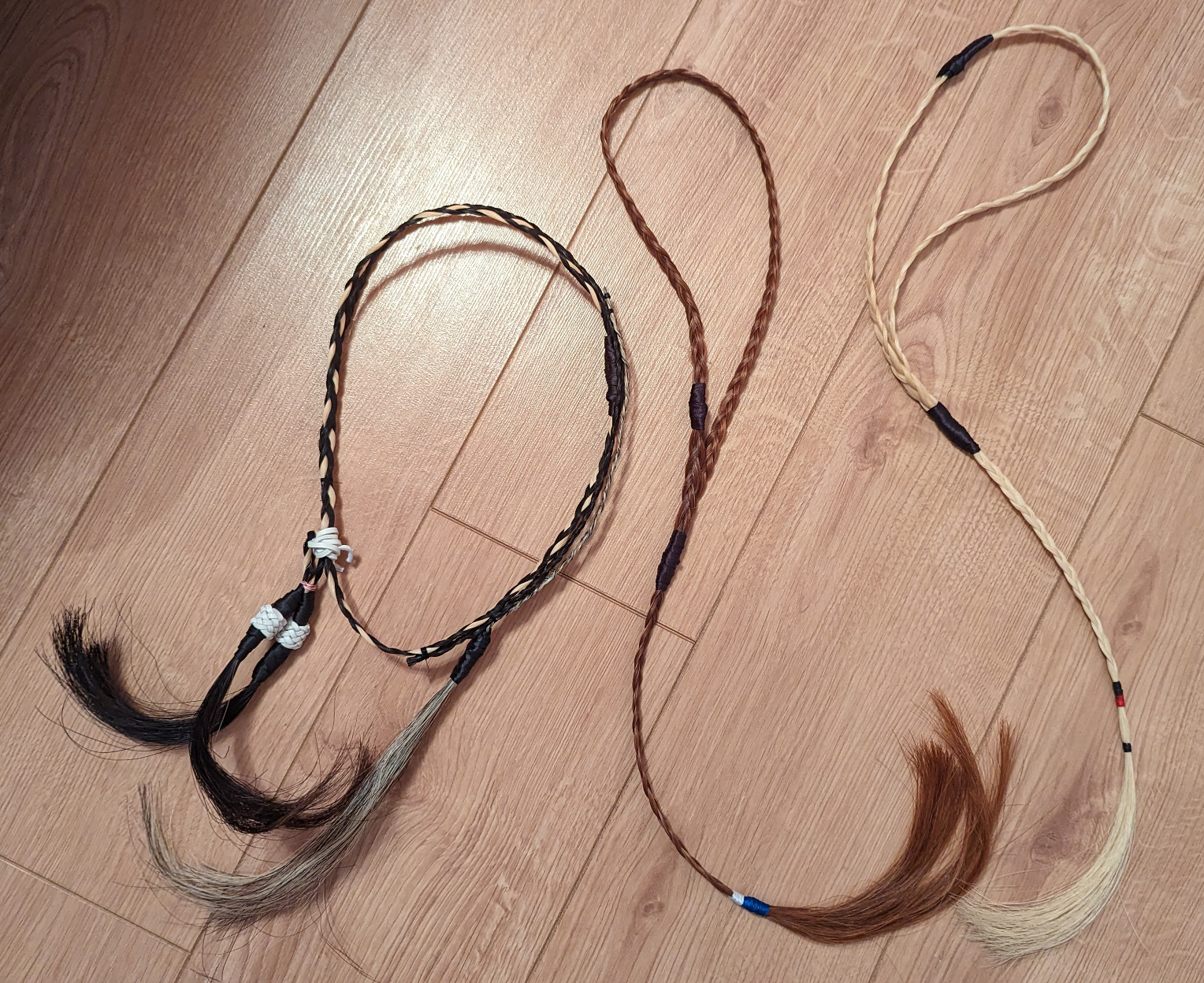 Ultimately, I'm incredibly happy with them, but I do hope that now they aren't coiled up for shipping, the ends uncurl a bit. It's probably tough to really see the size with street clothes, but here's a Daltana for scale:
Horsehair, thread, lots of superglue and some ribbon on the wide black sections.
Also, actual conversation when I did the first braid:
Mrs Daltana: "Wow, that looks like real hair!"
Me: "Well, it was at one point attached to a horse..."
Mrs Daltana: *audible retching*
Current work is on the boots - painting the central black section, replacing the basic rubber spikes with MachineCraft Replica metal ones and weathering them.