Here is the final version of the helmet templates. They will print out on 8.5 X 11 paper. I will be coming up with a tutorial as I start to put my own helmet together so stay tuned.
If you have any questions just let me know. If you decided to use these templates please post your progress, I'd really like to see what you folks come up with.
Alan
UPDATED 7/2/07
- ADDED FLAT PATTERNS FOR THE EARS & THE DOME - See Attachments below
UPDATED 11/17/07
- Updated THE DOME templates- See Attachments section below
UPDATED 11/18/07
- Added Helmet templates for the A4 format sized paper for the Fetts across the pond.
P.S. Solving the dome problem - batting helmet
Kripps and Kibosh came up with a pretty good option for the dome that should be really fast and easy. The first pic is the batting helmet cut into quarters lying over the template for the top of the dome. The second is a rear profile shot with a 2" piece of Sintra welded in between.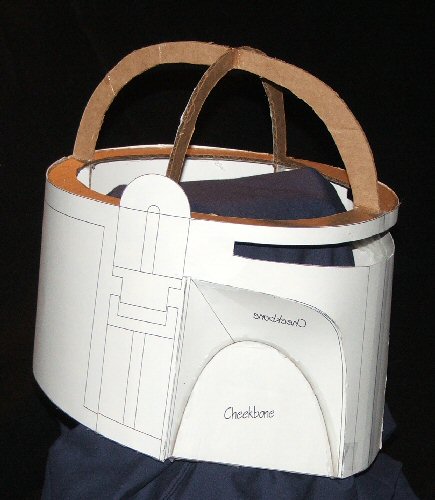 Last edited by a moderator: