I know this is probably not necessarily the board for this and that places like PropSummit exist; I lurk on that board, but I that's a rabbit hole I don't have the time to go down. Obviously, some of the guys over there are as fanatical as we are over here. I've always been a huge Blade Runner fan but simply didn't have room for any more props in my life. When BR 2049 came out a few years ago, which is about as perfect as films get in my opinion, I felt there was a void in my toy collection that needed filling. I acquired a lovely replica of the Officer K gun but then I kept looking at the replicas of the original gun. To me, it's one of the best looking, and iconic, pretend weapons ever committed to film.
Tomenosuke 2049 Deckard Blaster:
I think I first saw the Tomenosuke guys making versions of this gun about ten years ago and I know there have been several updates. I was aware of the Coyle and Sidkit versions, complete with recast issues in the case of the latter, but those are kits and I foresaw an unfinished kit languishing in my possession without ever being properly completed. The problem with the Tomenosuke models, in my case, were the apparent difficulty in getting them into the UK as well as the price.

The price for a completed model from Tomenosuke is high. I still see them up for sale but getting any change out of £1000 is a bit of a challenge; I think I paid £850 at some point early last year and they all seem to be above that price now. I'm not poor but £850 is a lot of money to me and, to be clear, for that money you're just getting the gun replica but no included display case or stand per Master Replicas or similar licensed products we've seen in the past. That's a lot of money for a toy gun. The question is; is it worth it?
Packaging and Literature:
The packaging is nice and sturdy. The packaging with the model I bought seems an improvement on previous versions and is very similar to the packaging that came with the Master Replicas Elite Edition style foam lined packaging. It's not as nice as the packaging that came with the original MR Limited releases; the ones before they changed it after either the Mace Windu or First Anakin sabers. I can't remember exactly which model they changed it after. Anyway, it's nice and sturdy and quite presentable. The foam lining seems better than some earlier models with cardboard inserts.

The included literature is lovely. There's a great scrapbook with photos of actual filming props and a booklet that's a full schematic of the finished piece. I think this booklet doubles up with the kit versions of this item that can be bought, and also serves as a assembly instruction manual. Also included are a set of Allen Keys should you wish to tinker with the piece. I'm aware that many choose to swap the barrel piece for a metal susbstitute; this isn't something that troubles me.

Overall the presentation is very nice and certainly sufficient to represent the money laid out on an expensive replica. I know a box is only a box, and that flashy pamphlets are just that, but it's well done.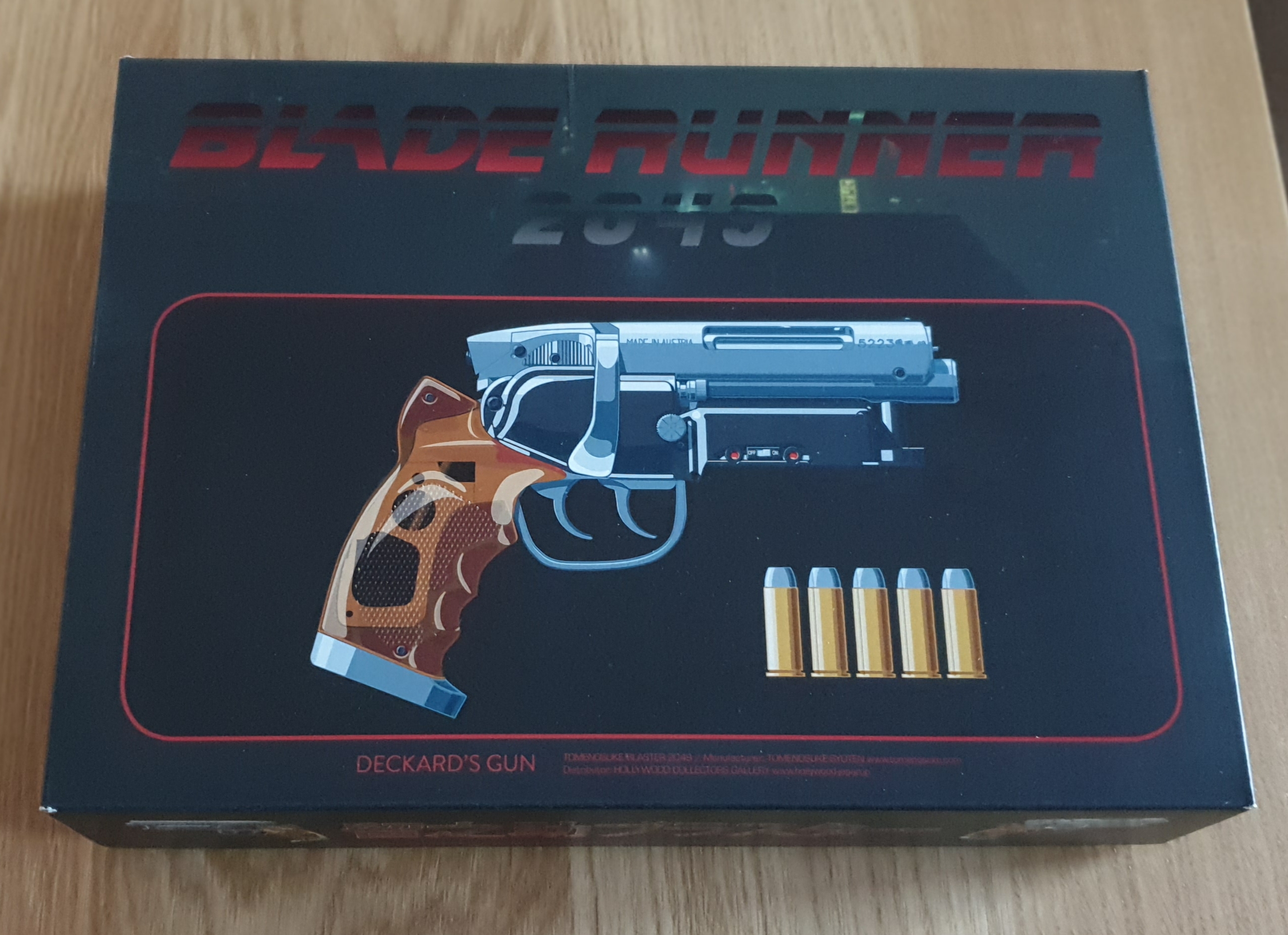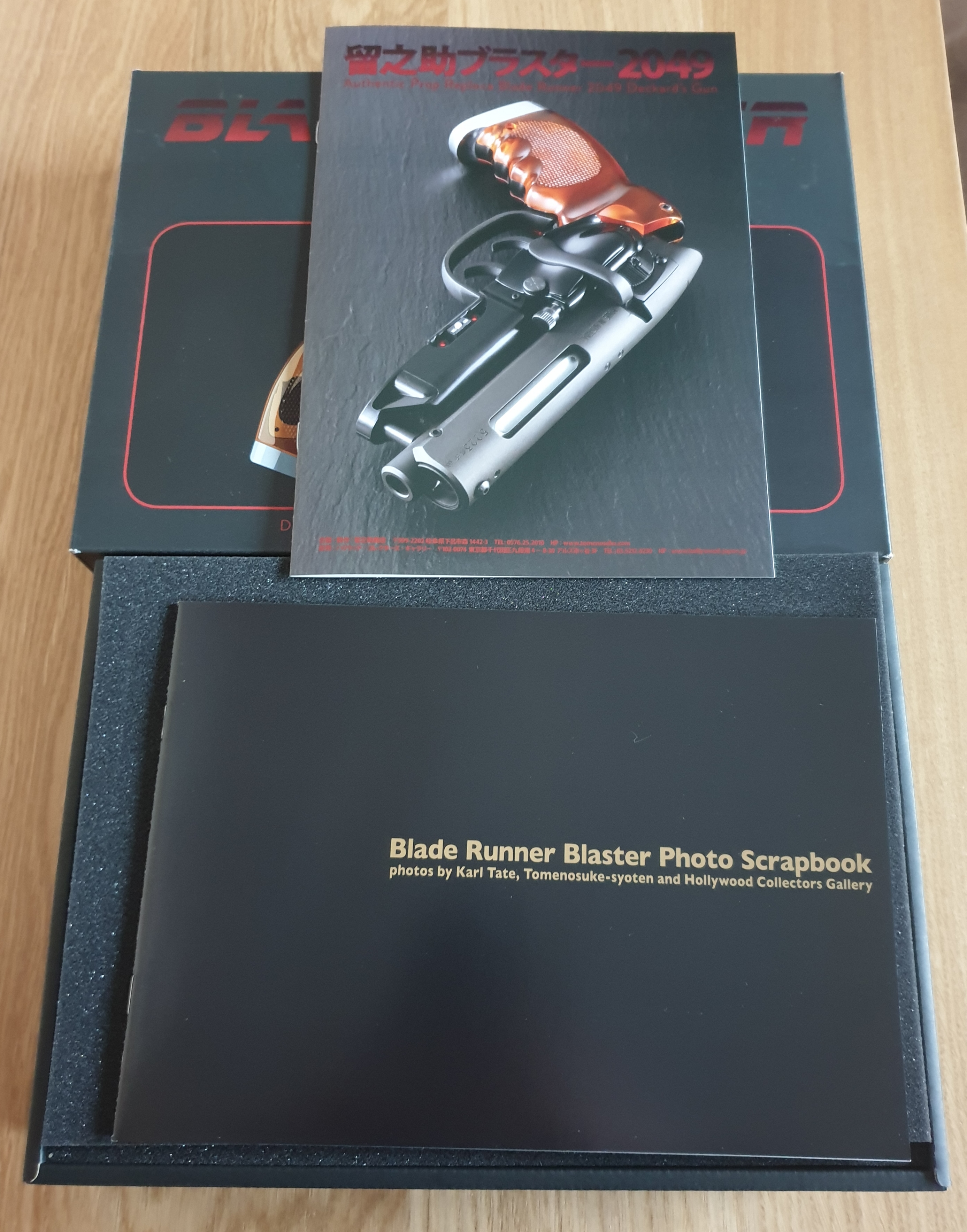 The Piece Itself
Nice boxes and shiny booklets are great but they're just the cherry on top; the real prize is the prop itself.

One of the nicest things about this replica is that it isn't just a static prop and that there's some real functionality to the piece:

There are five red LEDs, that are positioned two to each side and one to the bottom, that fade on and off in a satisfying way.

The Steyr slide can be opened up and moved back; the cylinder to the bulldog revolver part can be opened up and the pretend bullets can be placed inside. You might argue that the fake bullet feature is gimmicky but it completes the overall quality of the replica in a sweet way. The main trigger works and moves the hammer with the cylinder rotating. The front trigger does move but doesn't do anything beyond that. The green LED does not light up.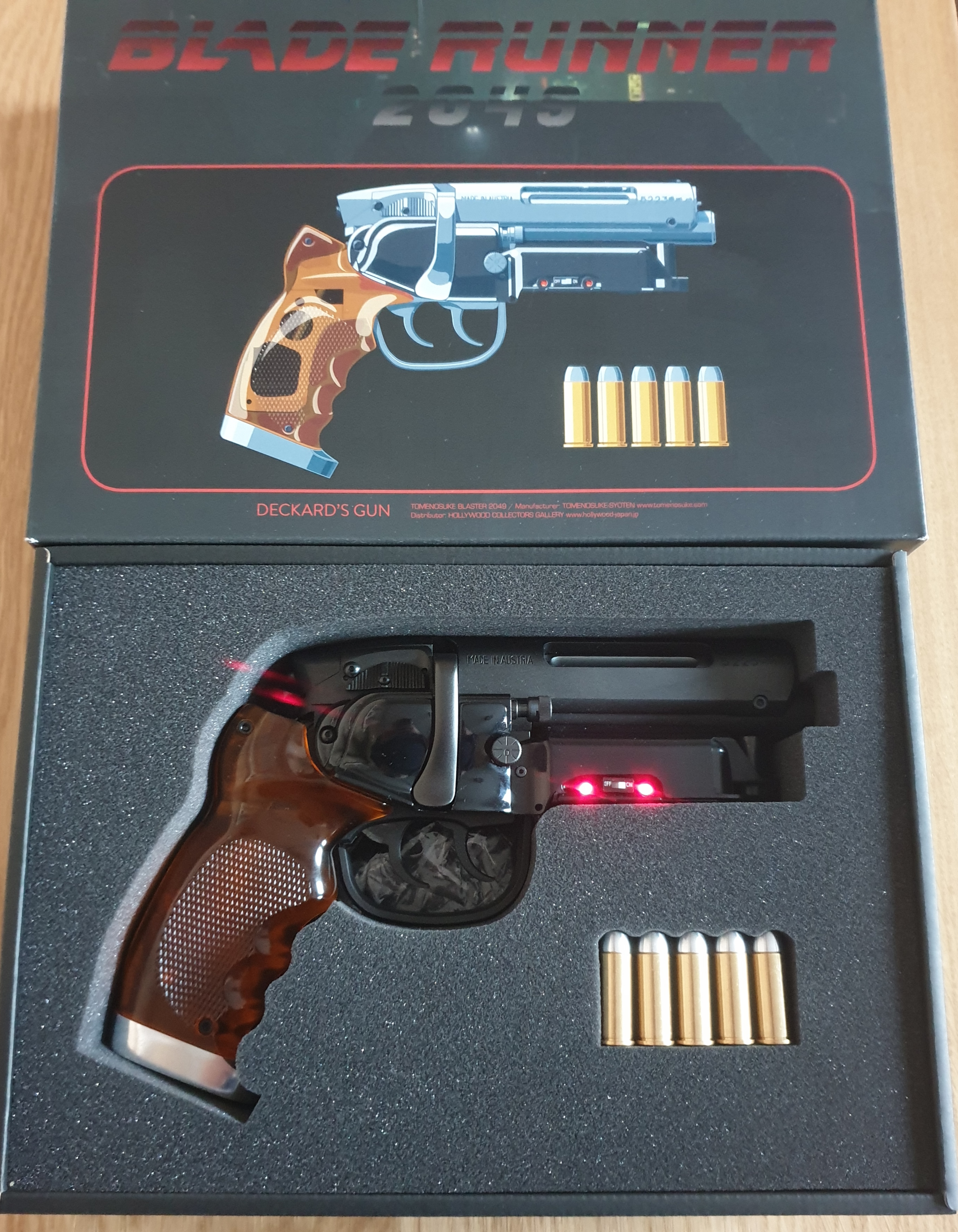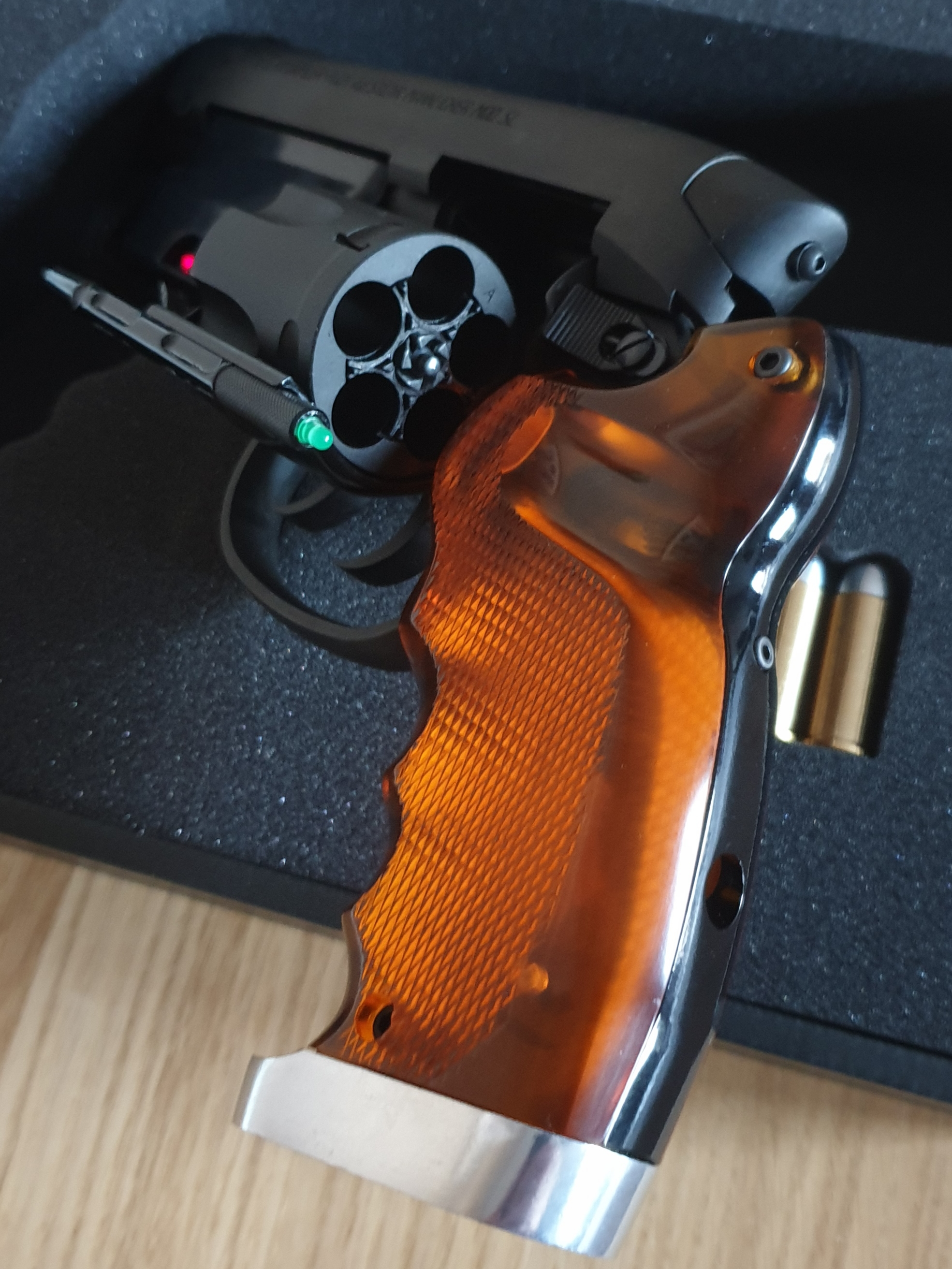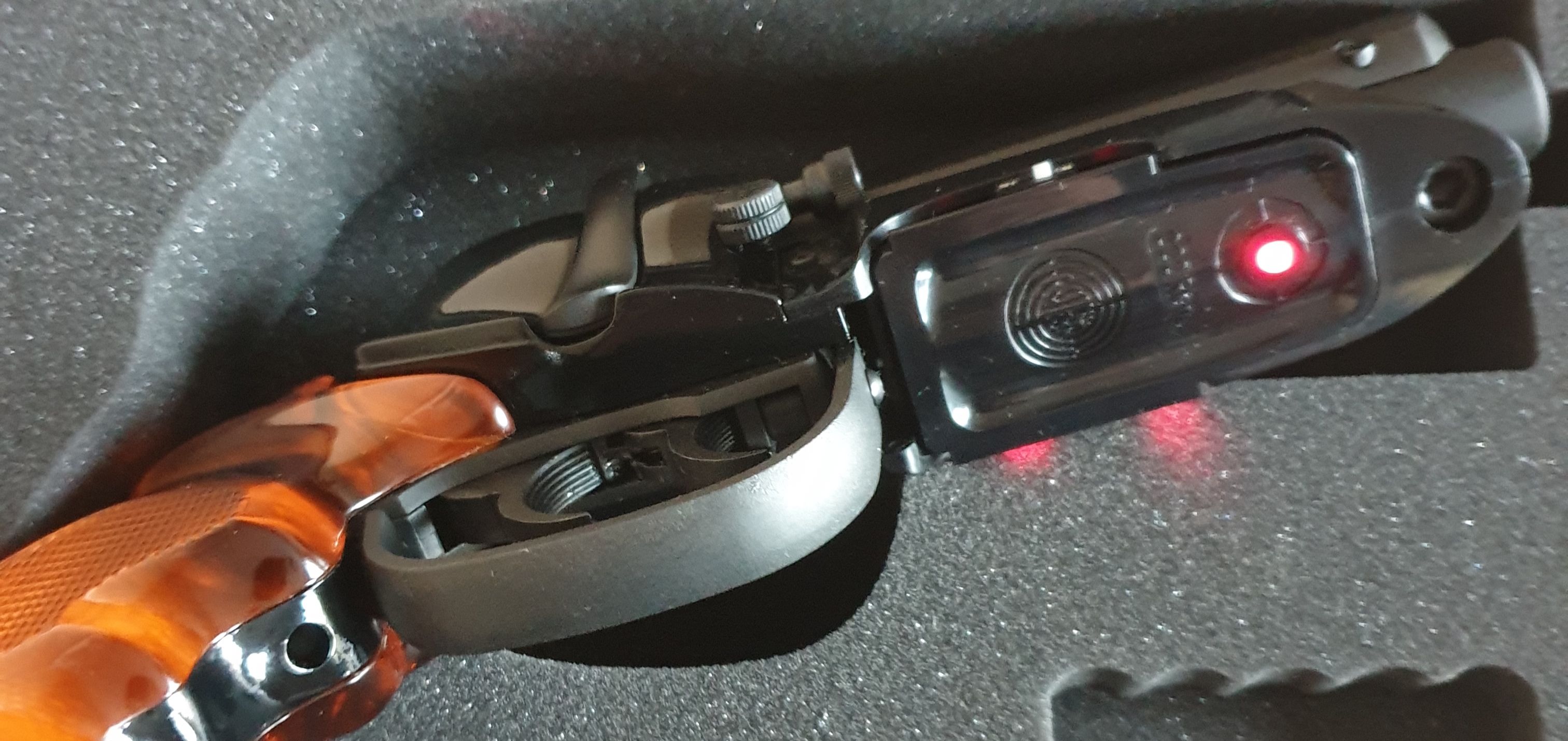 The unit has a fair heft to it because most of the parts are made of metal. The barrel is plastic, which I believe is something to do with Japanese gun laws. The overall heavy feel adds to the feel of quality although I suspect it would be lighter than a proper, obsessive level, fan made replica from real gun parts.
Many owners of these pieces alter them to better reflect the screen used weapon with appropriate weathering and alterations to some of the pieces. I think
Major
has done this; I know he's a real BR fan. I've no inclination to alter mine, although I do see the appeal in doing so.
Whether you need a Tomenosuke replica, or any replica of this weapon, is down to the individual but if you're a Blade Runner fan, and have the wish to step outside of the Fett Man with your props, then one of these could be for you. To me, this is a great looking prop. I rarely step away from Star Wars and Fett but when I do it's for something special.
In my view, this is a fantastic replica; it's beautifully made and has some great features that raises it above a lot of my other pieces. It is a lot of money for a toy gun and, clearly, you could get a lot more, by volume, with other items, howerver; I think the quality here really shines through and that makes it worth it.
It really is a lovely, lovely, thing.
Peace
Andy