The ESB Cape​
Ten years ago I bought a cape from a member here I thought was the best at the time. And it was. But since then, there have been some new ideas for what the original found part was, and one in particular recently caught my attention thanks to a friend here on TDH. So I looked into it. As I understand it, the original write-up was by
Fettastic
, but for some reason it was posted on theRPF (
here)
rather than on this board. I know there is overlap between the two sites, but this forum is specifically for Fett, so it's frustrating to see important information scattered around. Makes it harder to find. I won't go into the details of the found part itself. All of that is in Fettastic's post. Definitely read it if you haven't before.
I'm certainly not any kind of authority, but I will say, for me, after examining it, I don't think there's much debate about it. Put me solidly in the camp that this is it. Hats off to Fettastic for sharing his find. Amazing job.
This is a color corrected image which shows what I believe to be close to true colors, though the color of the light hitting this cape material will dramatically change the perception of the colors. That's true of all colors, of course, but this material seems particularly sensitive.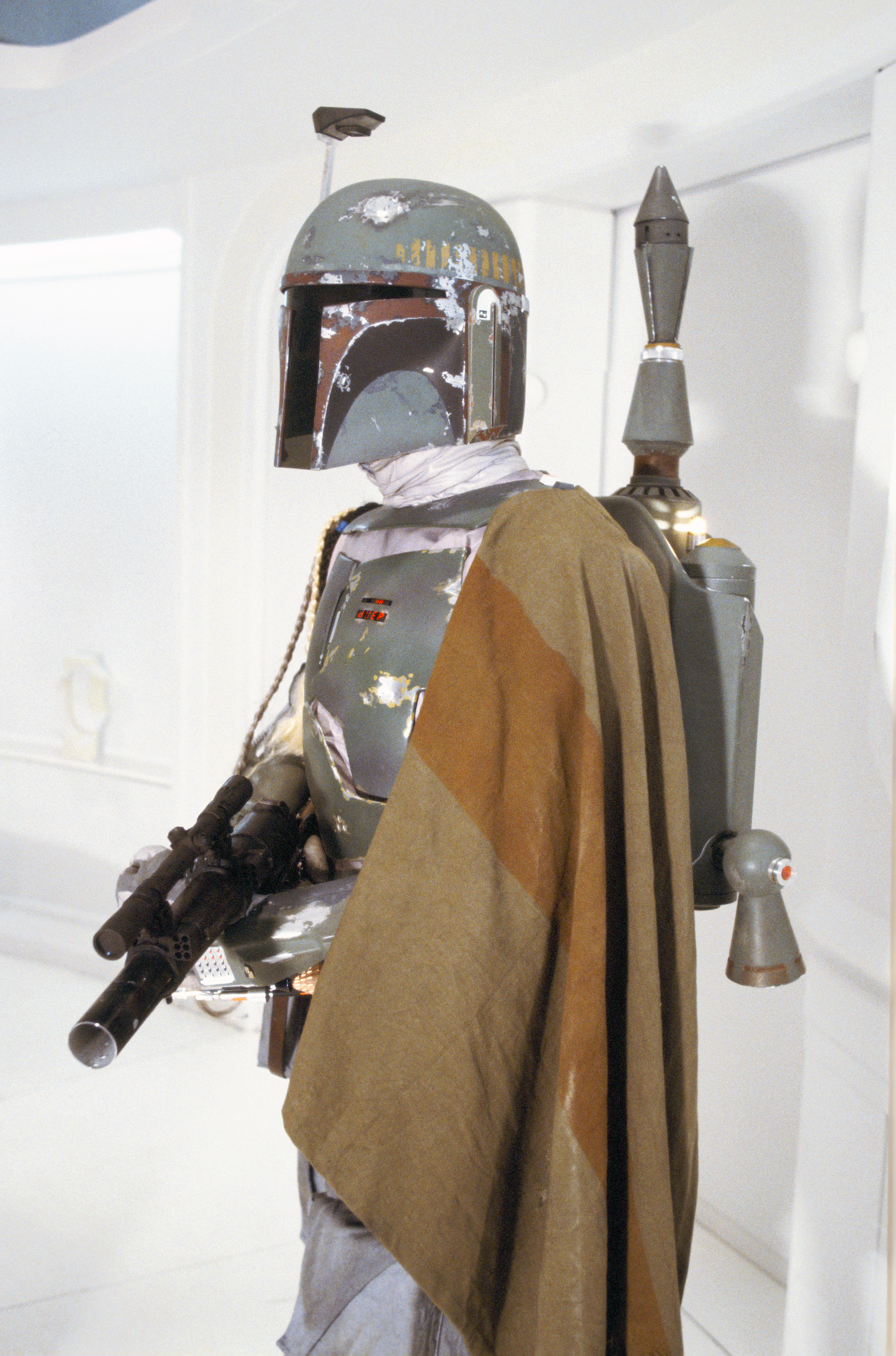 here is the found material photographed under natural light at different times of day, and you can see just how much the color perception can alter with subtle changes in lighting from hour to hour: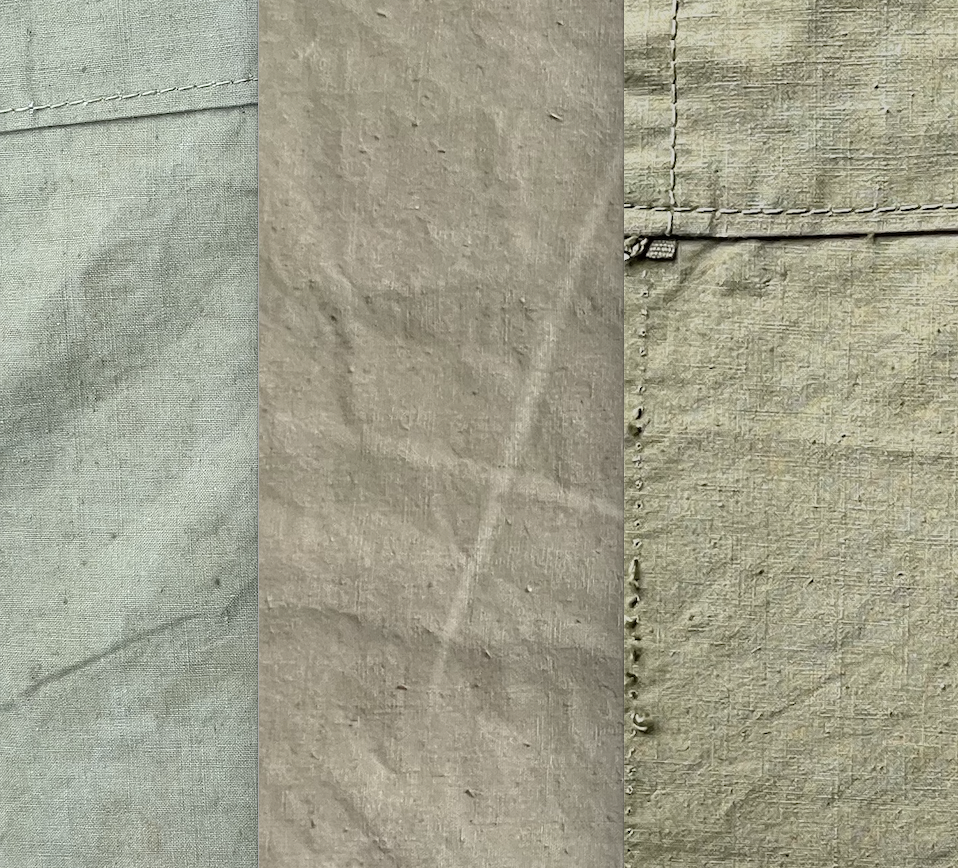 The material color is khaki. Khaki is basically a tan with green in it. When seen against something that's more saturated green, like the ESB armor, it will tend to look more tan than green.
Another important characteristic of the found material is the way it drapes or hangs from the shoulder. It's soft and heavy enough that you can see the shoulder armor's top edge underneath. ESB publicity display on left (1980), my cape on right:
Another interesting detail -- even how it kinks where it drapes over the shoulder armor is replicated in nearly the exact same spot naturally on its own: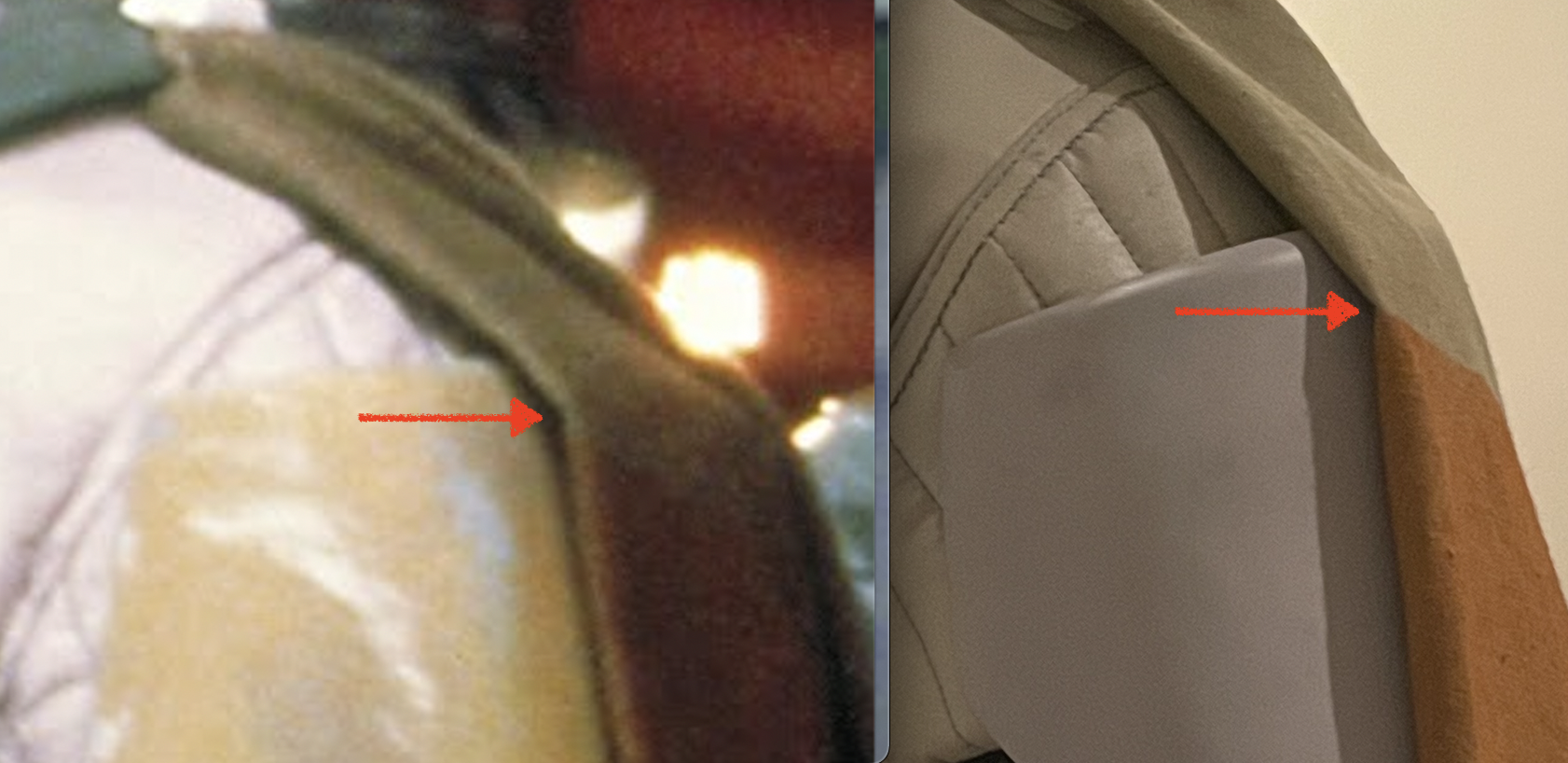 For the stripe color, I went with my gut. I noticed the little strip on the lower right of the jetpack seems to have affinity for the cape stripe color.
Looks like rust to me. I used Achive X 1975 Rust for the little strip on my jetpack so I tried it for the stripe on the cape. Now, maybe it could be burnt sienna or another color in that range. But, if we're painting on a military color palette, rust would seem an appropriate color choice by name alone. Or that's how I think I guess.
I followed
RafalFett
's template. Even though I believe it dates to 2013 I didn't see anything wrong with it besides the color and the length, for which I made these minor adjustments: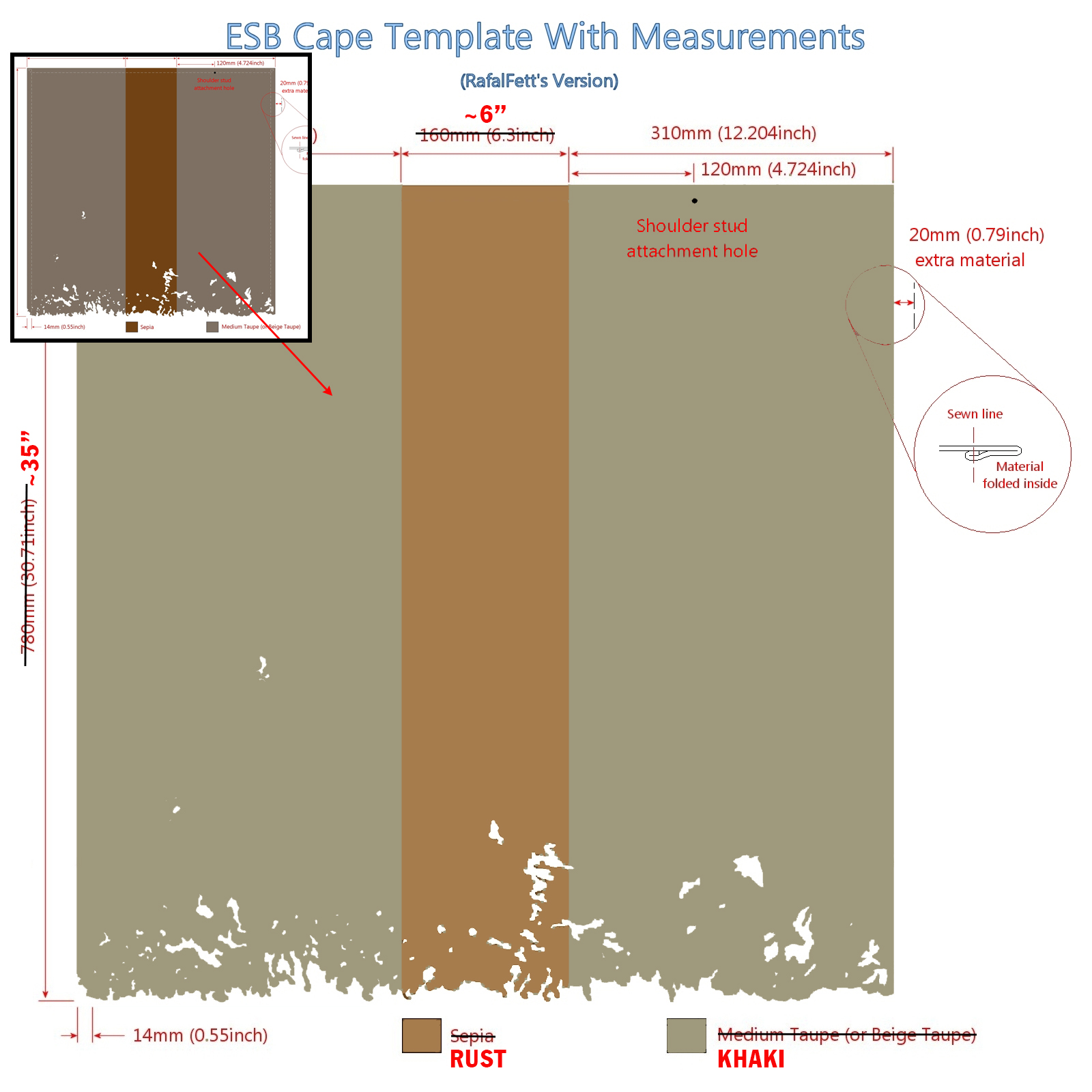 Interesting fact: the width of the panel of the found material used for the cape is a little over 31", which, after it's hemmed, is 30.5" -- matching almost exactly with RafalFett's estimated width measurement.
The length measurement from shoulder to knees really depends on the height and proportion of the person in the suit. For my manny, 34-35" works better. It's a good idea to cut the bottom edge last, after the stripe is on and the other three sides are hemmed. Make sure it gets down to the knee.
No photoshopping colors: original on left, found part cape on the right.
I did research the wool blanket idea but nothing added up. Not like this. Nice try wool theory. Now go away or I shall taunt you a second time.
I'm going to do another one and test with Floquil rust if I can get my hands on some, and maybe try some other colors. I tested Testors rust because that's easy to get, but it was way off. Too dark and red.
Also, I believe the chalk-like marks on the cape in the publicity photos weren't present during production filming so I'm gonna rub those out.
Last edited: