So finally I decided to make a proper entrance to this great forum. :cheers
I hope I may post this thread like this and Mirax haven't got to kick me out if I do something wrong.
To introduce myself, I'm a prop newbie from Germany building on my Jango Fett 1.0. My only prop experience so far was a custom dark jedi costume (*caution advertising!* which can be seen soon in the upcoming short fanfilm Lord's Legacy
), which wasn't by far as prop-heavy as a Jango.
However since a couple of persons mentioned on a convention 2002 I would look a bit like Jango (don't ask me why, I myself don't see something equal except for the black hair and brown eyes), the idea was born of getting a Jango costume for the EP III premiere. Until beginning of this year it stayed only an idea. But since christmas I started getting parts from here and there and now I'm finally in it, working on the costume!
To start with what I already have:
The armor I got from another german mandalorian who made them with pvc (many kudos to admfrancis). Although the backpiece isn't finished yet, they really look great. The codpiece he got from another guy in the UK made from fibreglass which he will painbt the same way for me as he did the rest.
The Gauntlets I got also from the UK via ebay from frank-n-son (if someone know him), which where a bit of a disappointment, although I knew mine were the prototypes for the Jangos (as he did only Bobas ESB and ROTJs before). It was clear that a lot of work would go into these before wearing them proudly.
A fibreglass helmet kit I got from a propmaker downunder Australia. I'm not sure, but the original mold may have been a Don Post, perhaps here someone does recognize it (pics following later).
Blasters and Holster were the Rubies one. The Blaster will be ofcourse modified and repainted. The Holster don't look too bad if you stand a couple of meters away, but is a quite crappy plastic piece after all. However I thought I will use it as model for making one of real leather as well as the ammobelt.
As Rope Belt a usual horse girth belt in brown like the Boba ESB has to do, as for the real thing in leather it lacks the time and money.
I also got a nice grey overall which will be modified. (I prefer the overall more grey than blue as it appeared in the movie especially on Geonosis). As Gloves I use those from the german army, which look quite accurate.
The leathervest I plan to make myself.
As I have plenty to do and not much time till EP III, the jet pack has to wait, although I already have projected a custom build "convertable" pack which can be easily refitted from stubby to classic version in minutes.
For many works I'll have to do, this forum is a great help, giving ideas and help, for which I as a newbie am very grateful. So I thought I open this thread to show step by step my work in progress, hoping to finish my Jango 1.0 before EP III premieres. Any comment, ideas, help, anything is welcome.
I started with the gauntlets. The first pic shows them as they were (and they look on this pic much better as they REALLY were).
Although the shape of the gauntlets isn't very screenaccurate I decided to go for the accurate details except for the overall shape which would cost too much time to redo (crazy guys like you are to blame that I wanted to do it myself too! :wacko ).
First I cut the pieces to the right size for me.
The right gauntlet I removed some Boba edges, cutted and engraved some details as well as adding the switches (which will of course removed again before painting).
For the left I did the same. Fitted (not seen on pic) the red LED (yes, I'm even going to electrify the gauntlets although I'm really greenhorn in doing electric stuff).
The Rocket I removed and reshaped to be more accurate as well. Only need to be painted now.
The next steps will be to use the filler to smoothen everything up and fit the parts together.
Please excuse the weak quality of the pics as they were made with the cam of my mobile phone.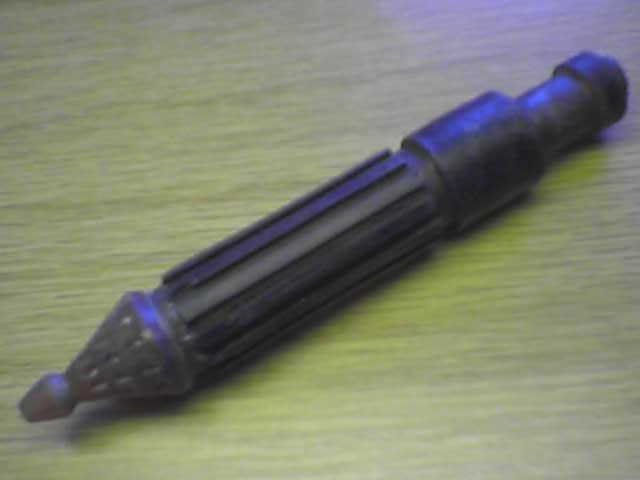 Last edited by a moderator: