Hey,
**please ask questionsin thread rather than Pm so I can multi-reply to make it easier.
Ive been at debate recently on deciding to sell my currently approved 501st ESB Fett. As I work on my Pre Pro 2 build, the thought came to me that maintaining two Fett suits would be a chore. Putting it up on a mannequin is something I've considered, however, I dont feel like I want to do that either. Ive put so much passion into my pre pro 2 build thus far, Id like to switch to it full time once it is complete. So with thay said, Im creating this thread to gauge interest before I make the finale call in the next few days. This coming Sunday may very well be the last troop in it.
To note, I plan on keeping the helmet, boots, the EE-3 blaster, and some minor greeblies. The helmet is priceless to me as it's signed by both Mr. Bulloch and John Morton.
A quick run down of the parts:
Jump suit/flak:
Arkady, weatherd by me.

Body Armor:
Bobamaker, fiberglassed/resin.

Cod/kidney:
Bobamaker, fiberglassed resin

DC Props Gauntlets:
Smooth-On, painted and weathered. Opens by hingepin. Alco switches installed; wouldn't come with darts.

Gloves:
Gloves, maker unknown.

Cape:
man of war

Knees:
Bobamaker again. Resin knee darts

Sidearm/holster:
pulse 40 by Molon Abe Studio. Could use some bondo filling as its a B grade. Bobmaker rubber holster.

ESB ammo belt (functional) w/hip pouches:
DeltaMike belt
Braids:
Horse Hair by woodman

Girth belt:
woodman as well (I think)
Shin tools:
might be keeping. But theure by DVH
Jetpack (man of war):
this pack has a lot of love built into it. Painted by Major, and maintained by me with extreme OCD. This is really the only item in the set Im going to be picky in who gets.
I have a idea on the price(s) but need to confirm a few things.
Thanks for looking.
Some photos: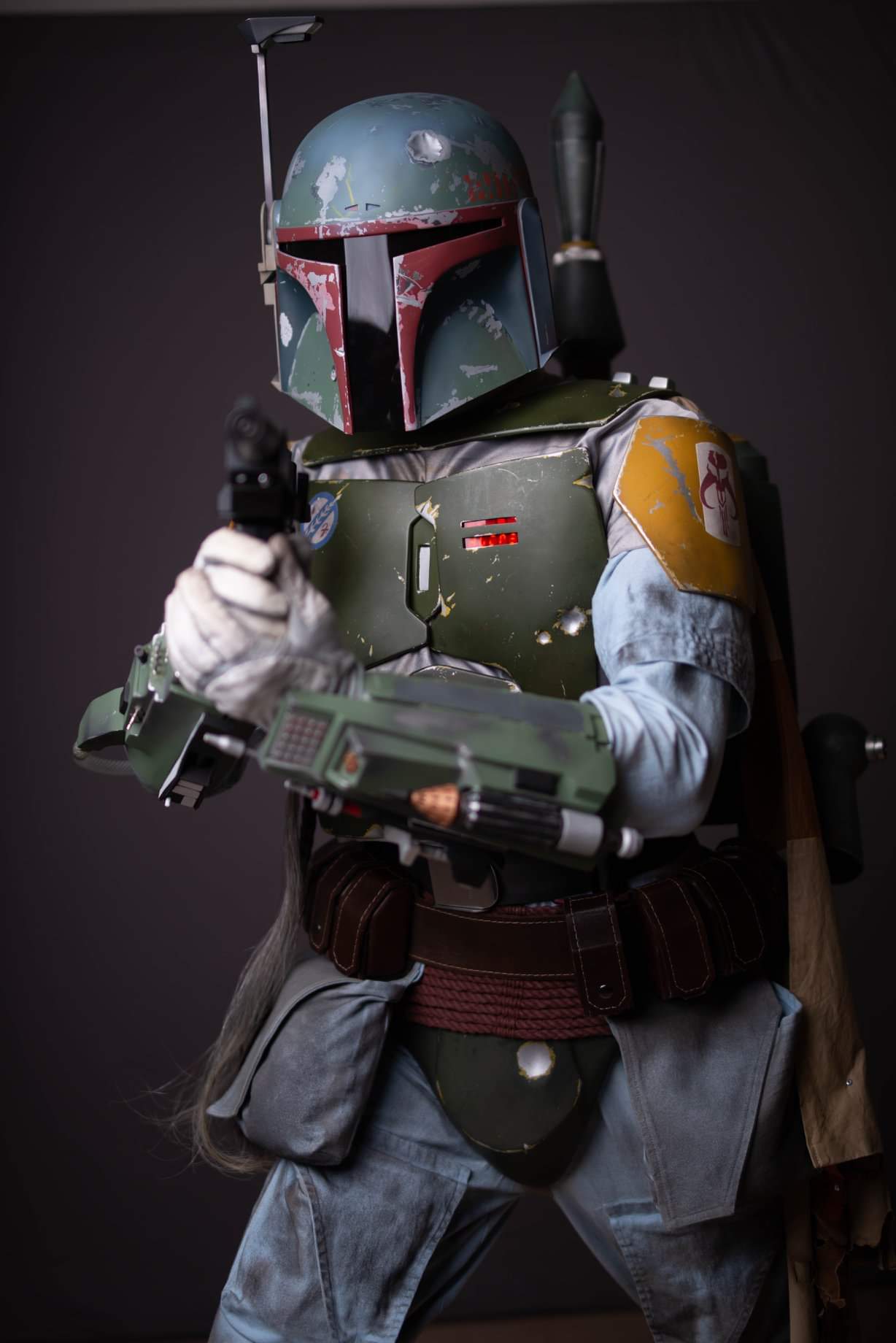 Last edited: