I've looked through the older threads here on Jango Fett gloves, but most of the links on sources to get similar gloves were outdated and wouldn't have worked for me anyway; while my hands aren't HUGE, there's no way I would've been able to fit into a pair of ladies gloves, even if I could have found a set available (I live in Japan, so no access to Nordstrom rack). That being the case, here's what I'm trying:
I picked up a set of plain white work gloves at a home center, and a can of Navy Blue
染めQ
(a color spray that works for leather. Link goes to their English page). The photos show one glove half finished- I was able to finish up one glove and get a first coat on the 2nd glove before my small can of spray was empty- I'll pick up another can soon and finish up. The photos below only have the top half of one glove finished- the overall color is actually pretty even now, and even the blue trim took the color and matches now. I'm OK with the results so far. I may look for a different style of glove and try it again, but it's not bad for a test run. Once I finish up, I'll post a photo with the end results.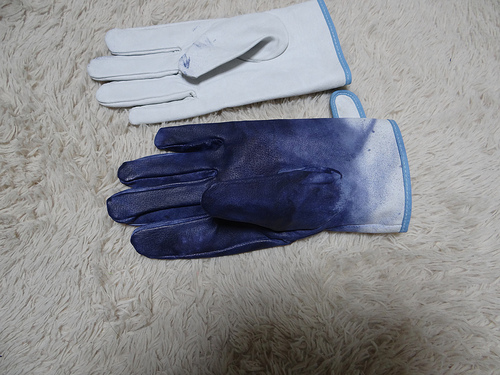 DSC00368
by
6 8"-10
, on Flickr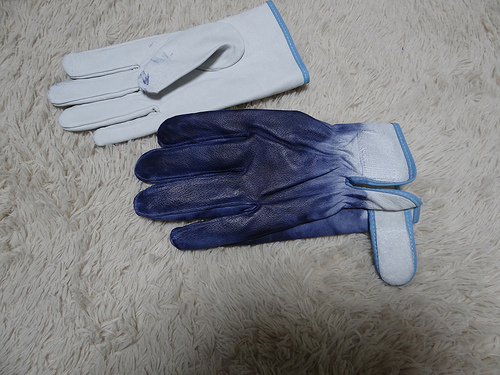 DSC00367
by
6 8"-10
, on Flickr
Incidentally, I used the same company's spray in black to turn my orange(?!) Buffalino Sentenials into a black boot, which worked perfectly (though I will have to touch up a couple of edges and folds on the boot).
Last edited by a moderator: