As I was asked via PM, after mentioning my Sabine in my Bo Katan-thread, I thought I might also share my scratch-built Sabine with all of you...
All of the armour (including the helmet) was created out of EVA foam, only using self-made templates or my self-made Nite Owl-helmet as a reference.
As I love to work with EVA, I wanted to try to even create a helmet out of the foam; not Pepakura-style, but with as few seams as possible... But that's a method I can't really recommend. I finished the helmet nevertheless, because I didn't want to start all over again...
At first I created the beasic shape of the helmet...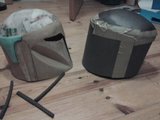 Then the EVA-shape was covered with Worbla to hide the mixture of foam and acrylic caulk.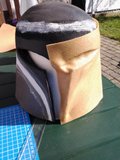 Later on, as I wasn't satisfied with the shape of the EVA-dome, I also attached a Worbla-cast of my Nite Owl-helmet's dome and spent a lot of time applying white glue or sanding it down, to cover up the seam... I also changed to back of the helmet, after the first good pictures from Sabine's back became available and added a rangefinder out of EVA and Worbla...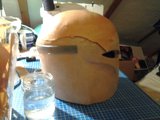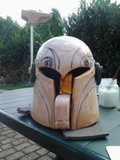 All the other parts were formed out of EVA, covered with 5 to 6 layers of a water-glue mixture, and then primed and painted...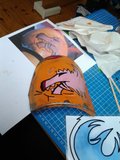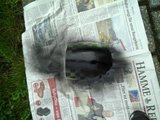 I attached them to the shirt using press-studs, but switched to magnets later on for the two large breast-plates, as it was more comfortable to fasten the plates while wearing the shirt...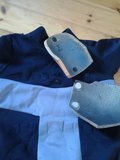 I sewed the shirt out of black neoprene-fabric, which is grey on the other side, thus I just had to flip sides. To create a homogenous image, I also used the same frabric for the gloves and the straps holding the knee- and ellbow-parts.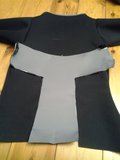 I found suitable boots on ebay, modified brown trousers (but am not satisfied with the colour, yet) and made the belt and holsters out of faux leather...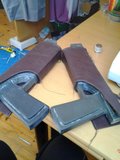 I got a pair of resin blasters from a garrison mate and hand painted them for almost three days... The paint-gun was completely scratch-built using EVA, Worbla, and some things found in my "junkbox"... I added a magnet, so that I can attach it to the belt.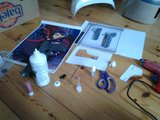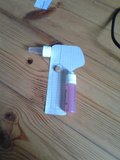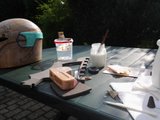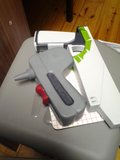 For the wig I used a white and lilac coloured wig I dyed using orange and blue CopicMarkers.
The day before the German red carpet event for Star Wars Rebels I finished the paint-job of the helmet as one of the last things to do...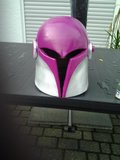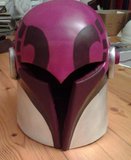 Here are some pictures of the premiere and the JediCon one week later...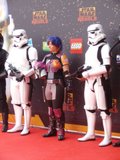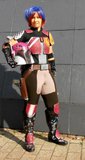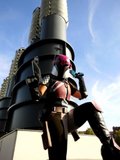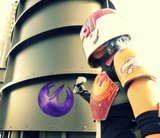 There are still some things to approve, but it's nice to see the children starting to recognize the character and finally be a Mandalorian... ;-)