Hi all!
The EU forum is strange territory for me, yet here I am.
I'm working on something that's pretty different from my usual Fett ESB and Pre-Pro buckets--a Jaster Mereel helmet! This is a commission for member JMereel, and it's based on the Jaster Mereel custom kit by Cruzer.
It's a very cool kit, and a really nice cast. The kit includes the helmet, an RF stalk with a separate topper, and an "ear cap" piece. The RF assembly is able to pivot using an attachment bolt. The parts are molded in cold-cast, which unfortunately I'm not able to use. . . There were some impressions in the surface left from the packing materials, and even after some pretty intense polishing, I couldn't get them to come out.
But no worries! I'll be painting the helmet to give it a worn, dirty bare metal appearance.
In these first couple of shots, I've primed the helmet and laid down a base coat of a Duplicolor metallic shade. It will give a great base for the metallic weathering, which I'll be starting within the next day or two.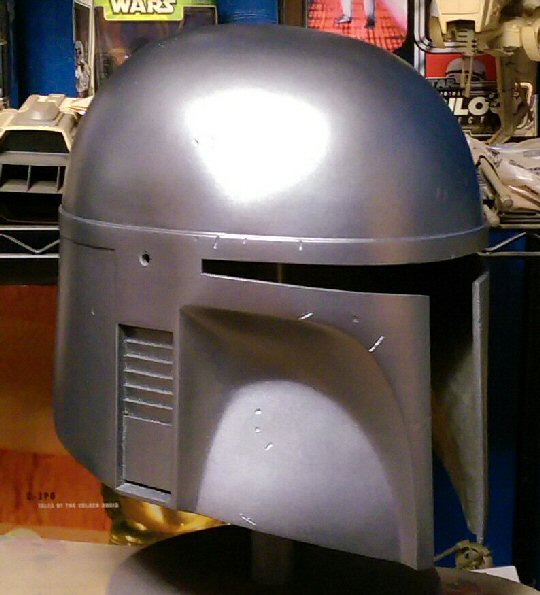 It's definitely not that shiny, lol. The overhead light really reflects off the dome in these pics.
You might notice that I've cut in some minimal physical damage as well. I'm using a few panels from the comic books as reference and they seem to show some small gouges and scratches.
Here's the RF assembly. I forgot to snap a pic of the ear cap piece.
Much more to come!