Greetings!
Well , a year and a half on I finally get round to doing this thread !
As the 'other bounty hunters' section seemed to have disappeared when I came to post I first did this mammoth build thread on my usual hangout GALACTICKNIGHTS.CO.UK ...now its time to post it where I always wanted to ....here goes...
As some of you may know ,IG was born on the dark and stormy night of 27th feb 2011,..
.ok it wasnt that stormy ...just dark ...
It was a late finish as Crewe militaire was on the next day and this was his first gig in deployable form.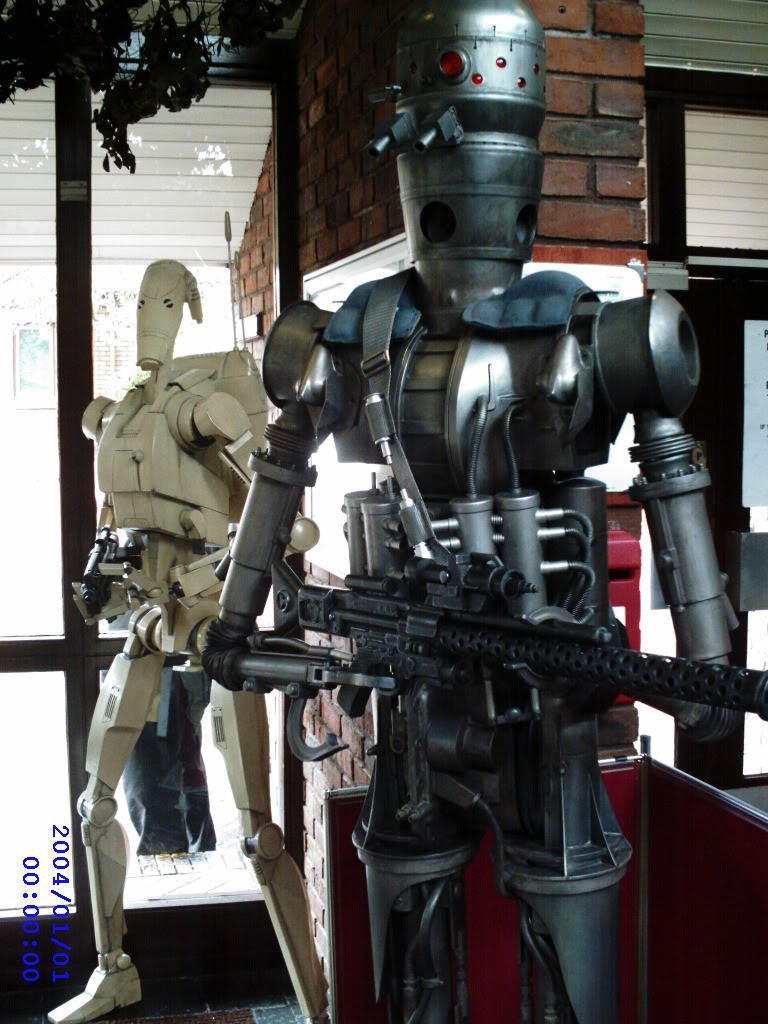 It was something like 1am when I finished the weathering the night before the show
...So ,I'll attempt to explain how I had another large droid shaped 'accident'...may take a while .....here goes...are you sitting comfortably?
- - - Updated - - -
this is pretty much all the printed reference for the Igster ...basically there aint much about less than 5 usable shots in total .
As some will know , there are no shots of his back and the only shots of the droid as we know him are on the stardestroyer set .
The appearance of the white IG in the scrap room on Bespin had bothered me so I dug out my copy of 'the making of the E.S.B.'
Its a few years since I read up on it but I think it stated the Bespin scene was shot at the start of April and the stardestroyer scene shot in the 20's of the month . Also the IG in Bespin is NOT complete , non of the familiar greeblies are on the head .
Also the entire thing is sprayed white ...even the bandolier .Could this be related to Fetts white incarnation?
This also proved that the IG we know and love is painted and not a bare metal finish , also when I did get to play with a real DERWENT combustion chamber it was a very dull ,flat ,oxidized grey .
For those that dont know , a few years back IG's head part was identified as a combustion chamber /can annular burn chamber from the engine of a glouscester meteor , a british jet from the 40's/50's...not to ramble on into to much aviation history detail here .
I first found out about it when , during a troop at MAGNA science centre years ago a trooper I knew showed me what him and the group had noticed that day ,a derwent engine on display there as a cutaway !...I said 'so'...then he said 'turn your head sideways '.....I dropped my lunch! ..it was full of IG heads! , 9 to be exact .
Deciding that they were to well fixed to pinch one of , I left the project for a while .
Thing was though , NOW we have the size !
Next , a trip to pester me old mate Arnie , blackmailed him into scanning a large ,front on image of IG from the back of an ESB poster mag.
This is then printed in colour on A3 and tiled and printed in black and white on a small pile of A4 paper ,the size having been determined by knowing the height of the derwent (IG head).
Stick these together and we have a **** good idea what everything else measures
While I was researching IG ,I went to see a contact at an aircraft salvage company and asked if they could identify any of IG's bits ....
The only real thing they said was that his 'limbs looked like aircraft jacks'
They did however rattle off LOADS of stuff they'd seen in places like the Falcon internal sets ...I wish I'd taped it !
2 conclusions I came to about the IG prop at this time ...1 ,it was made from predominantly available aircraft scrap/salvage parts and weighed a load ...and 2nd ...I believe it had been dismantled /disposed of after filming .
There has been no sign of anything IG related in any archive pictures I have seen so this is probably the case .
Basically Star Wars is the ultimate recycling film (whole original trilogy), things were rented for filming and returned to prop stores after , this is true for most of the weapons .
I needed a cheap, lightweight droid which like Roger would dismantle for storage and transport to gigs in a car so using original parts got kinda ruled out .
The only piece I would have had trouble building from scratch was the derwent and once I'd acquired a fibreglass cast from an actual one I was rolling on the project!
- - - Updated - - -
At the same time I started fiddling with the head I started at the other end as well with the feet .
As with Roger this was to be a free standing prop ,also I was short of room to build so being able to build him as he stood was appealing , ...so I needed feet .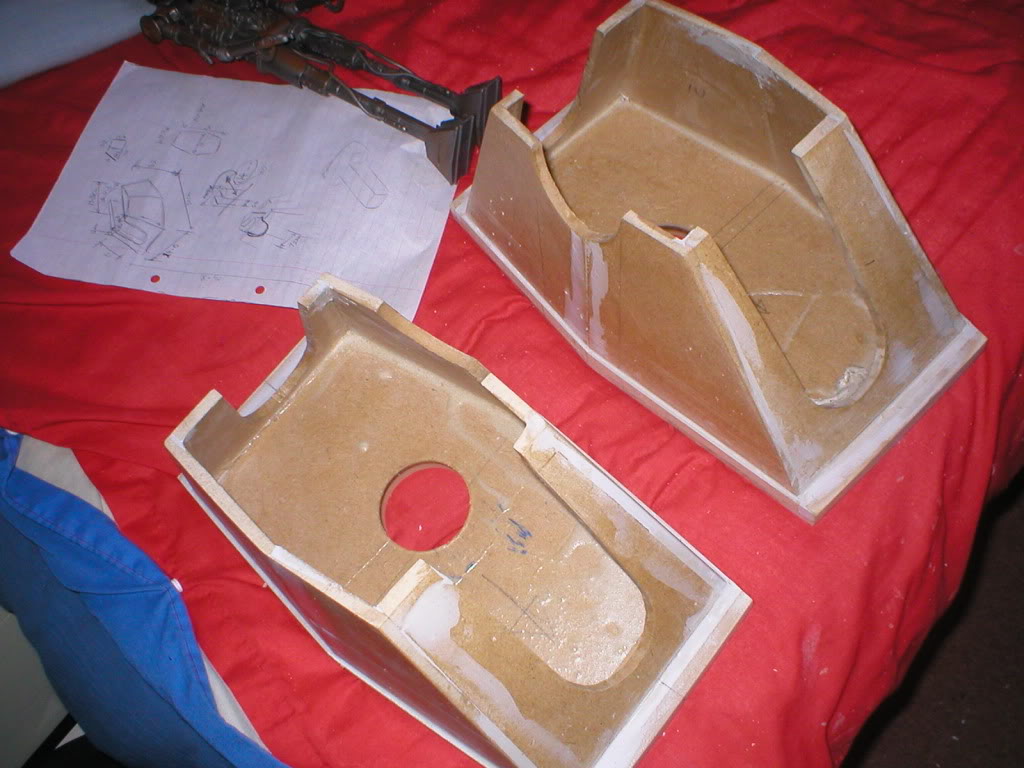 These I make as heavy as possible , the shell is MDF ...
Then I started the 'justified ' joint for the ankle ..A compromise that looked like what is familiar but looked as though it would actually ,mechanically work .This was partly because I'm picky but also because I have an idea ...more later on that..
BTW the size for the foot was determined from the new hasbro IG88,..as you may know , like 2IB ,IG88 has no actual feet , the feet we know are devised by the toy co.
I measured them and multiplied by 6 (1/6th figure)
Like I say ,to lower the centre of gravity and keep the figure stable I keep all the weight I can in the feet and from the knees up strip out as much weight as possible .So the feet get the side cavitys filled with plaster of paris mixed with a bit of external grade PVA glue ... goes hard as a bullet .
these were filled in stages to aid drying and avoid expansion damage....
these then got left till later on in the build when I finalised the design of the full fake ankle joint . With this done the feet needed modification ..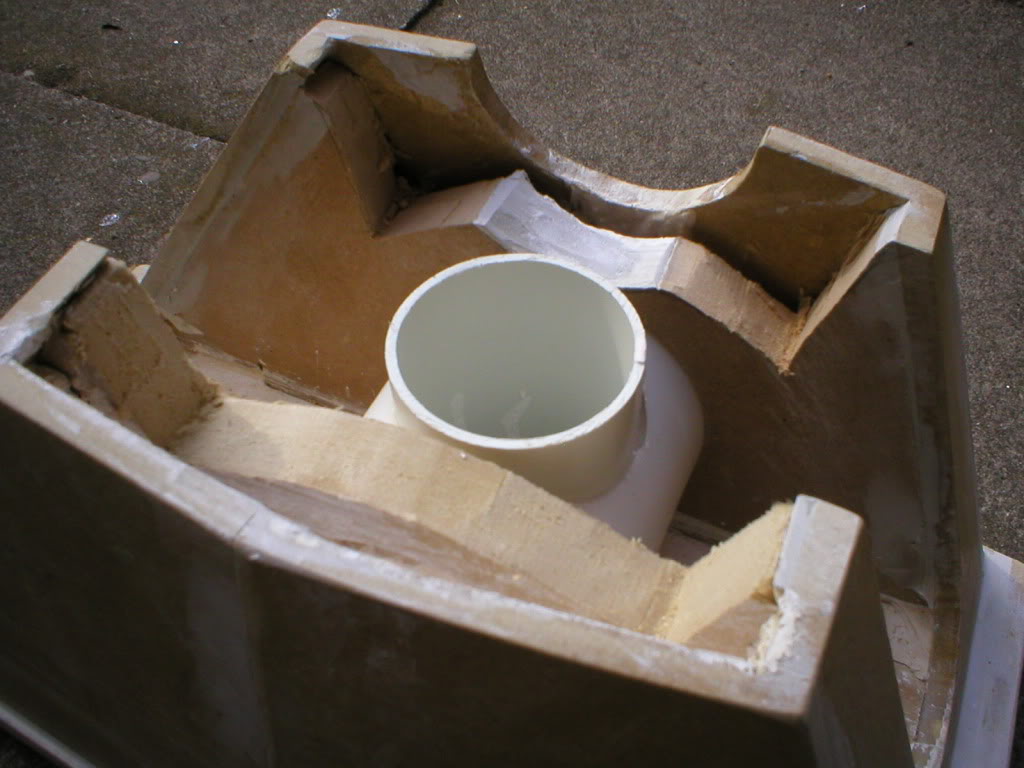 this made it look like a viable joint again .
Then ,topped up with plaster , it was time to contour the inside of the foot ..
Last edited by a moderator: