Well-Known Hunter
Preferred Vendor
Happy New year TDH!
I made these stencils to take the guesswork out of ROTJ jetpack paint ups for me when it comes to placement and sizing. They arent perfect, but they help with the basic shapes and placement for the main damage areas. Its not every little piece of damage on the entire pack, just the main damage on the front center strip, and the front of the fuel tank panels. I also did the "3" looking damage area on the lower left side of the pack. The rest of the damage can be easily achieved by hand just looking at reference photos.
These were made to work with my DVH jetpacks, but you can re-size/scale or skew them in photoshop or a similar program to get them to fit most any pack out there.
I recommend using these in conjunction with photo reference to get your pack as close as possible
They were made in photoshop to print on 8.5X11 standard printer paper. the center strip damage is separated into 2 parts (top and bottom) so they fit on 8.5X 11 paper. The top and bottom have overlap to make it easy to join them together.
The image here is just so you can see what they look like. click on the PDF files below to download the full size/high res files.
enjoy!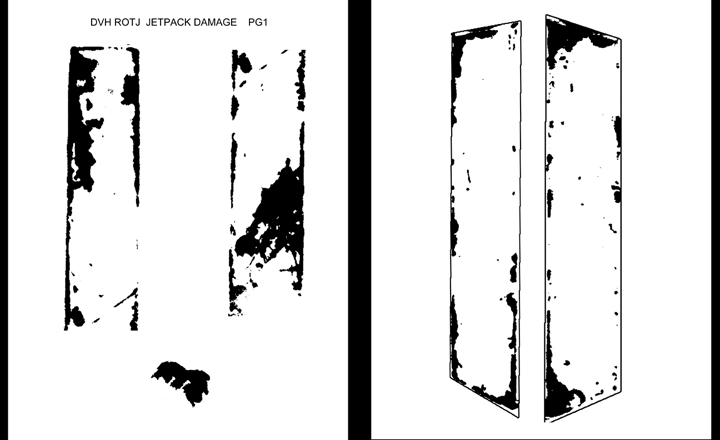 Last edited by a moderator: