Hi all,
Mainst69 asked a question in one of my helmet progress threads regarding my hobby space. He said:
that's an interesting topic that you brought up. As a complete (and terrified) novice to the airbrush, I'd be interested in a work area orginazational/workflow how-to write up. I've been giving it a lot of thought waiting to paint my lid/armor on setting up my paint area.
love to see an SJ "behind the scenes"!
I thought I'd post a few pics and describe how things are set up. This is nothing Earth-shattering or anything, just my little corner of the universe.
My work space is set up in our spare bedroom upstairs. I'm fortunate enough to have the extra room, otherwise things would be a lot more difficult.
I think that having some good natural light is important. Even though I work on projects late in the evening sometimes, some good ol' indirect sunlight
gives me the best idea of how colors are looking. So my hobby table is set up in front of a window.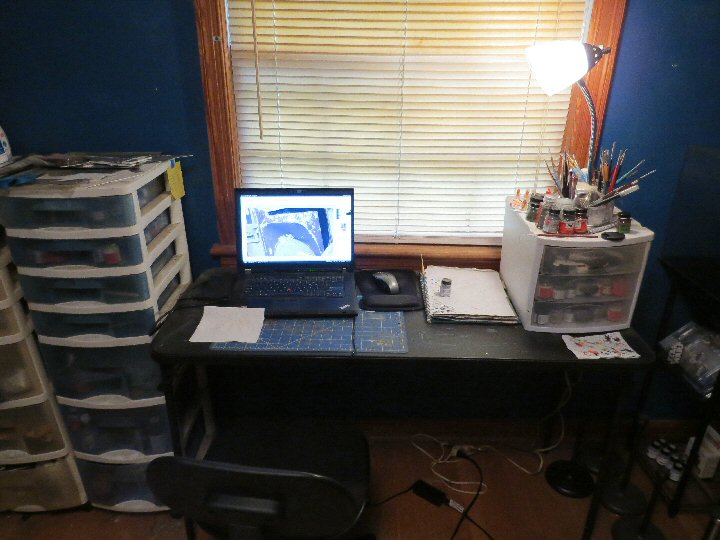 I have enough room for my laptop, which I always have set up while I'm working. Gotta have easy access to reference pics and be able to pull up different
pics quickly depending on what portion of the helmet or armor I'm painting. I keep a spiral notebook on the table, too. Not only does the paper make a great
blotter for dry brushing, but the spiral rings can hold skinny paintbrushes while I'm changing colors or doing other stuff.
The small 3-drawer storage unit holds my most commonly used paints and supplies. The bottom drawer is completely devoted to my ESB helmet paints.
The center drawer holds other paints that I might mix for weathering, or use on other Fett parts, as well as tubes of epoxy and putty. The top drawer holds
some common tools like tape, tweezers, etc.
The little work light on top of the 3-drawer unit holds my small brushes, and some other tools like my X-acto, a compass for scribing, some super glue, a
pin vise, and some sanding sticks. Having everything right there is a great time saver.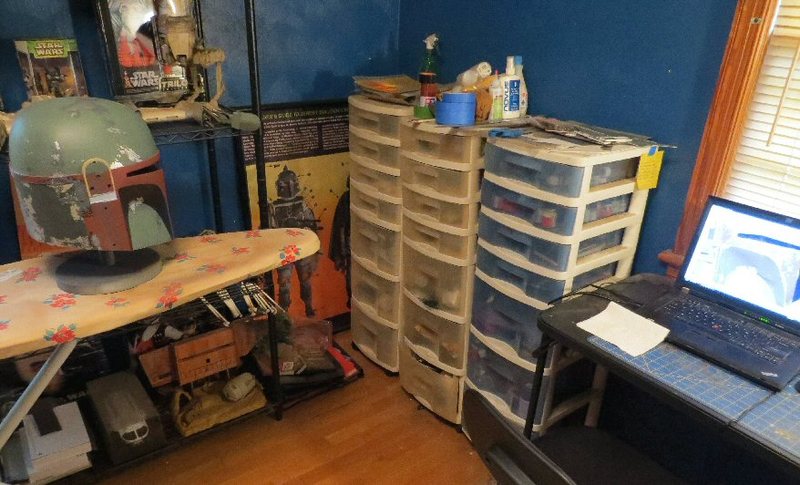 To the left of the table are 3 more multi-drawer storage towers. The one closest to the table holds most of my small hobby tools: spare X-acto blades, some
pliers and hemostats, a circle cutter, lots of spare paint brushes, as well as some larger brushes for weathering and blending. The other 2 storage towers hold
the majority of my paint "stash." Not just for Fett stuff, but for other hobby projects as well. There are also 2 sets of pastel sticks, some sandpaper, a soldering
kit (rarely used), and other miscellaneous small tools.
The old ironing board is also another portable surface for holding things like the helmet that's in work (meh, not important
), my painting stencils, and the
accessories for the helmet like the ears, MQ-1, RF, etc. When I'm airbrushing, I just set up the airbrush and swivel my chair around and spray right there.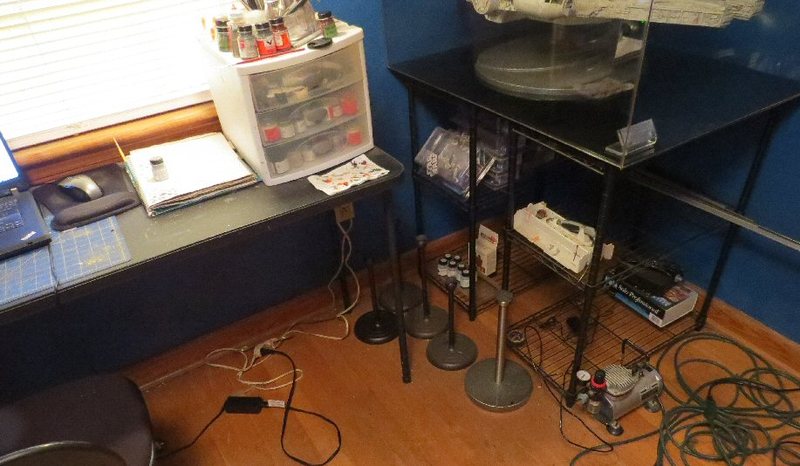 On my right are 2 wire shelving units. I keep my airbrush on one of the shelves, and the compressor sits beside it. Like I said, I'm fortunate enough to have a room
in the house where I can do 95% of the work on these props. I'm "allowed" by Mrs. Superjedi to airbrush acrylics inside, but when I'm using enamels, I cart the
airbrush setup out to the garage. She can't handle the fumes, and it's not so great for my lungs either. My Dremel is out in the garage, too. It just creates too much
dust to use in the house.
So that's it! Not too fancy, eh?
But this system works really well for me. If you work on multiple projects over time, it's really nice to have a dedicated space
to do your thing, and keep all your supplies organized. Admittedly, I have a lot of supplies that I've accumulated over the years. But that's mainly because I've
worked on so many different projects. Not just prop-related stuff, but model kits as well.
Oh, one other point. It's nice to have your space set up close to a source of running water. My hobby room is about 5 steps down the hall from our upstairs
bathroom. So I can use the sink in there to rinse acrylics from my paint brushes, and even flush my airbrush when I'm shooting acrylics. Very handy!
If you have a dedicated hobby space, share some pics! I'm always looking to "borrow" ideas from people. Thanks for looking, and Mainst69, I hope this gives
you some ideas for your own work area.