I'd like to start by thanking you for taking the time to check out my build thread! I've been wanting to build a Boba Fett for quite some time, but between being unable to decide between ESB and RotJ (for personal reasons that I won't bore you with) and my other Legion build projects, it's taken me almost two years to finally get the ball rolling. A few weeks ago, I stumbled across a partially-completed ESB Fett project for sale, so picked up the reigns and started moving forward with it. I've been gathering parts here and there, and while I feel like I've been making decent progress so far, I also have a long way to go yet. Some local friends in my Garrison have been very helpful, and I've also learned quite a bit from reading TAguirre's build thread:
http://www.thedentedhelmet.com/f20/ts-esb-boba-fett-build-52496/?pa=
DEFINITELY worth checking out for any new Fett builders. Also, I want to send out a HUGE thank you to Gregory for helping me find the right rattlecan colors for my Armor, Jetpack, and Gauntlets. I've included which colors I've used for certain parts in each section.
What I have:



Helmet

:
Helmet (mystery helmet by Rogue Studios)
Helmet Fans (Eqdizzle / Thanks, Eric!)
ESB Helmet Ear Markings (Thanks, SuperJedi!)
MQ-1 Circuit Board (resin cast, unknown maker)
ESB Range Finder, non working LED's (Bobamaker / Thanks, TAguirre!)
Armor:

** Chest, back, kidney, andcod armorpainted with
Rustoleum Hunt Club Green **

** Right shoulder and knees painted with
Rustoleum Golden Sunset **
** Left Shoulder painted with Rustoleum Farm Equipment "John Deer" Yellow **

Armor (RS Props / Thanks, Woodman!)
Fettronics chest display (Rafalfett sequence)
Right Breastplate Decal and Left Shoulder Mythosaur Decal (Trooperbay)
Collar / Cod Studs (Evolution Props)
Knee Dart Launchers (Evolution Props)
Soft Parts:
Two-piece Flightsuit (Man of War) **NOTE - Check the flaps on your waist pouches! What he advertises is screen accurate, but is not what I got. (Scroll to page 4, post #1 for photos.)
Neck Seal (Man of War)
Flak Vest (Unknown maker)
ESB Synthetic Wookie braids (Woodman / Thanks, TAguirre!)
Girth Belt (Unknown maker)
Ammo Belt and Pouches (Man of War)
ESB Gloves (Man of War) **NOTE - These are NOT screen accurate; may not be approved. The undersides of the index fingers should be gray like the glove, NOT white and padded!
ESB Gloves (Saint Nasty / Thanks, Mike!)
ESB Cape (Unknown maker)
Jetpack:

** Jetpack painted with
Rustoleum Italian Olive
**
Jetpack (Man of War)
Jetpack Harness Vest (Man of War)
Jetpack Harness (BigDane / Thanks, Brian!)
White "Tombstone" Decal (Lucksy / Thanks, Scott!)
Aluminum Jetpack Beacon (MachineCraft / Thanks Dakota and Holly!)
Jetpack Beacon Light w/ 3 settings (Jc27 / Thanks, Justin!)
Gauntlets:

** Gauntlets painted with
Rustoleum Moss Green
**
ESB Gauntlets (Man of War)
Gauntlet Darts (Evolution Props)
Gauntlet Hose (Evolution Props)
Gauntlet Hose Attachment (Evolution Props)
Upgraded Aluminum Flamethrower (Evolution Props)
Boots & Shin Tools:

Boots (Man of War) - TAKE HIS ADVICE AND ORDER A HALF-SIZE BIGGER!
Toe Spikes (MachineCraft / Thanks, Dakota and Holly!)
Shin Tools (Man of War)
Weaponry:

Heiland Flash Tube & Coil Bulb Spring for ESB EE-3 Barrel (eBay)
Extra Heiland Coil Bulb Spring for ESB EE-3 Barrel (Thanks, TAguirre!)
ESB EE-3 Sling (Thanks, Woodman!)
ESB EE-3 Rifle / Pulce 40 Sidearm / Holster Kit (Thanks, Stormrider and jbdbuz!)
Thermal Detonators (Thanks, Stormrider and jbdubz!)
What I need:

(Nothing currently)
Ordered and Waiting to Arrive:
(Nothing currently)

** I'll update this list as I remember to add things I've forgotten, or as "Ordered" parts come in. **
Over the last few weeks, I dyed and weathered my flightsuit, weathered my cape, painted and weathered my shin tools, and added the "yellow" weathering to the back of my helmet. I'll go on record and say that I liked it so much better without the yellowing, but since it's in the CRL, I had to add it for 501st approval. I'll most likely end up redoing it in a darker, yellow/tan color, because I'm really not happy with how it turned out. I'm always open to opinions and constructive criticism, so tell me what you think:
Now that all that is done, what I really need is paint so I can start on the gauntlets, jetpack, and armor. As I stated above, any help regarding with kind / color(s) of spraypaint for the gauntlets, jetpack and armor would be greatly appreciated! (** In particular, mainly the green(s) for the main bodies of the aforementioned parts.)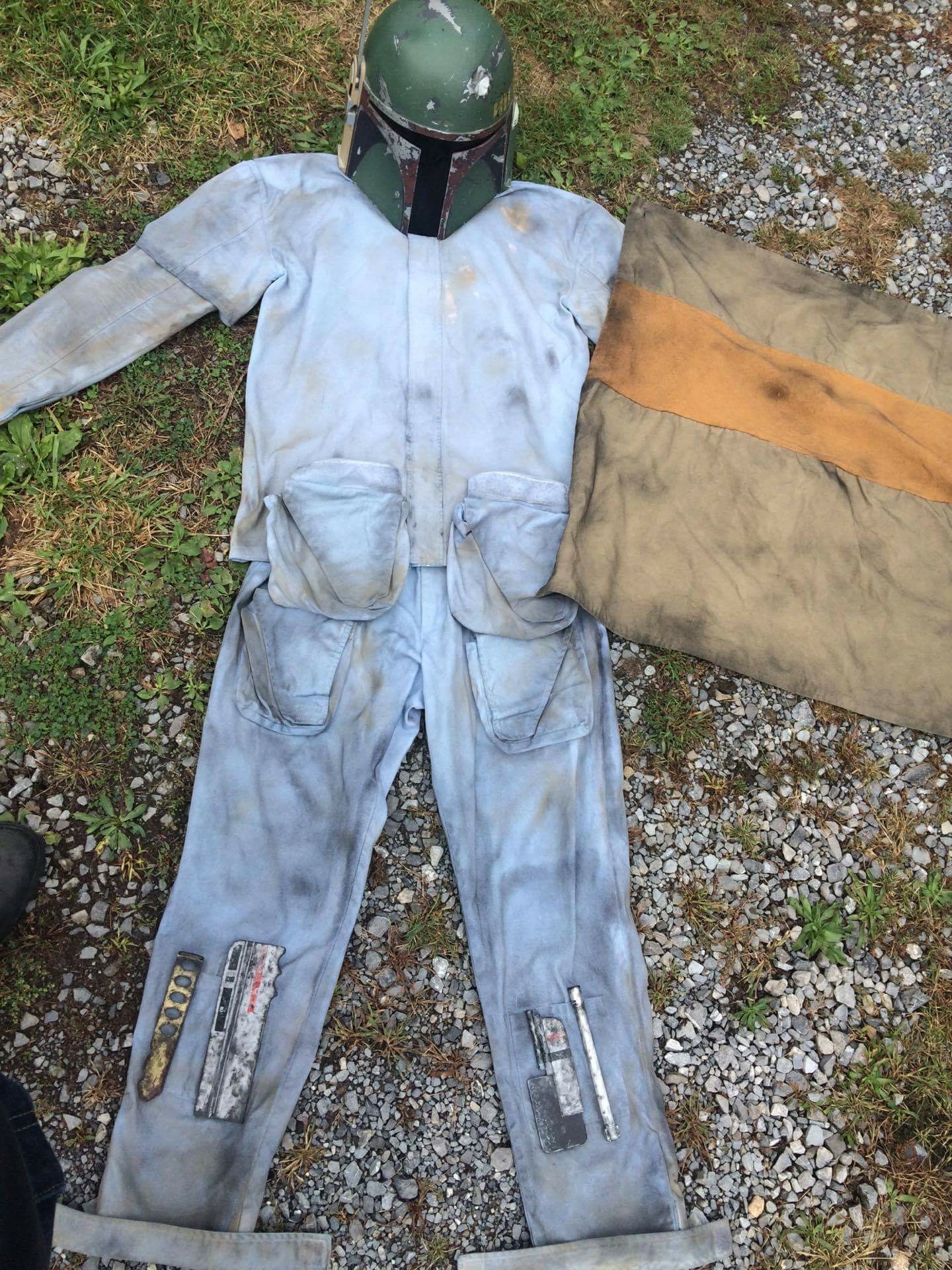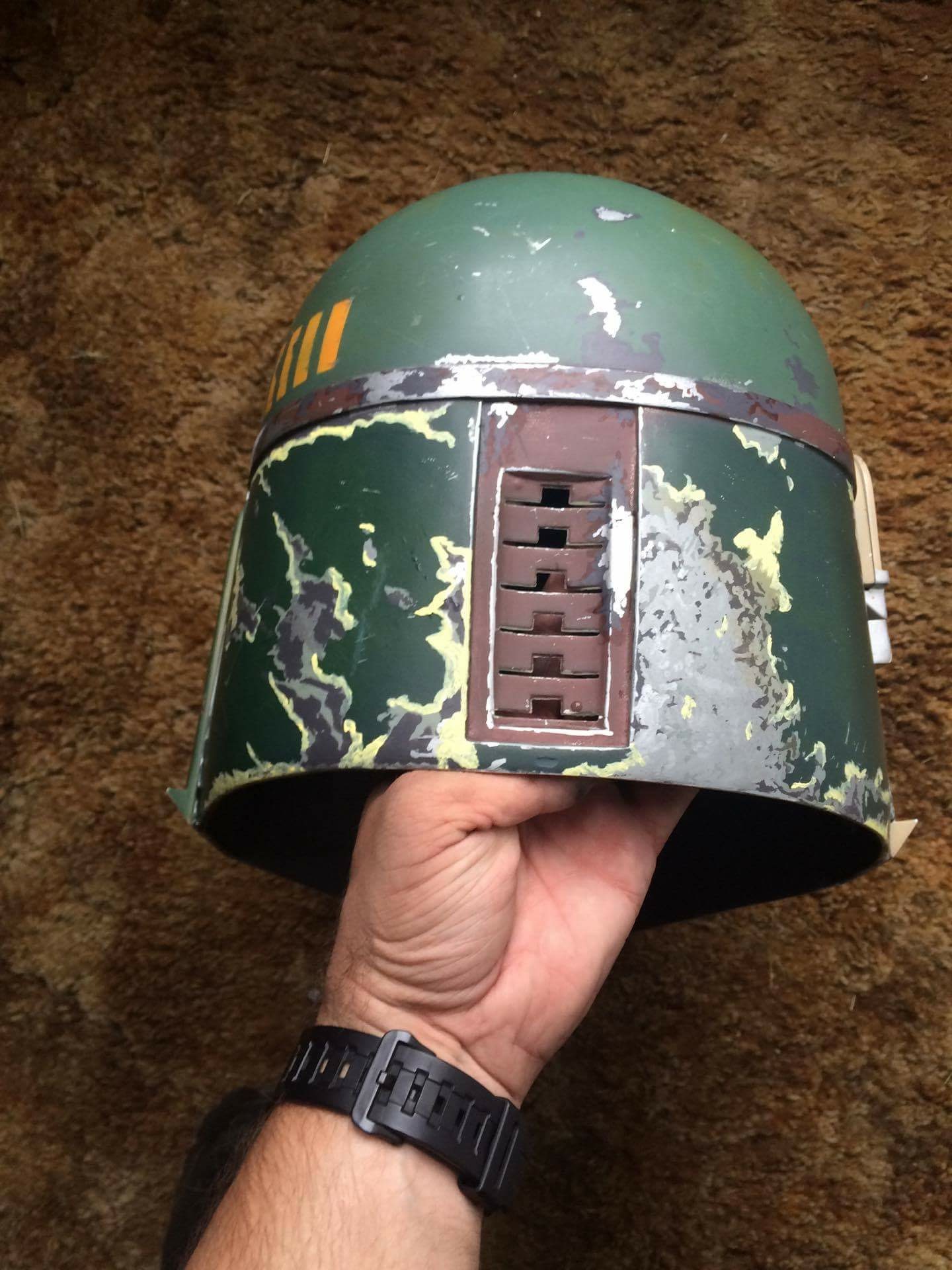 Last edited by a moderator: