The evolution of reinone's boots UPDATE PG.2 9-6
UPDATE PAGE 2 9-6-07
In light of a possible reverse engineering run of my boots I thought I should start a new thread about how these replicas became a reality. There are many here that were not members that got a chance to see how these boots evovled from pictures to actual boots you can wear.
It basically started before ep2 came out. The boots were a big mystery until the sole was Id'ed on a pair of bed ford stu's and kenneth cole Mt. killamangeros(sp?). Then we were on the right track...
Finally a set of boots were sold on ebay and we all missed that auction. Some people on this board took further action to contact the seller and KC only to find out that these boots were never sold to the public. Luckly the bedstu's and Mt.k were still available for a while and some of us including my self were lucky to snag a pair.
Having basic knowlege of pattern making I took it apon myself to further study the pit crews from the ebay pictures and thought if only I can find the soles we would be in bussiness. A few months came and passed and while talking to a freind of mine, I showed him my bedstu's I was wearing and he put me in contact with a boot maker. I checked out his shop and and showed him the pic's of the kc boots and gave him my notes to see what he can come up with. I wanted to see how much attention to detail he was to see what he can come up with on his own. And a month later
the first proto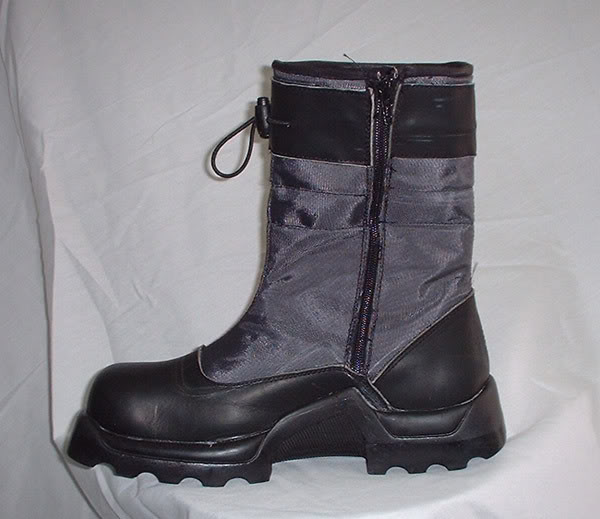 Kinda weird looking huh. As you can see I started making some corrections right on the boots and I knew the fabric part didn't matter because its only a proto and the final boots will have the right color. I sent them back and discussed all the changes with him. He was pretty cool about it and tried again. Only this time he took longer to make them.
They look better but still not there yet. He changed the back part and stitched lines are too seperated. Again I talked to him about these changes and I can tell he was starting to get impatient with my requests. he kept insisting that the boots were fine and should be happy that he was even doing them for me. detail is very importand to me and I didn't want to compromise on not having it as close as possible so I asked him to make me another prototype. Six weeks later... nothing. I called and asked him whats going on and he said that he wasn't going to finish the boots for me anymore because he thought they were fine and it wasn't worth his trouble anymore. So I was back to square one.
The next day after I cleared my head I contacted him again to find out who was the person who created the patterns form me and he told me that it was a young pattern maker that he sub out. Then he told me that he was there in the room with him while I was on the phone with him. He passed him the phone and we started talking about the details of the patterns and he acknowleged that the design was my property since I commissioned them to make them. We ended up exchanging numbers and continued to work with him instead.
It took another month to find a boot maker that was willing to give it a try.
the boot maker was pretty cool and was willing to work with me and after a few weeks he made a prototype. Now if I remember correctly each proto cost me about $450 to make and these were my third.
Yet still needed some tweaking. So another one was made. I can't find all the pics but this one where the two are compared.
I can't remember what were the details on this last one but I think there was another final prototype made. All in total of 5 pairs to get us to what we have now. Knowing they still had room for improvement I decided to got with it because I was taped out and didn't want to spend another year working out the details. I thought maybe I can try again later on if they all sold. But they didn't so I had to eat a part of the project. But is all good.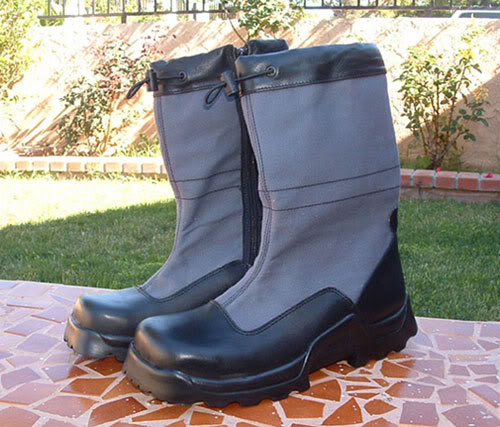 All in all it took about 6 months for me to finally get all the contacts to start making these and about a year from the first prototype to the final run.
These would not have been possible without the help of members of this board who also reserched these boots, gone to C2 to take reference pics of the whole costume and uploaded these pics for us all to see.
For that I love the TDH.
Last edited by a moderator: