Valkir's WIP Late Crusade armor (SWTOR based)
I work in CAD making miniatures for table top gaming as my day job, so when I wanted to feed my Boba Fett-ish it seemed a natural choice.
I am tall, 6'5" so I am a bit large for a canon Boba, Ihave no interest in making a Vader or Wookie costume…. Poking around I found you and the Mandalorian Merc group, and as I sometimes play SWTOR I had just the thing in mind.
I wanted to make sure using a specific model from SWTORwas acceptable before I began work as this will be an intensive build in timeand money.
http://mercs.firespray.net/forum/index.php?topic=92867.msg1358382#msg1358382
I have started the CAD side of my Late Crusade armor, I wanted to make sure using a specific model from SWTOR was acceptable before I began work as this will be an intensive build in time and money.
I will use an FDM printer to bring the CAD files into thereal world as wearable armor. Here is my ultimate goal. I wanted to keep it astrue to the original model as I could so I made a set of cardboard calipers andstarted measuring my knoggin. 10" deep tip of the nose to back of the skull, 7.25" wide ear to ear and 9.5" tall chin to top of head.
I took a CAD human dummy and started my tweaking there, this provided me with a 3D representation of my head dimensions. As I use Rhino3D for my CAD work, it provides accurate measurements down to the micron. I useZbrush for most of my organic modeling but nothing does hard plate armor likeRhino.
This is where I begin my journey… Using screen grabs from the game I start roughing in the initial shape, knowing full well a bucket with tapered sided was not the final goal.

You can see me working through the process, refining theshape. The shape is a little more complex than you would think, there is achange in form at the front of the helmet, it's not just a cut the nose off kind of thing. After a couple hours of tweaking I have the basic form where I want it but I need to go back and rebuild the face area from scratch to refine the eye slot and the nose area and make the design fit as close as I can get itto the in game model.
While working through this process, I discovered the earswere not in the right place for a human… I had to move their position andrefine the helmet details to match their revised placement.
Here you can see a 95% completed helmet.
I threw some quickie textures on it just to give it a spin. As Shea Viz has some great close up art I patterned my mic tips? off of hers. I tried to copy every detail present in the game model. The game model is fairly plain but that's fine by me as it more closely matches Fett, where Shea Viz ismuch more busy and the shape of her helmet more curved and form fitting.
I will keep this build log rolling until the entire armor is complete, I thank you for stopping in and viewing my WIP. Please feel free tomake suggestions or ask questions.
All the best!
NG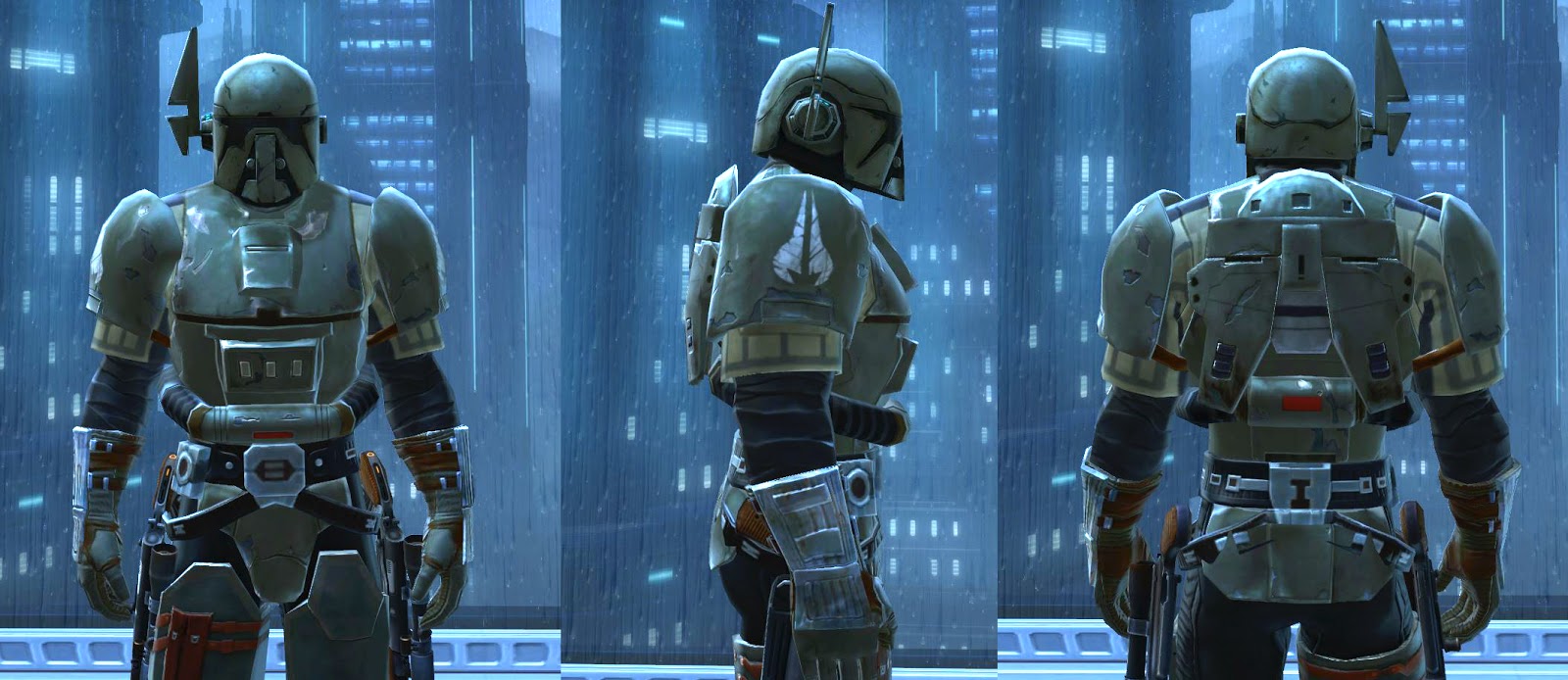 Last edited by a moderator: