Hi gang!
Been pretty busy over here in Korea lately, but I have to make time for some Fett every once in a while.
A little while back, I picked up one of SkyGunBro's extremely cool McQuarrie concept Fett helmets. It's a very nice resin kit of a version of
Boba Fett
not many folks (outside us crazy fans) are familiar with.
I'm a big fan of Ralph McQuarrie's designs. He is an iconic artist and really helped to shape how Star Wars looked. SGB did a terrific job translating the design into 3 dimensions, and this helmet will make a very cool addition to my ever-growing Fett collection.
I don't have any progress pics on this one, just the helmet as it stands right now. Although there's only one drawing of this helmet (that I'm aware of), I wanted to paint it up as it might have appeared in the Star Wars universe, and that of course means. . . weathered!
Here's the helmet after my weathering frenzy this evening.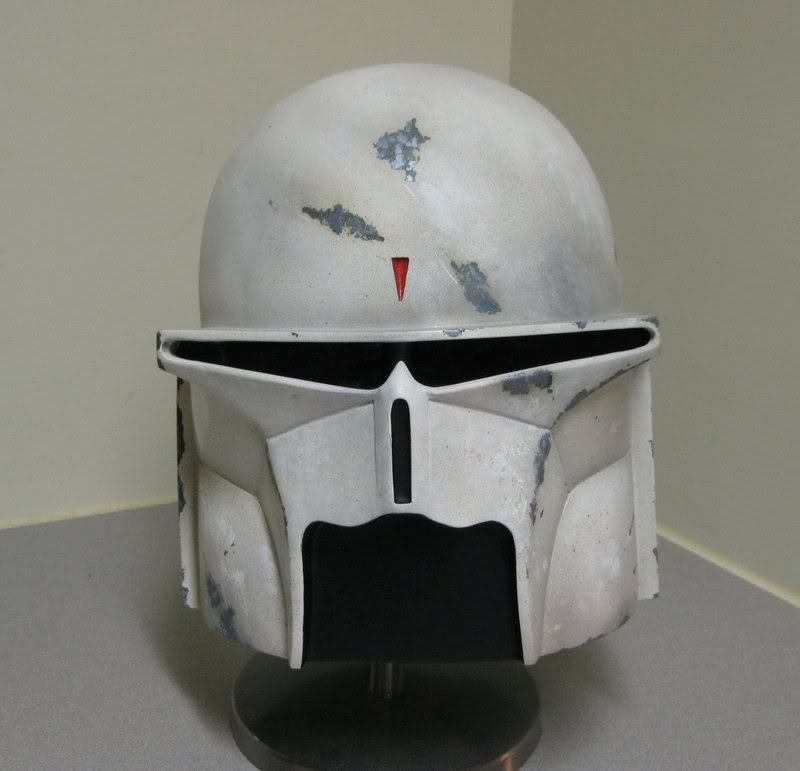 I started out by trimming out the visor section, giving the helmet a light sanding, and spraying a base coat of plain ol' Krylon gloss white. I did a couple of light coats, not worrying too much about getting a perfect finish.
After the base white coat dried, I began the weathering process by sponging on some Tamiya Field Gray in random areas. I was going for an effect similar to the weathering on the ESB helmet.
I used a smaller chunk of sponge and added some Floquil Gun Metal. This is a darker, bluer metallic than the Bright Silver a lot of us are familiar with.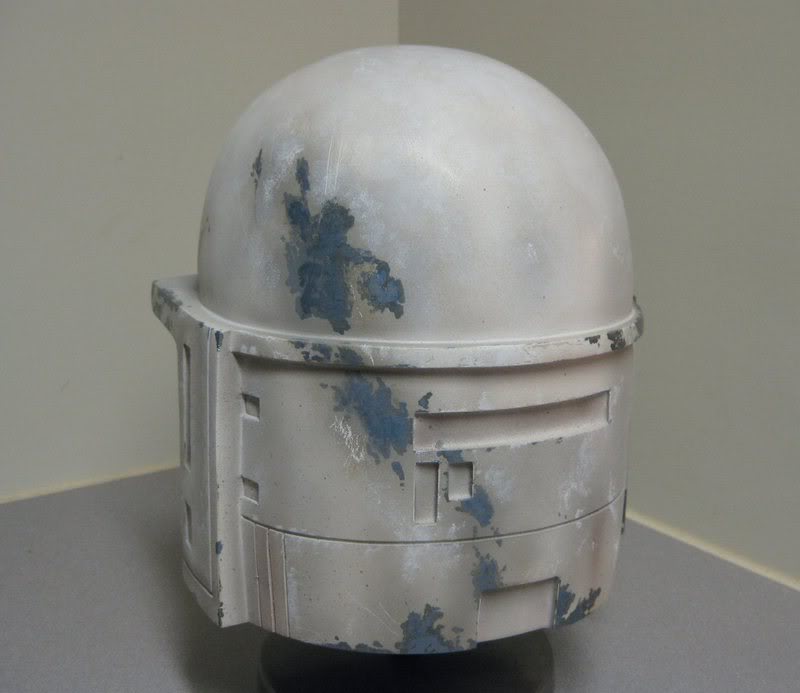 Once that portion of the weathering was done, I got out the airbrush and started dirtying this bad boy down! I airbrushed 4 different tones, again putting them on in random, streaky patterns. I used Polly Scale Earth, Boxcar Red, Reefer Gray, and PRR Brunswick Green. Hmm. . . I wonder why I would have those particular colors lying around???
After letting the airbrushed colors dry, I went back with a small chunk of sponge and some Testors Acryl flat white and splinched some white back on in some areas. I wanted to sort of give the appearance that the helmet had been banged around even after getting all dirty.
(Yes, I did use the word "splinched." I like making up words
)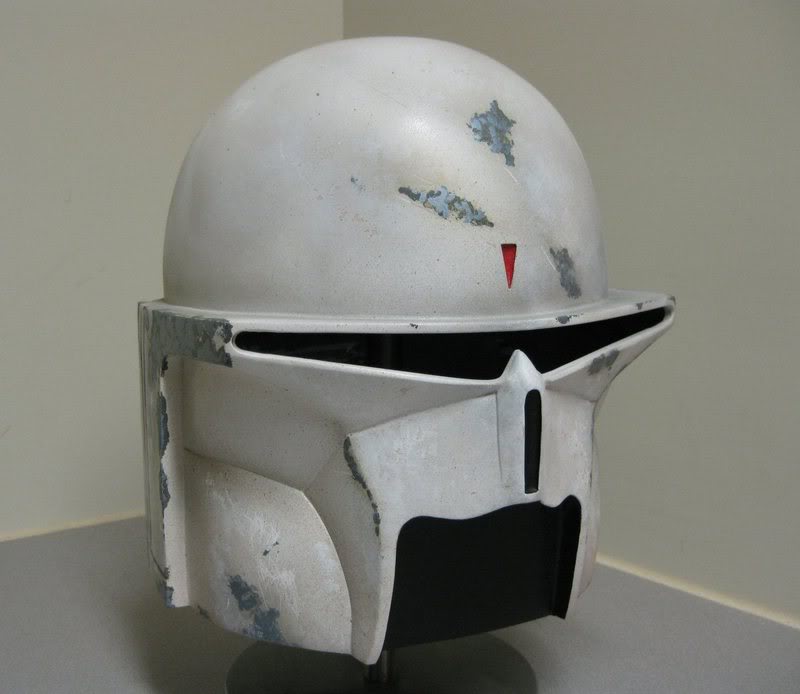 After the "splinching phase" I went back with a Microbrush and reapplied the Gun Metal color, and used an old dental tool to make some smaller scratches on the helmet. I also scraped down to the bare resin in some spots. Just another aspect of weathering.
Here are some closer shots.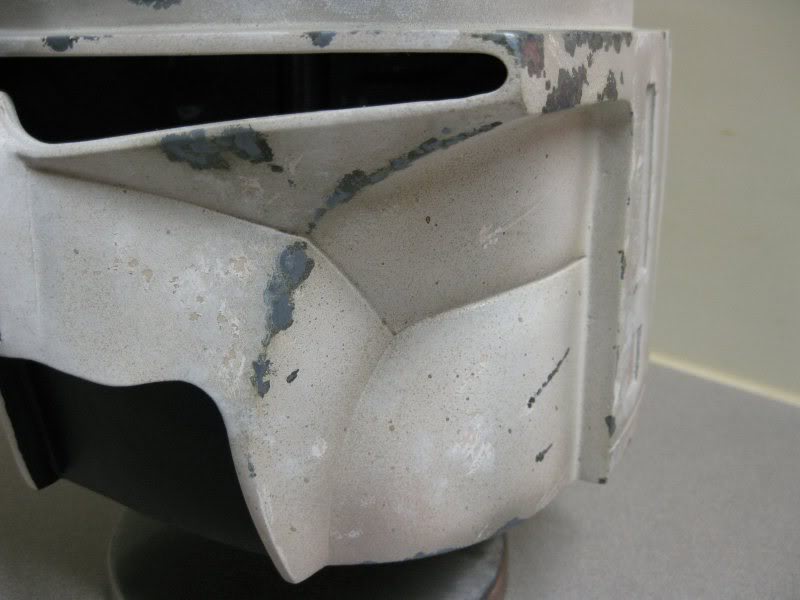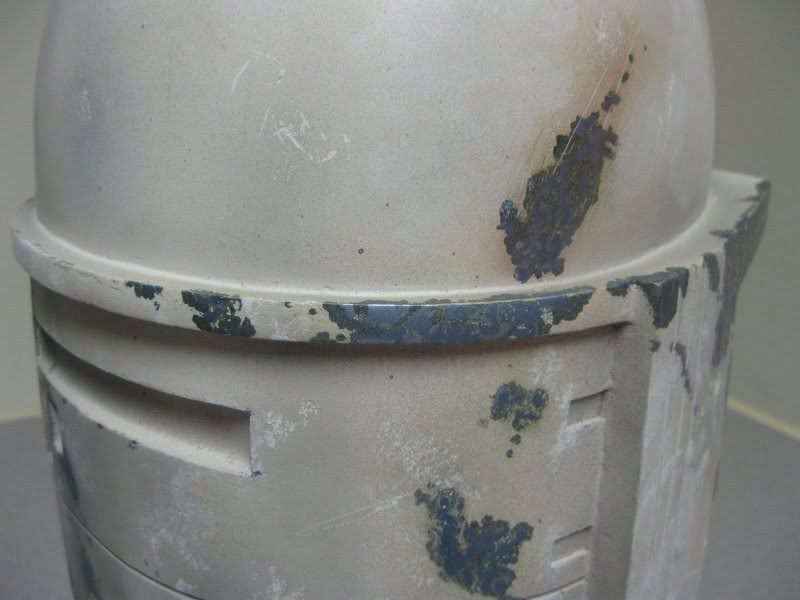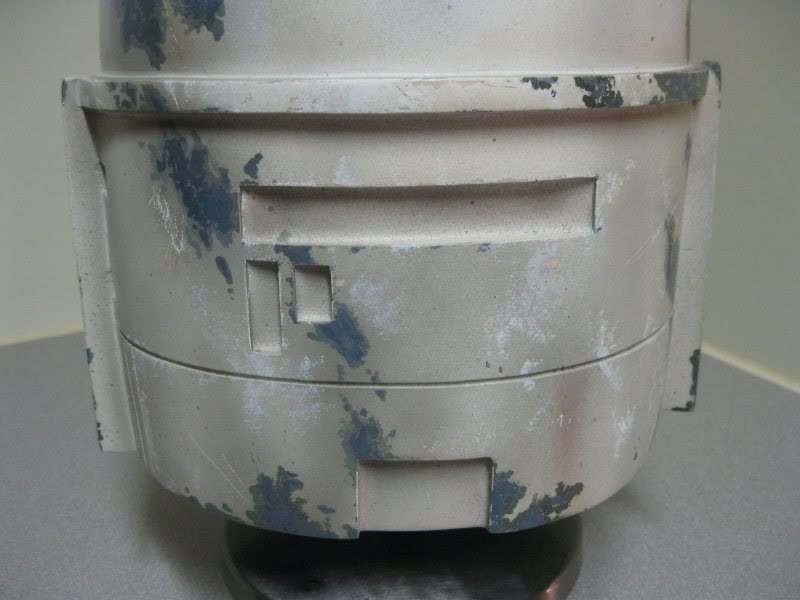 I still need to work on the aerator pieces that go in that big, black "mouth" area. I also need to work on the RF and RF stalk. It will probably be a while until I get to those parts as sanding resin in my dorm room makes for a lot of vacuuming!
Thanks for looking!
Eric