Hi all!
I don't mean to clutter up the Pit with another collection thread, but this has been a long time coming and I wanted to share some pics of my
Fett "family tree" in its final configuration. I've been a member here for a little over 12 years. I got the Fett bug bad back around 2003 and TDH
has been such an amazing resource. The knowledge of other members, their willingness to share painting tips and techniques, and the
overall atmosphere on the board has kept me coming back for all these years.
I have always wanted a collection that represents each version of Boba's bucket, from the earliest concepts, to the screen used helmets.
TDH members made that happen!
Another of my goals was to have each helmet be a different "make," thereby showing the unparalleled
sculpting and molding skills of many of the members of this community. As of this past Monday, my collection was completed.
Here are some pictures of my "From Sketch To Screen" collection as of today. I'll include notes on each of the helmets with the pics.
First, the overall display. I waited to take pics until today, when my Hot Toys 1/4 Boba Fett arrived. Amazing figure! It's on the top left.
On the top right is my modified Sideshow 1/4 Premium Format Fett.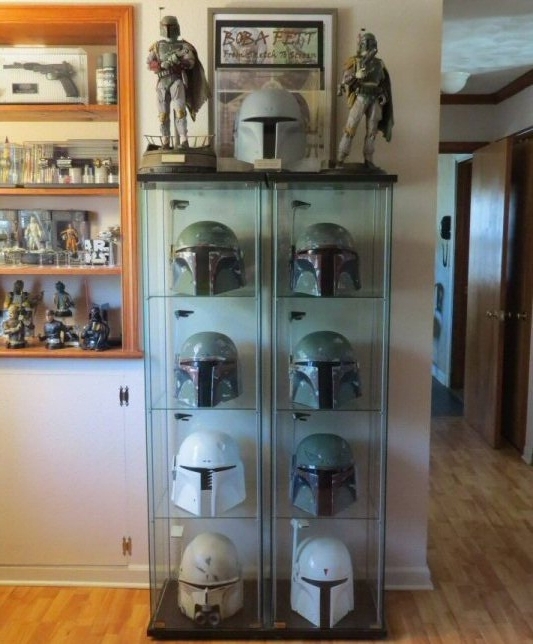 Next is a closer view of the top of the Detolf cases. The two 1/4 scale Fetts guard the original GMH, which was purchased from Art a couple
of years ago. The poster in the background is a print by Jeff Confer titled "Boba Fett, From Concept to Realization" and was picked up at
Celebration VI in Orlando a few years ago. It fits my theme nicely! The plaque includes 3D printed letters made for me by Mynock (thanks, Taras!)
and finished in a faux rust coating.
Now for the helmets.
On the top shelf, left side, is my FPH that I painted in the ESB screen used style. This helmet was signed by Jeremy
Bulloch back in 2008. To its right is an RS Propmasters helmet painted by the amazingly talented AFFo$ in the ROTJ screen used style. This
is the only helmet in my collection that I didn't paint myself. I had an opportunity to pick this up within the past 10 days or so and I'm certainly
glad I did! Paul is a superb artist and I've always enjoyed watching his progress threads.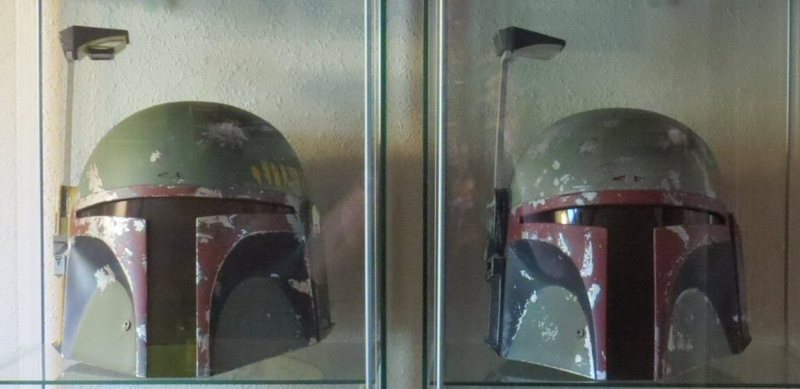 On the second shelf, left side, is a fiberglass GMH kit with metal ears that I painted in the Pre-Pro 2 style. To its right is a TerminalFettler helmet
from his first run several years ago that I have finished as the Pre-Pro 3. I've always been fascinated by how similar the PP3 is to the ESB. Many
of the details are so close, with subtle differences. I've always thought that they must have been painted side-by-side, or one right after the other.
The third shelf, left side, contains an MSH1 that I painted as the Supertrooper. It still needs a visor, LOL. Next to it is a "dentless" Bobamaker
kit that I painted as the Pre-Pro 1 Eyes version. This helmet became the Pre-Pro 1 Ears version, with the eyes being weathered out, ears added
higher up on the dome, and killstripes painted on.
Lastly, the bottom shelf displays two concept helmets by Skygunbro. On the left is the McQuarrie version 1. Only one sketch exists of this helmet,
and Jason did a great job translating that into a full-size bucket. Next to it sits its brother, the McQuarrie version 2. This one may be more familiar
to people. It appears in Mr. McQ's famous 3-view sketch of our favorite mysterious bounty hunter clad all in white. It's also what Sideshow is using
for the basis of their concept Fett statue that is going to be released in 2016. Can't wait to add that to my collection!
So there you have it. Over a decade in the making. As I wrote in the beginning of this post, this would never have been possible without the existence
of TDH and its many talented members. So Art, thanks for keeping the site going! I've gotten so much help from other members when I was first
getting into painting and full-size props in general, so thanks to all of you, too! I won't list them all as some of them are no longer members, but each
one of you set me on this road and it's been a blast.
Thanks for looking!
EDIT: Thanks to whoever fixed the first pic.
Last edited by a moderator: