Hey guys! Been working on my jetpack quite a bit lately and I'm really happy with the progress I've made so I wanted to share. I also wanted to show how I did some things and information I learned during this process, maybe it'll help someone else out there.
So here's where I'm at: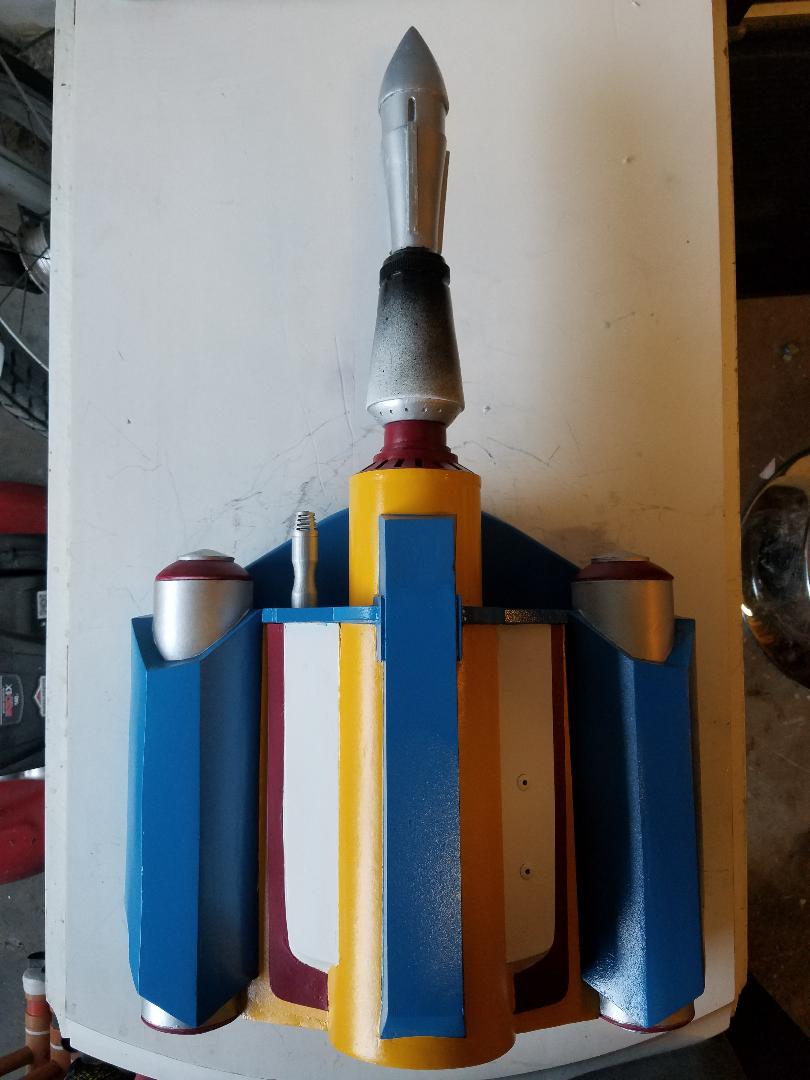 I'm gonna try to detail the process as much as possible, and provide pictures (some of which I have to find), so it may take a while. Hope you all enjoy the ride!
THE BEGINNING
Materials and Paint:
I feel this is a section often overlooked, but I think it's important. First, you need a bunch of sintra. I think I ended up using around a whole sheet in the end, as in the 24" by 48" sized ones. Not sure as I prefer the 24" x 24"s, plus there were mistakes and such. I use the 3mm or 1/8" sintra and get it from Amazon.
The side fuel tanks are cardboard shipping tubes, the center one is a piece of ABS pipe that doesn't go all the way through to save on weight. The outer shroud of the center tank is from a cylindrical gift box that happened to be the right size, it once contained a Gibson pilsner glass and coasters I got for X-mas.
The rocket is wood my neighbor helped me lathe into the correct shape.
I also used a TON of super glue and E-6000.
Paint is mostly Krylon: Burgundy, Marigold, Aluminum, White and Black; and Rustoleum Safety Blue.
WOF's Jetpack Templates
And that's about what I started with. I drew out the main body pieces I needed and went from there. The skeleton of the pack is the ABS pipe and the top layer, there also is a baffle in there. I then added the side tanks, which help keep it all together. Everything else is built around those pieces or layered upon it. Man, is that confusing? I need to find more pictures....hopefully next time I'll have some.