First off, I'd like to say thank you to everyone in this forum, it has been a veritible plethora of knowledge and reference, without which I know my helmet would not have have turned out near as good, or gone so smoothly, so thank you!
Now, onto what you all wanna see, the bucket! It's a kit from sgb I got from ebay, I'm sure you know all the details of it. I had a friend of mine do the fiberglass work, since I really don't like fiberglass, and he does, not to mention he does damn good work on it too! So here's the helmet as he recieved it
and on Dec 18th, when I recieved it.
The resin parts, ear pieces, and range finder.
the helmet.
and sicne then, I have been working like a man possessed!! Here is the silver undercoat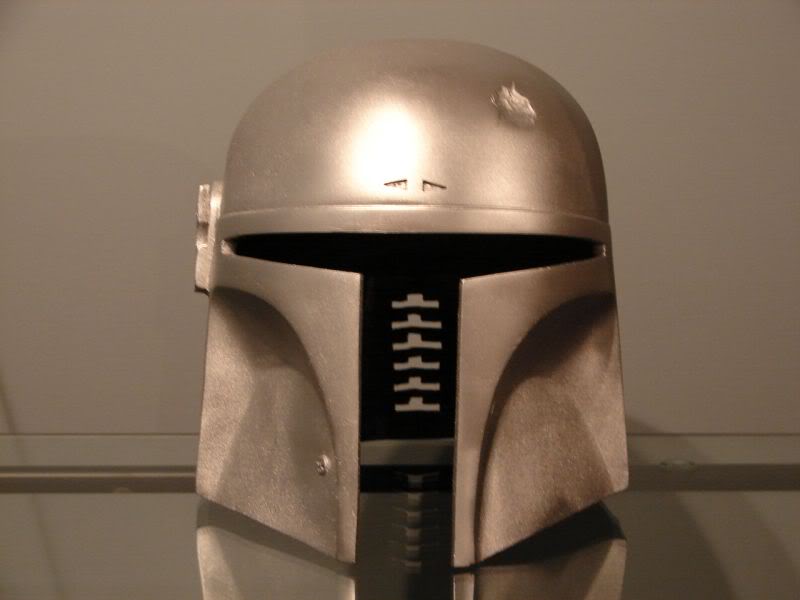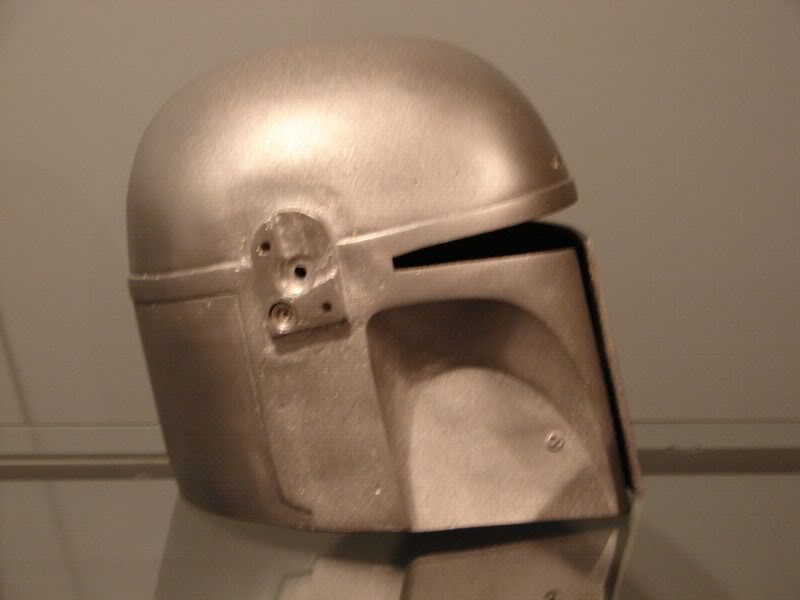 I tried to go with Rogues colors, but could only really find Panzer olive green at the PM hobby I hit, so I had to make a few of my own shades. Here I have the dome, back and outter cheeks done. Dome in panzer, back in panzer and a little aircraft interior black, cheeks in panzer and a lot of the black.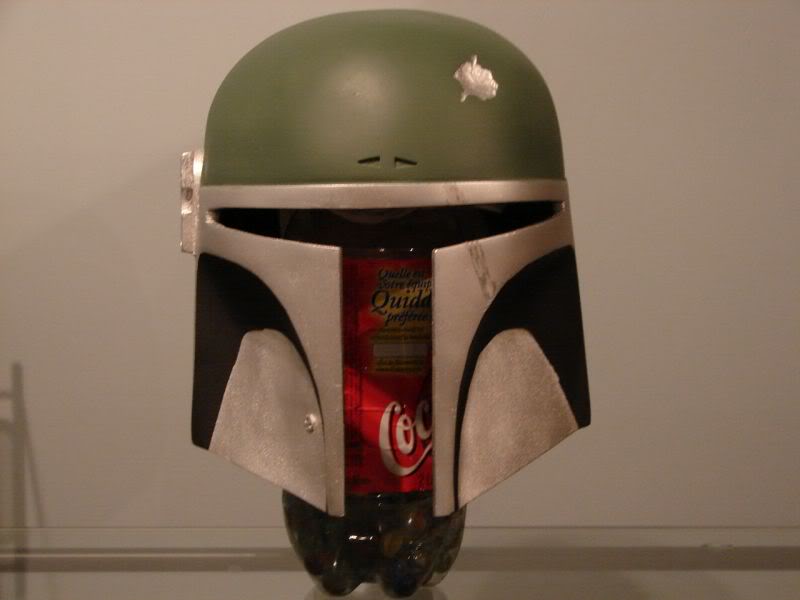 And the rest of the base colors finished, and the kill stripes. No luck with box car red, so I went with insignia red and a touch of the black, by my eyes, not too bad. The kill stripes are acrylic paint, red and a little yellow and black.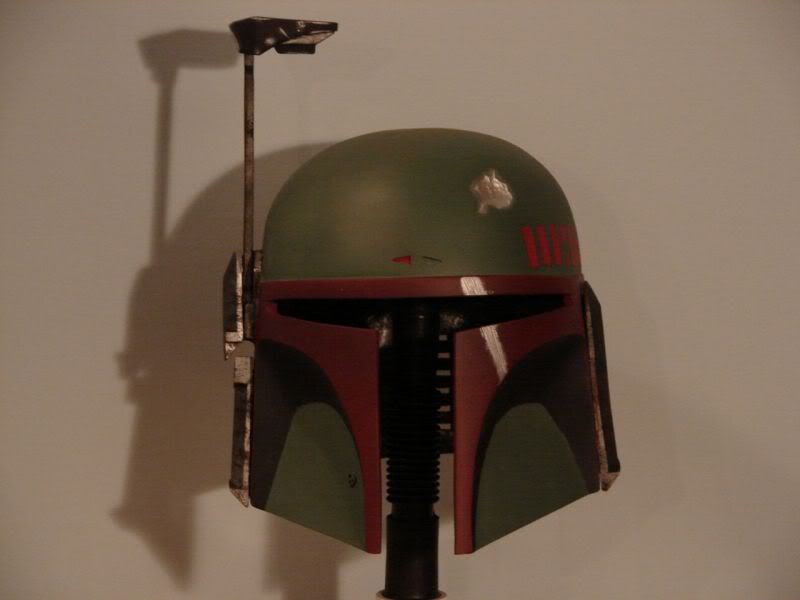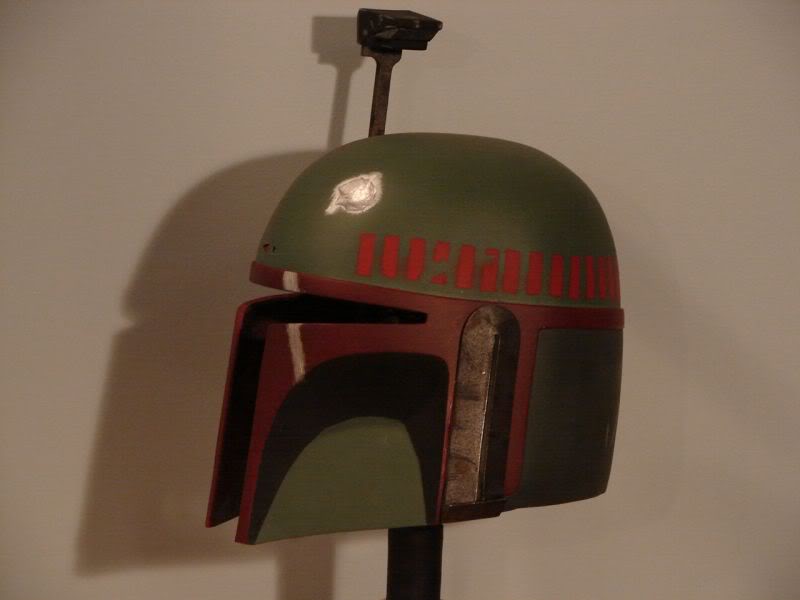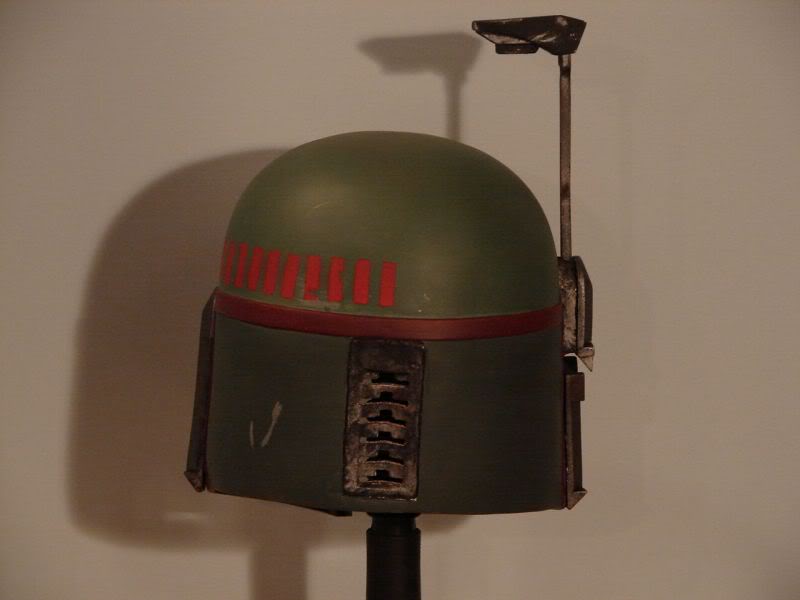 And here it is weathered, over spray with some acrylic, black and a grey/blue color, then the silver scratches, and some dark grey. Obviously I didn't do the full screen accurate version, more from reference, and what I liked.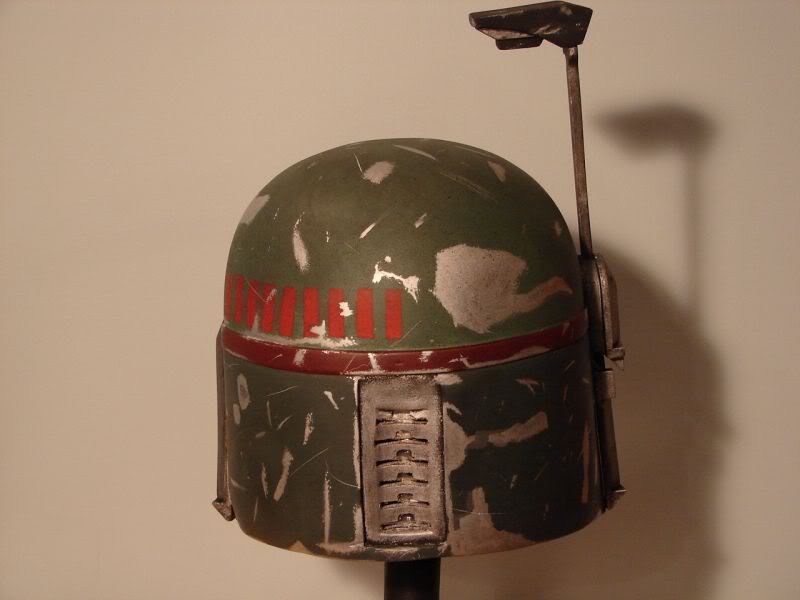 I of course wanted to do the articulated range finder, so needed a way to make the ear removable, came up with this system of pieces I had. A snap assembly, and 3 metal posts, seems to do the trick pretty well, even if it doesn't look exacly beautiful!
on the ear
and how the fit together
And the latest work from last night, the 2 red LED's for the RF. Wired them up with a button cell and a mercury switch, the don't strobe, but they're good enough for me, to sit on my shelf for now!
Not seen, is the interior, I lined it with a black pleather/vinyl and added some padding, an old unused set from a Cooper hockey helmet. The few things left to do, is get the T visor, ordered it from ebay, the smoked acrylic for ROTJ, and I definitely plan to get a set of the interior pieces from Marrow Sun when they go back up for sale! And to finish off the stand, cover the wood dowel with a sleeve of some sort, when I figure out what to use. But other then that, pretty well finished! I would love to hear any comments, and will of course update this thread as I finish things off!
Last edited by a moderator: