I've often seen the phrase on this board...
"There is something we've all bought before we found this board that we wished we hadn't"
This blaster was mine.
In all fairness, though, when I first got it I really liked it and thought...
this is just the coolest
. Then after playing with it for about 5 minutes and breaking off the trigger guard...:facepalm
Then I found this board a long time later and was inspired by some of the things I've seen and decided that I must redo this hunk of resin, wood, and foam.
Here are some pics as it looked not too long ago:
uke
uke
uke
I cleaned up the shape and irregularties
I resculpted the breach
Made a new trigger and trigger guard out of layers of sintra
Replaced the foam core barrel with pvc pipe
Made cooling fins from sculpey (ala my other thread)
Sanded and filled pock marks, air bubbles and crud holes
I didn't have a nice looking screw for the handle so I sculpted one in Kneadatite
I found that many bad places on the gun (stock mainly) were filled with some kind of soft clay like material that broke away easily and crumbled (this is why the trigger guard broke away so easily!!!)
These are a few pics of the work: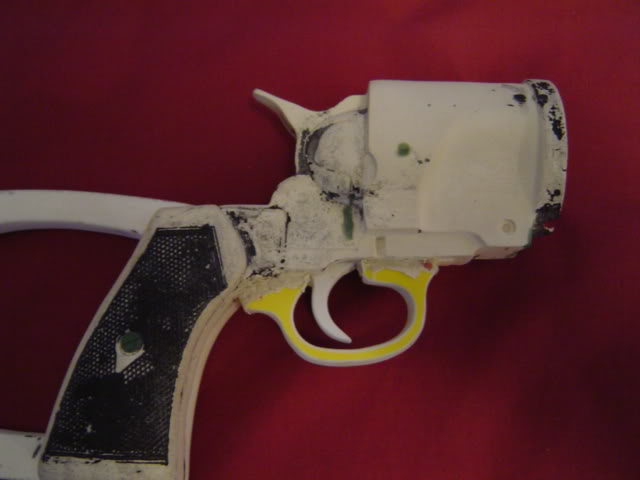 And in primer...
I cleaned up some of the detail and tried to make it look a bit more Webley-ish. One day I may even use the same method I used on the trigger and guard to make a more correct looking hammer.
I have yet to add the greeblies, scope mounts, scope or blaster tip (which is done, just not affixed).
Is it passable now? Comments are welcome and ideas for change are as well.