I have edited this thread to show ppl how i constructed my boots. Hope it of some use to someone
1. I got an old pair of boots and cut away all the lace section and then glued the tongue to what remained of the lace sections.
2. The second stage was to square up the toes with some thick card and planty of glue (an old store card might have been better as it is plastic)
3. I then cut a 'u' shape away on both sides of the boots and overlayed wide black elastic over the cut out (i used 'no more nails' glue).
4. Once the elastic was dry I covered the whole boot with the first layers of light coloured material (this was stuck in place with '3M's Spray Mount adhesive). I done this by tackling both sides of the boot seperately)
5. I then overlayed a darker colour material from the toe up to the top of the tongue (again using the Spray Mount).
6. Lastly I glued some old laces in the positions shown.
I will hopefuly do something with the soles today to give that flat appearance and then weather them. More pics to follow.
PS the last pic is the original film boot just for comparison.
Further down the thread are photos with the flat sole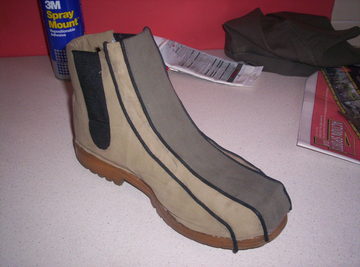 Last edited by a moderator: