Good evening Fett heads, here's some information of a broader nature about those hard to find flare guns. It won't really expand knowledge of the props but I never get bored of this stuff! The information was obtained from a lecture given by Molly Milner to the Historical Breechloading smallarms association (seriously) at the Imperial War Museum London. Unfortunately IWM is closed until July but well worth a visit if you have never been. Usual apologies for my camera work.
Enjoy...
Andy
In April 1915 Webley started production of their MKVI service revolver and in that same month there was a new design of flare pistol. The barrel diameter was 1 ½ " and was made from steel rather than brass. This larger bore pistol was designed for use in the trenches and by the Royal Flying Corps (not the Royal Air Force as sometimes incorrectly stated; the RAF did not exist until 1st April 1918 towrd the end of the war [Nov '18]). As there was a huge demand for arms at that time it made a lot of sense for the flare pistols and the service revolver to be a similar design. Indeed, 50% of the component parts of these arms were interchangeable. Unfortunately I don't have a MkVI revolver to show you.
The No. 1 Mark 1 Flare pistol had a 10" barrel and facility for a shoulder stock. Flare Pistols were used by the military to pass messages to the artillery and to signal orders to Pilots flying above.
Webley 10" Flare pistol


The No 2 Mark 1 flare pistol had a 4" barrel and no shoulder stock and was used by RFC pilots. When the aircraft were first used in WW1 pilots used the signal pistol to send messages to the artillery.

Webley 4" Flare pistol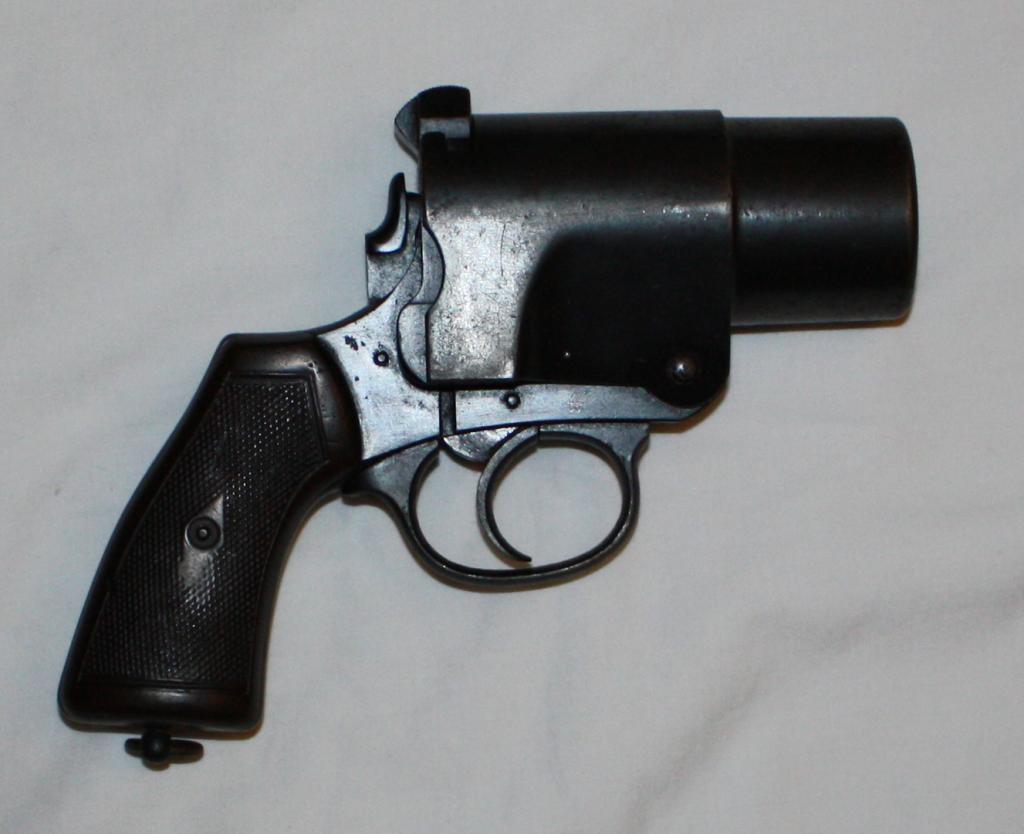 Webley 10" and 4" Together.
During the war (Uncle Albert anyone?) Webley produced 48300 1 ½" signal pistols; 26665 No.1s and 21635 No.2s. I have no idea how many went to Federal Laboratories and obviously there is no way for me to ascertain how many were lost or destroyed either in the war itself or the subsequent years and therefore cannot speculate how many exist in the world today but both models are considered very rare (like you didn't know).
The No 1 & No 2 flare pistols had a common serial number range starting from 1 which was completely separate from the Mk ll and Mk lll flare pistol number range (the brass ones) and also completely different from the MKVl revolver range.
The first order for 50 No.1s was 30th March 1915 and these pistols sold for 65/-. By May the price had dropped to 62/6 and in October to 62/-.
The reason for the price drop was probably because the Government had introduced an excess profits tax on profits that were made from Military contracts.
Live the dream
Last edited: