Some Jetpack /U.S. DIVERS information for you. Factual corrections are welcome, as always.
I was looking for a real U.S. DIVERS buckle; the search was taking years and was somewhat on the back burner. I was also giving consideration to the jetpack harness and reasoned, not unlike many before me, that this could well be part of some kind of Scuba Harness. The logic being that the buckle and the harness were an original marriage. In my quest to further that idea I started looking into all sorts of old scuba stuff. A lot of the images I was finding featured backplates for tanks and air cylinders and I was wondering if the jetpack frame might somehow be part of one of those backplates and maybe a structure concealed inside the plastic (it isn't so far as I can tell before you get excited). So I bought myself one of these old backplates to see if it concealed such a frame. Here is what I bought: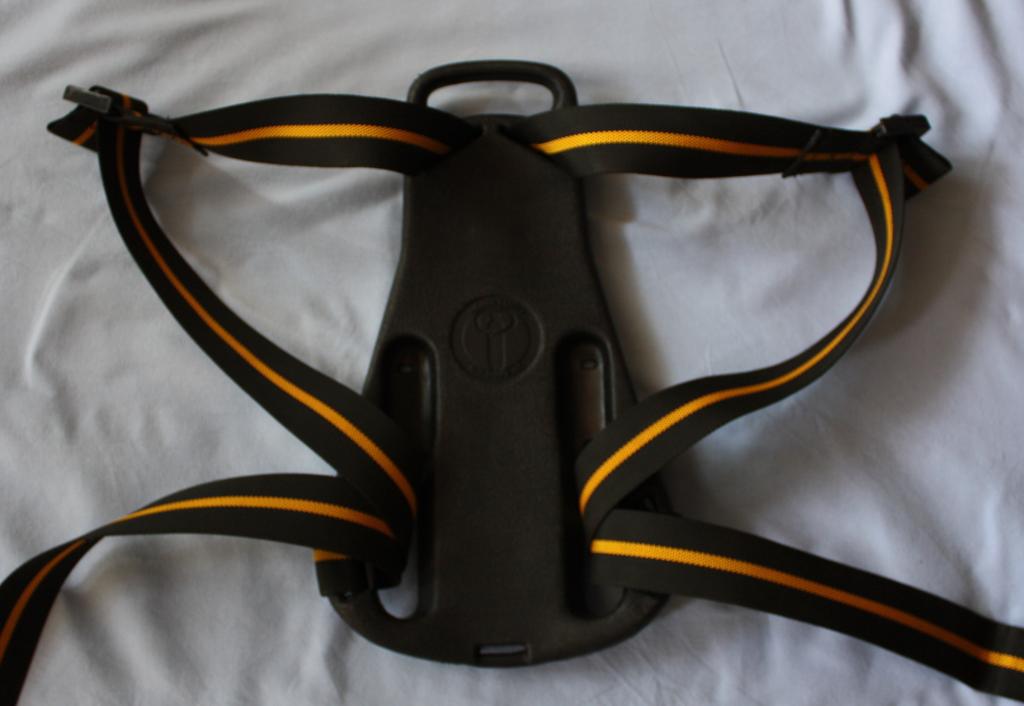 and it came with this buckle:
The buckle, I suspect is not original but it did make a penny drop: I'd always been searching for a 'U.S. Divers Weight belt' and I had seen a few in my time. The trouble was that they generally came with the weights attached and sellers often weren't willing to send the heavy item to me (or just selll me the belt and buckle without the weights somewhat strangely). I realised I wasn't looking for a weight belt at all but simply anything with a U.S. Divers buckle attached. Since researching this I have learned that at least some of this information was contained within the old Wiki but as it is no longer there cannot see if any images were provided (KAM "EZ" PAK – see below).
Here's some background information for you…
We all know of the U.S. DIVERS buckle I am sure; it sounds suspiciously American to me but no: French. Most will be aware that the origins of Modern Scuba equipment lie in the hands of the famous Jacques Costeau and the slightly less famous engineer Emile Gagnan. Together they sold their mid - late forties invention under a company name of 'Air Liquide' and that subsequently made a sub division called 'La Spirotechnique' (stop me when this starts to sound familiar). La Spirotechnique then coined the term 'Aqua Lung' to market to English speakers and this phrase and term was subsequently re-branded as 'U.S. DIVERS'. All five of the original North American Scuba equipment companies U.S. DIVERS (AQUA LUNG), DACOR, HEATHWAYS, SWIMASTER and VOIT are inextricably linked to one another (Technisub = La Spirotechnique = Aqua lung = U.S. Divers…. = "Air Liquide"). My explanation oversimplifies some of the issues but it would otherwise be too easy to get weighed down in details and licenses; best to accept that the U.S. Diving equipment we are looking for is French in origin or made by French owned and run companies despite the name of the firm or place of manufacture.
What I'm posting here are effectively the positive hits and not the negatives as they would be too numerous to go into but rest assured that there are a healthy number of backplates and tank harnesses in my house. Remember although I've always wanted the U.S. DIVERS buckle I was actually investigating the harness; I took a punt on one thing and got a result on the other - 'swings and roundabouts' as we say in Britain. Credit for the original 'U.S. DIVERS CO' find goes to C17LM way back in 2002.
Please excuse the old sheet; some of these items are filthy.
Here are the results:
1). 'Aqua-Lung-Pac' (U.S. DIVERS).
This is the 'KAM "EZ" PAK'. Made in USA Patent No 3033431. Patent design filed 8th August 1960 and apparently granted 8th May 1962. In use Early 60s/early 70s.
This is a back plate set up for a single tank and it featured the following buckle:
2) 'AQUA-LUNG, U.S. DIVERS'.
Another 'KAM "EZ" PAK'. . Made in USA Patent No 3033431. Patent design filed 8th August 1960 and apparently granted 8th May 1962. In use Early 60s/early 70s.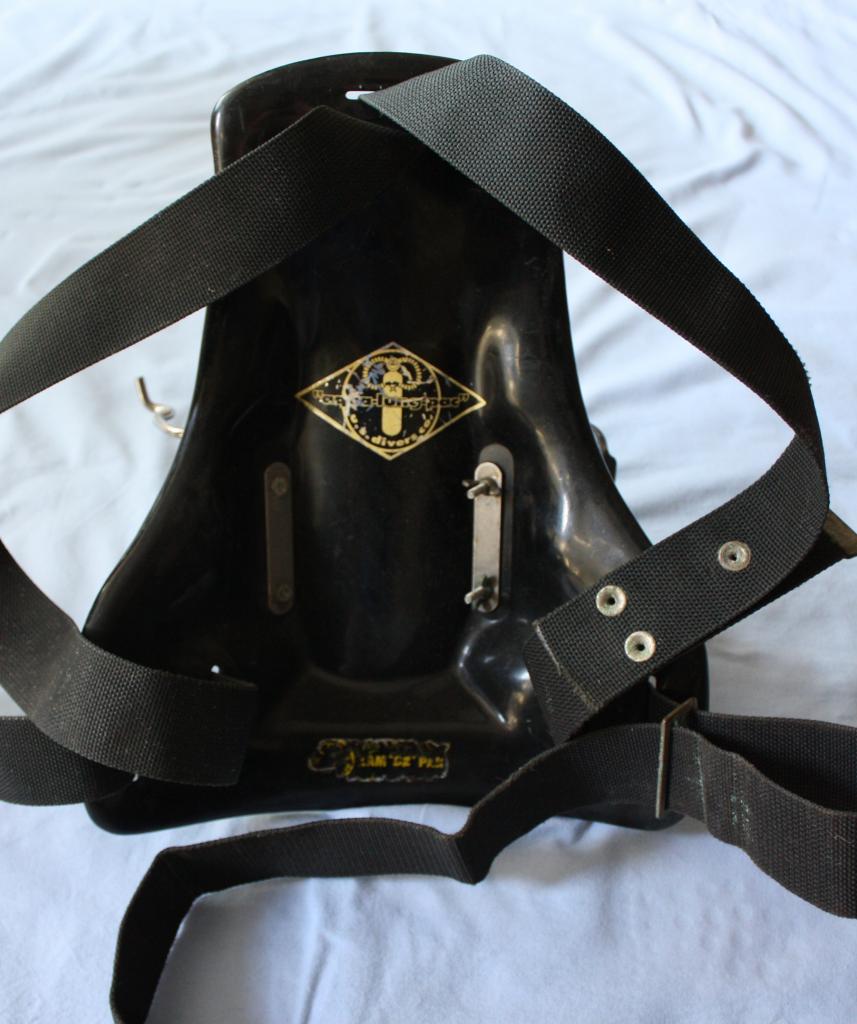 Again this is set up for single tank. The nature of the wording on the brand and the prominence of the Aqualung over US Divers makes me suspect that this is a slightly earlier iteration of the brand markings but I have no proof of this; a hunch.
(I just couldn't get a good focus on this logo)
Compared with this logo on the first example where US Divers has equal prominence.
The item is pretty much the same as number 1 (above). This featured the following buckle (different):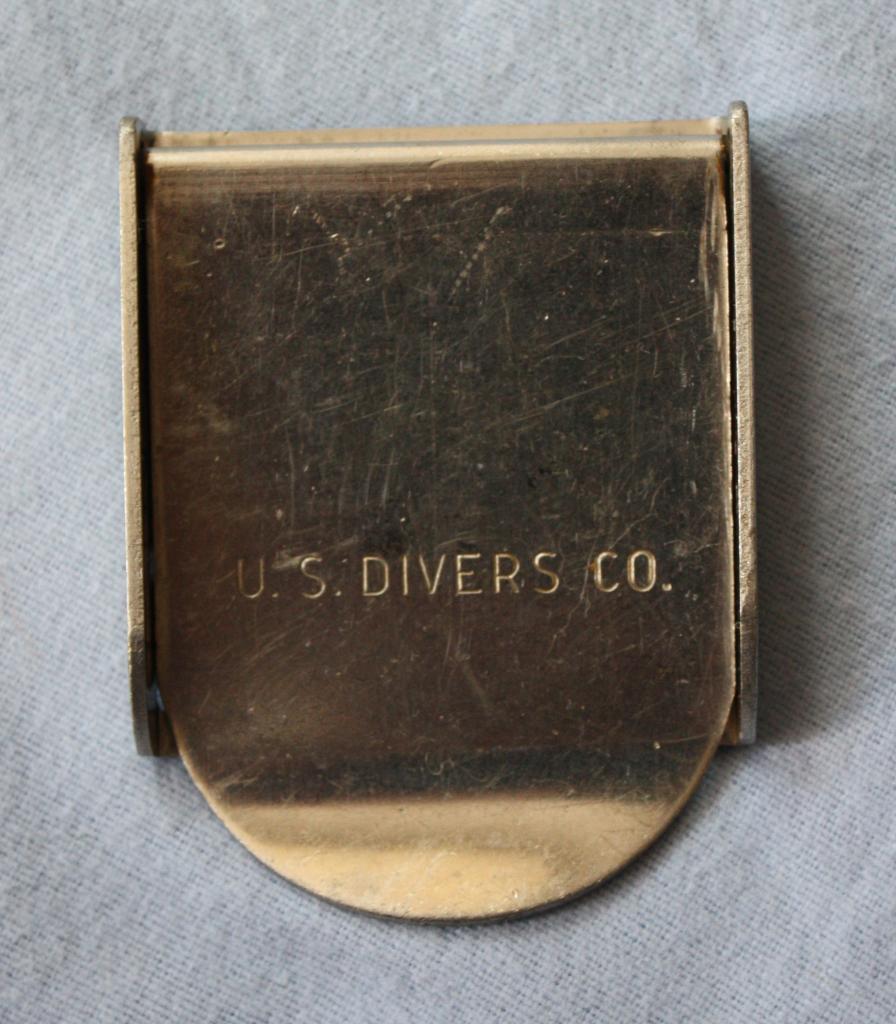 This buckle does not feature the top groove ont the back and there are also some differences in the typeface and words 'U.S. Divers CO':
The letters are spaced further apart than the first example and the engraving is deeper. The letters also appear slightly narrower and taller. This is easiest to see in the 'O' of 'CO'. On the first example it is 'O' and on the second it is more like '0': O0.
Here is the patent for this model of backplate:
View attachment Patent US3033431.pdf
I suspect the next two back plates are even older than the previous two but cannot fully substantiate this. I have based my opinion on the apparent crudity of the design and by comparing it to an earlier patent. Unfortunately neither of the next two bear a patent mark but they did seem to have more features in common with an earlier patent than the one above. The earlier patent (filed January 27th 1958 and granted 5th July 1960) is here for your info:
View attachment Patent US2864361.pdf
I've looked at quite a few old patent documents in this trail and there are others out there but the two provided illustrate the argument the best. The trouble with patent documents is that every document usually cites at least two other patents and before you know it you're miles off course.
These examples were also in a far worse state than the other two and are truly filthy although that is less conclusive of their age than the patent docs. I do believe these are all original with one slight exception.
3). Unbranded black back plate for twin tanks.
The lower black fastener is almost certainly not original. The entire bolt and lower attachment look to be a replacement.
The twin tankplate featured two buckles. They are unbranded but they are almost identical to the buckle of the second pack (2 – above) save that they have shinier finish. These buckles were in a hell of a state when I first got them and needed hours of clean up to get to this respectable state. I think they came up fairly well. These buckles were sewn into the harness and had to be cut out (both).
4). Unbranded blue back plate for single tank.
Despite being largley similar to the twin tank set up this plate appears to have a few refinements and improvements and is probably a slightly later design.
Came with the same type of buckle as the first EZ plate (1 – above). Again this buckle had some serious clean up done.
Here's a good old fashioned comparison between the two U.S. DIVERS variants alongisde the unbranded model and the Full Metal Fett replica which is, so far as I can tell, the best replica offering presently out there.
Each buckle maintains it's relevant postion from left to right in every shot:
Unbranded------>US DIVERS Pack 2------>US DIVERS Pack 1 with rear groove------>FMF Replica.
​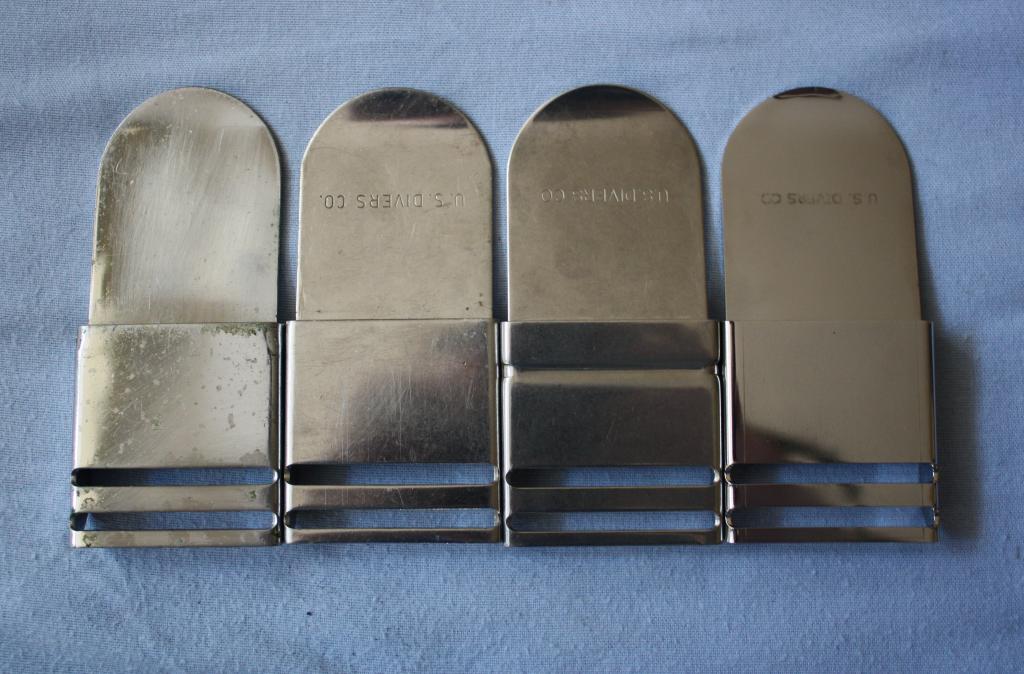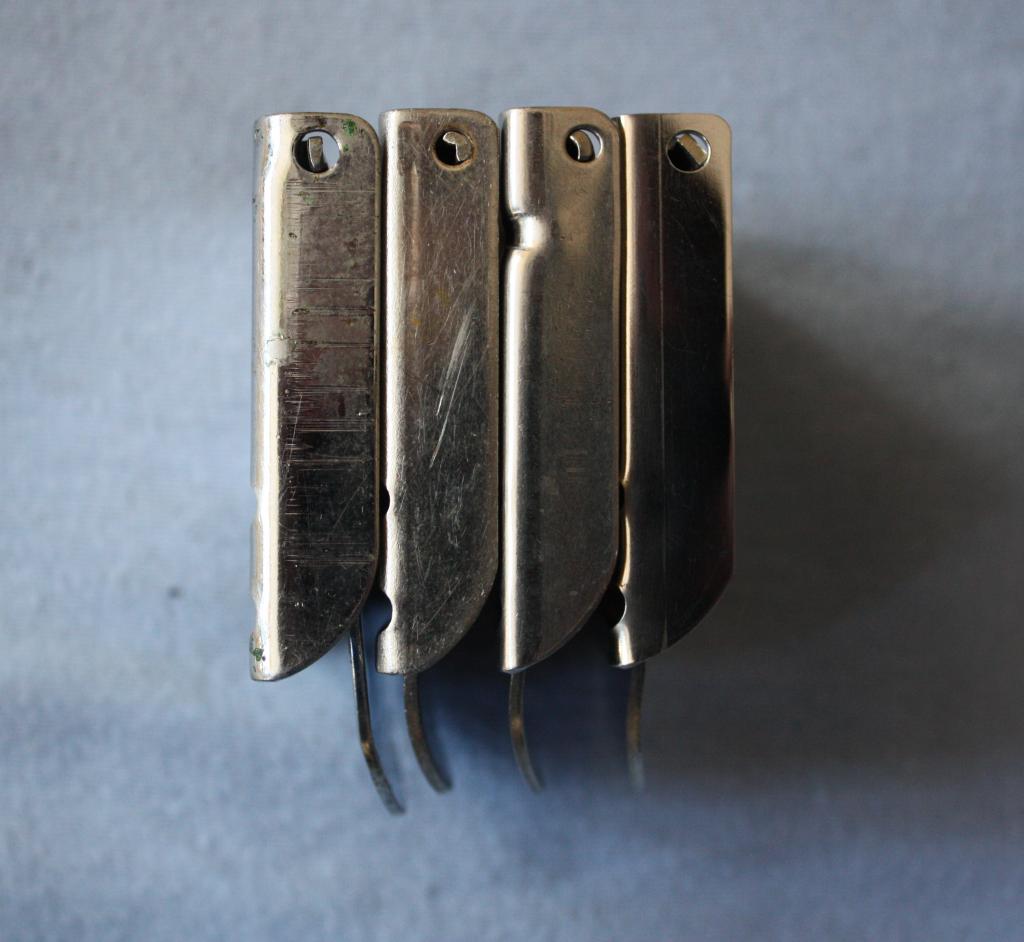 and lastly as well as the two U.S. DIVERS CO variants and the unbranded older model there is at least one other know match for this part out there and that is the DACOR buckle; this one being the property of Deathproof and the photo's are reproduced with his kind permission - Cheers Aaron!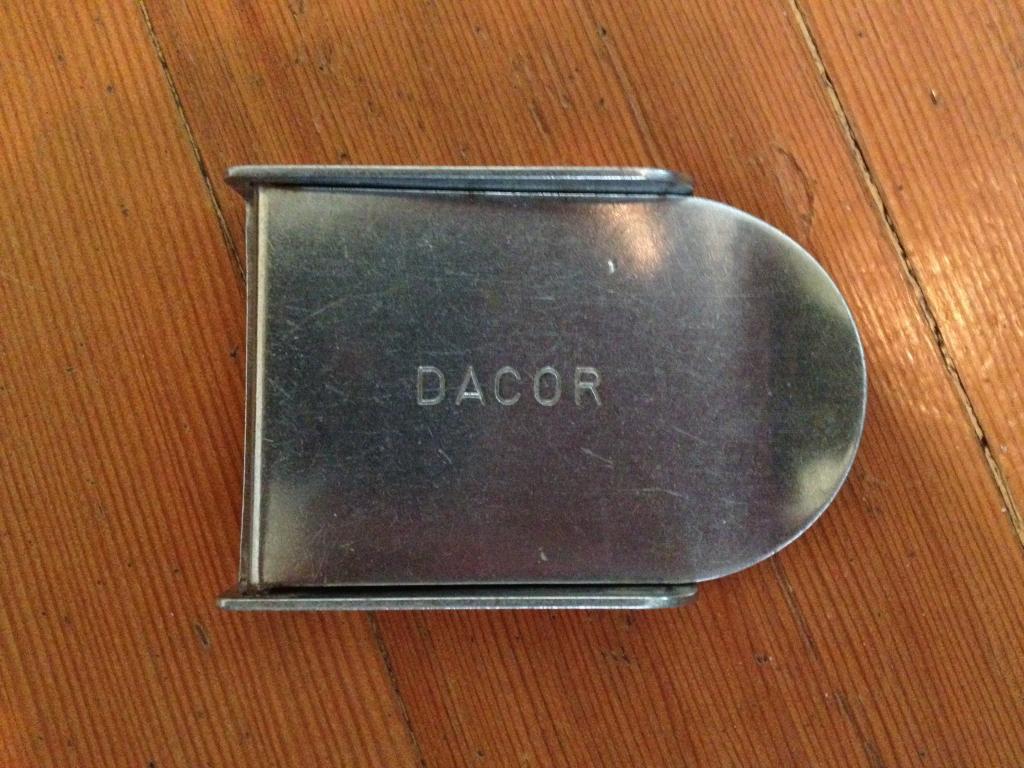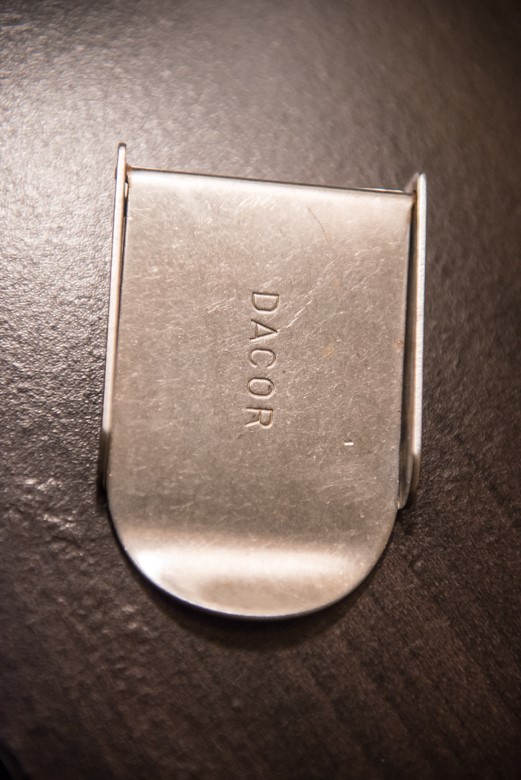 Obviously the name is different but there are also some design features. The lift up flap has teeth to assist with grip and the underside has a groove similar (but differen)t to one of the U.S. DIVERS versions. These features would assist with grip considerably so this would appear a better design for intended purpose. The overall outward appearance appears to be pretty much identical to the other versions featured here so it really makes no odds which one you end up with; given that the buckle can barely been seen most of the time the version (or replica) you use will do the job nicely...
Live the dream
Andy
Last edited by a moderator: