I think every Boba Fett needs a Han in Carbonite in their house. Unfortunately, I do not have the room to display a full size HIC. Over the last year, I have been looking at tutorials and builds when I came across this:
Han in Carbonite Door. Not sure who the credit goes to, but it will fit perfectly on my mancave/office door, without taking up alot of space.
Total Cost of Build:
KingJawa Han Solo In Carbonite Cast: $280
Pre-Hung 32x80 Door: $70
2 1/2 Pine Lattice: $24.30
Wood Screws: $5
Metal Entry Door Cover: $6.00
Metal Door Pull: $3.50
Joint Compound: $8.00
Quick Dry Spackling: $5.00
Sanding Blocks (2): $6
Rustoluem Primer: $4.00 x 3=$12.00
16oz Elmers Sandable/Paintable Wood Glue: $5.50
Gorilla Glue Epoxy: $6
TiteBond Wood Glue: $5
3 cans of Tamiya Gun Metal (Boarder) $18
5 cans of Tamiya Light Gun Metal (HIC) $30
3 cans of Tamiya Clear Glossy Coat $18
(1 can boarder, 1 can HIC, 1 can both)
Arcylic Paint/Brushes/Dish soap-already had.
Man Hours (Lowes/Home Depot/Hobby Store Runs, build, paint-NOT including time to dry): Approx 25 hours.
Started Aug 19. Ended Sept 09.
Total Cost: $502.30 give or take.
Because my door was going to be slightly smaller than the original, I opted for KingJawa's cast that was cut and came in pieces, which would make it easier to fit my needs.
I contacted KingJawa and got my Han within 2 weeks.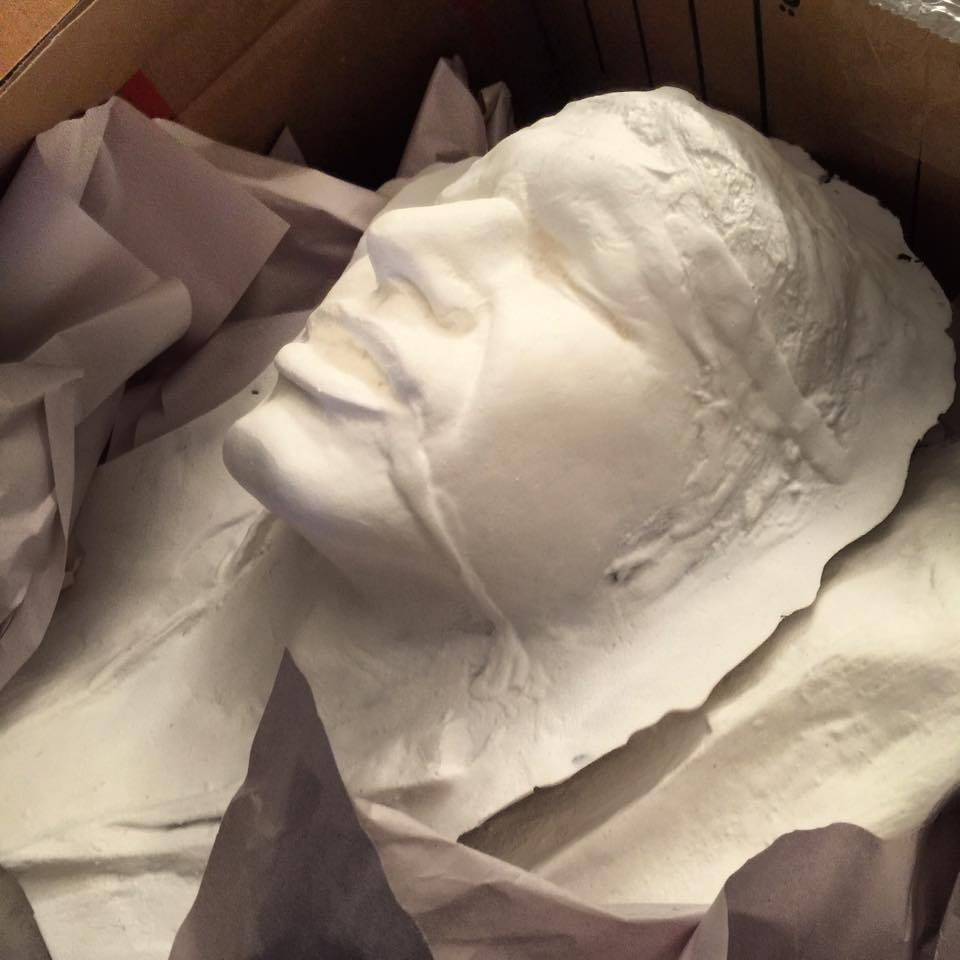 The cast is a bit rough, requires some dremeling, light sanding and bondo. But overall, I am pleased with it.
Next task, go out and buy a smooth door and 2 1/2 inch lattice pine molding to use as the panel edges:
I also picked up this door hole filler plate. I will not use a door knob and will opt for handle.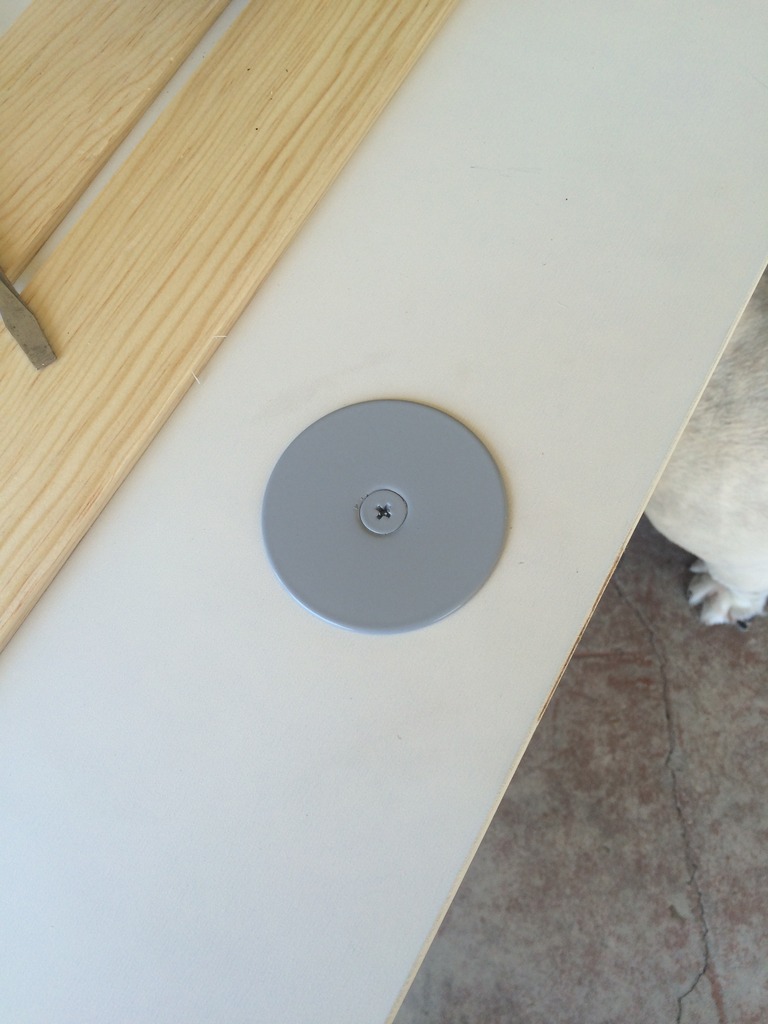 On to cutting the pine to fit the frame, wood glue, screws and clamps to secure with panel edges:
On to the placement of Han. King Jawa's cast came foam filled and it was not done precisely. The foam, required trimming that was not as fun as it sounds in order for the cast to lay flat.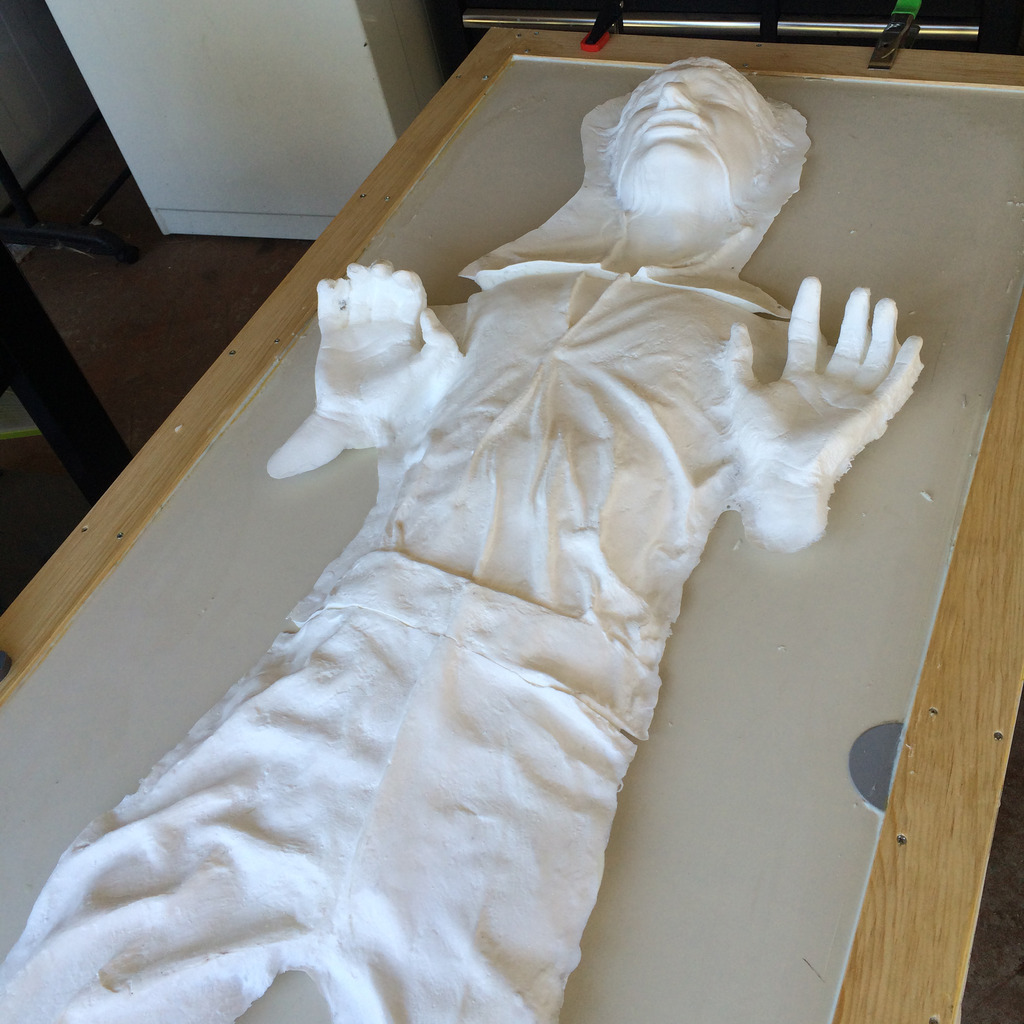 In order to secure Han onto the door, I used a combination or epoxy, wood glue and screws. It was not pretty, but it worked. You only need glue/epoxy where the mold and foam
backing makes contact with door.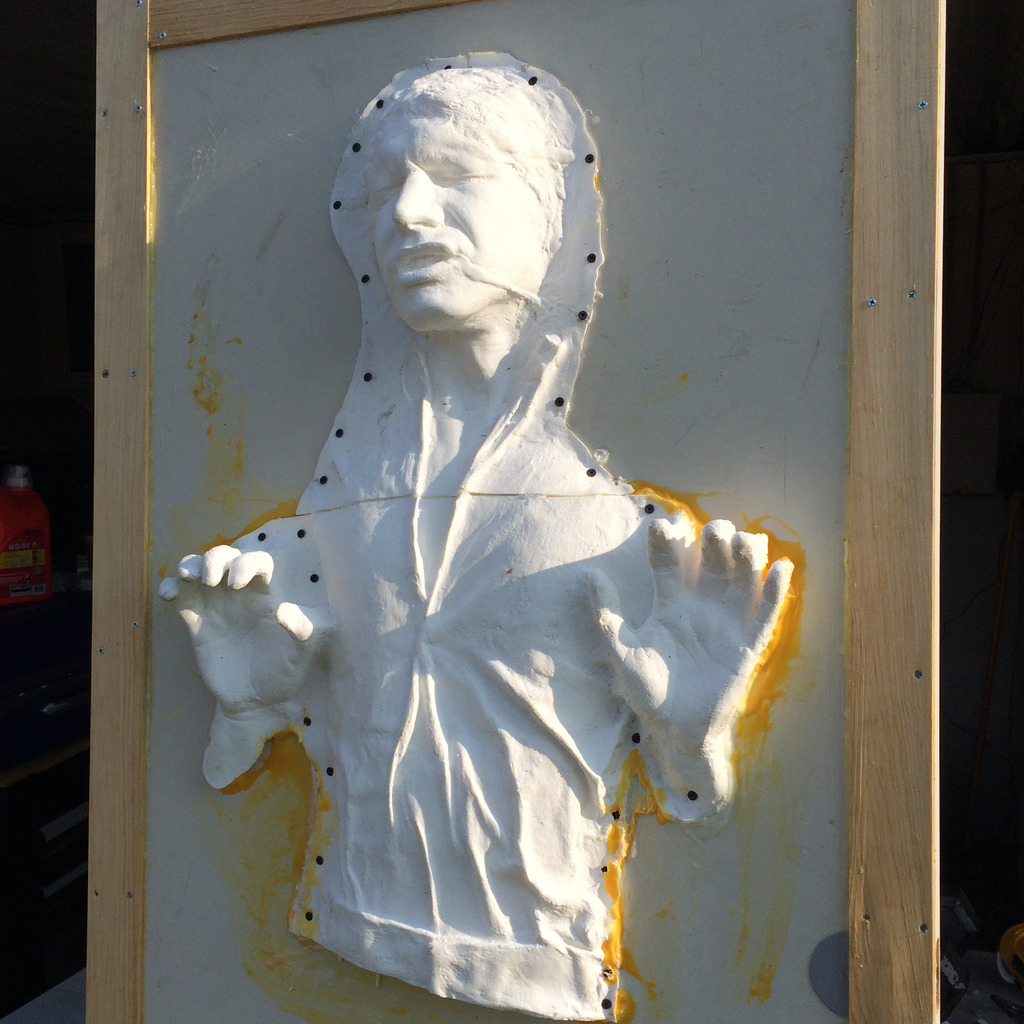 Last edited by a moderator: