Well-Known Hunter
Preferred Vendor
I FINALLY got my Fett back together!
Its been over a year since i have trooped my Fett due to various reasons, the main one being out a jetpack. I decided to make one myself and now finally have a complete Fett again. During the time i was making the jetpack i also upgraded some parts. Here is what i have:
Helmet:
DVH with Mojo-Fett brass borden, DVH aluminum stalk and JC27's light kit. (i also have a servo from salamander king that i modded..ALOT but havent installed into this helmet yet due to time.)
balaclava:
standard white one dyed grey, and the MOW accurate one
Neckseal:
batninja
Jumpsuit:
Arkady (from 2009)
Vest:
Arkady- had this one done slightly shorter by request so the armor sits right at the bottom edge like in all the reference photos i see. She did an excellent job on it.. Carole is the best!
Armor:
Fettprides newest, FPA. chest/shoulder emblems painted on using my stencil sets
Gauntlets:
These were an experiment using RKD/IOA V1 tops and V2 bottoms. I modded the tops ALOT to get the look i wanted. This was before he offered the V2 tops vaced..which would have been much easier LOL They have a Fettpride flamer and whipcord housing on them. Gaunt darts are Mojo-Fett Stainless steel.
Gloves:
Major
Chestlights:
Fettronics
Wookie Braids:
Woodman, real horse hair. These things are fantastic, i recommend them to anyone looking for real horsehair braids.
Cape
: DVH. I made this from "natural color" linen, dyed it with RIT tan dye and used a combo of pumpkin orange/ruddy brown primer and black primer to get the color of the stripe and weathering.
Shoulder/cod Studs:
MachineCraft Replicas, painted to match the ESB reference
Jetpack:
DVH, with Dark-side beacon and thruster greeblies. Stabilizer replica by Mojo-Fett. Rocket collar is a custom one off 2 piece aluminum, real dental file from bojagun. "decal" painted on with one of my stencils
Jetpack harness:
BigDane. I replaced the white strapping with the correct 1.5" white webbing and addeds slide adjusters all around for easy adjustment. I also replaced the belt with a real divers belt and an authentic U.S. Divers buckle
Girth belt:
Generic.... one of the few pieces i didnt upgrade yet lol
Ammobelt:
Delta-13
Shin Tools:
​ Made with authentic found parts and aluminum stylus rod replicas from Mojo-Fett
Boots:
MOW with Mojo-Fett toe-spikes
Sidearm:
Real vintage Pulce 40, modded and painted to match screen reference
Sidearm Holster:
Authentic vintage Nemrod with knife sheath removed
EE-3:
Stormrider with authentic vintage scope, authentic vintage correct scope rings, authentic AM plugs, sling from 99centtaco.
Now to the good stuff...the pics lol...
This is a pic taken by my wife with her cell phone so its a bit distorted, but you get the idea. Thw whipcord houseing came off during this suit up but i put it back on and remembered the screws this time lol. Anywho, Im re-debuting it at Wintercon on Saturday here in NY this coming weekend.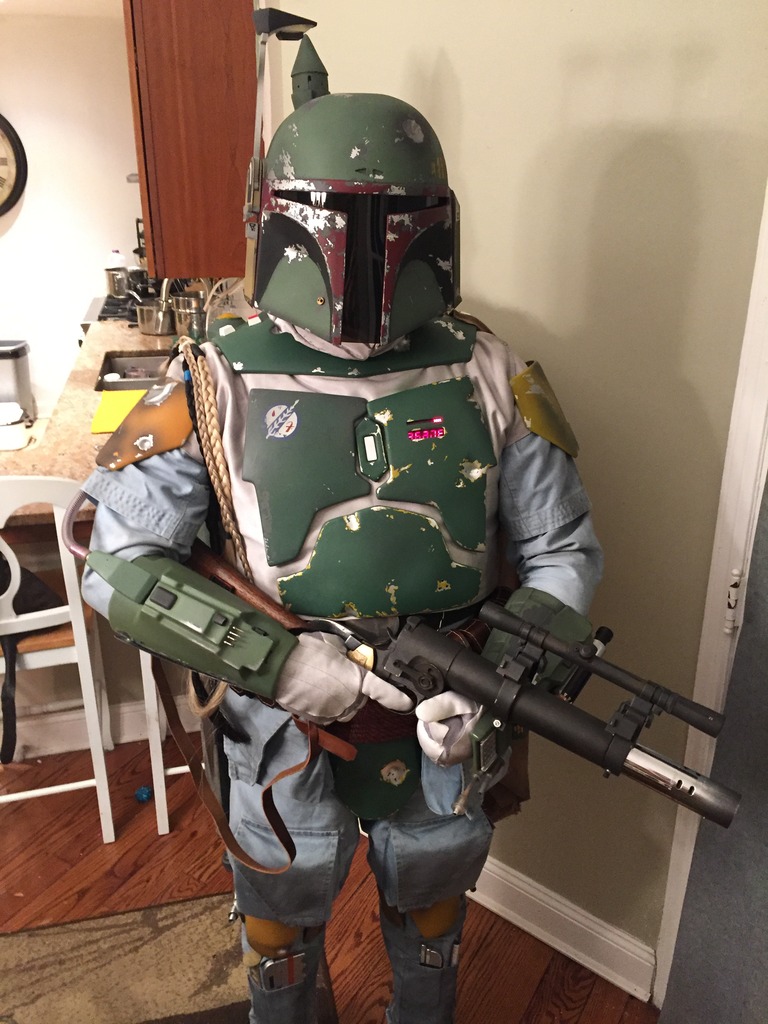 This one is super weird..because of the camera lens distortion and where she was standing , the Jetpack looks HUGE!!! but i can assure you it is not that huge lol. I posted this one for the entertainment factor lol Last edited by a moderator: