I've wanted a Mando helmet for the last 2 years but with Fett's upcoming series, I changed my mind and found the 3D files for Fett's ROTJ helmet a few months ago and started printing. I came across this forum shortly after and realized pretty quick this may not have been the best choice for my very first project ... I've never painted or airbrushed before and wasn't going to post this because I'm not happy with the way it's going but I've learned from others who have posted their mistakes so hopefully this helps (encourages?) someone else to keep trying. This helmet deserves to be done right and I'm willing to start over that's what it takes.
I started with the stencils on the back panels but am not happy with the way it turned out. The scratches were done with some fine sanding instruments and I used a my finger on a brush ("flicked") for some of the speckling / misting but it didn't work out. I don't know if they can "fixed" yet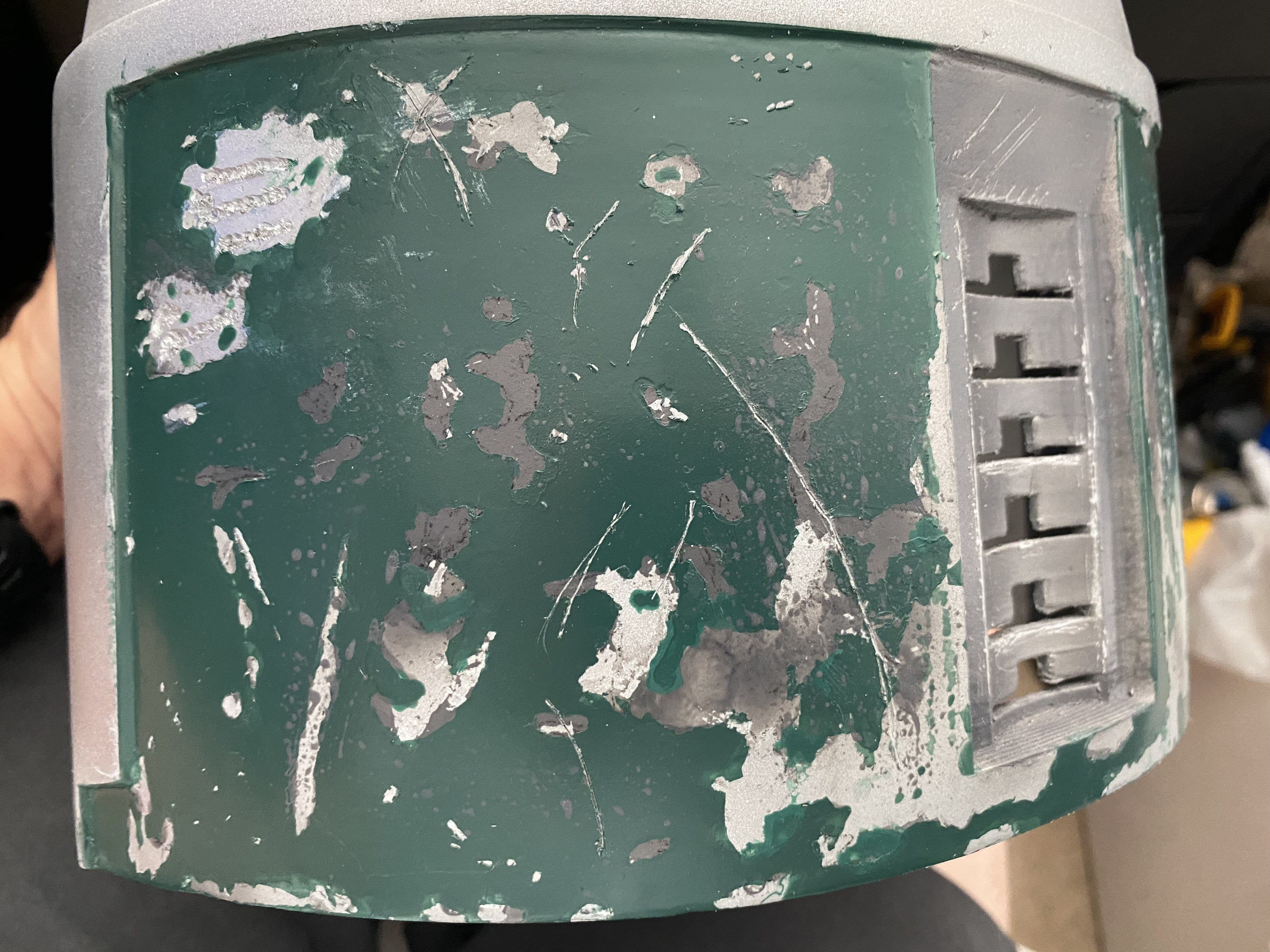 If I knew I could do a much better job the 2nd time around I would sand it all down and start over;
I need help specifically in these 4 areas:
Misting - how do you achieve this blended misting between layers/colors?
Medium-fine detail - these sections are too small to do with masking fluid and would be difficult to scrape off (i would think). The other single-dots or line-of-dots I can do with a toothpick or my fingernail
detail on top of another layer - how do you get these small details without scraping through all the layers?
masking details (?) - I can't seem to get the fine detail using my liquid mask - not sure if it's the brand or if this is done another way

This is the stuff I used (all sourced locally):
Masking fluid: Golden Artist Colors 70016002 QOR 2OZ Masking Fluid
thinner: Golden Airbrush Medium
Paints: Amsterdam Acrylic (standard series) - primary cyan, magenta, yellow and black
Airbrush: Iwata revolution
Compressor: Iwata Neo Air
before I forget - without this community, there's no way I would have tried this; the time it takes to compose your thoughts and detail your experience for the rest of us here is not trivial and is much appreciated - thank you for everything.