I've been so excited to work on this project. After seeing season 2 of The Mandalorian I wanted to make a Bo Katan costume. So I bought some STL files from CGTrader and started printing. I went with Chamanleonfx models cause they seem to be the most accurate. You can find his models here for sale. I highly recommend them. Very nicely made and easy to print.
chamanleonfx | CGTrader
I started with a mix of PLA printed parts and resin printed parts. I assembled most of it and got to work sanding and bondoing. I didn't document that cause it's fairly boring.
I then primed and painted it with a Vallejo black primer. Once I was happy with the coverage I masked off what would be the blue parts. I tried out a bunch of blue colors but went with what everyone else recommended which was Nantucket Blue.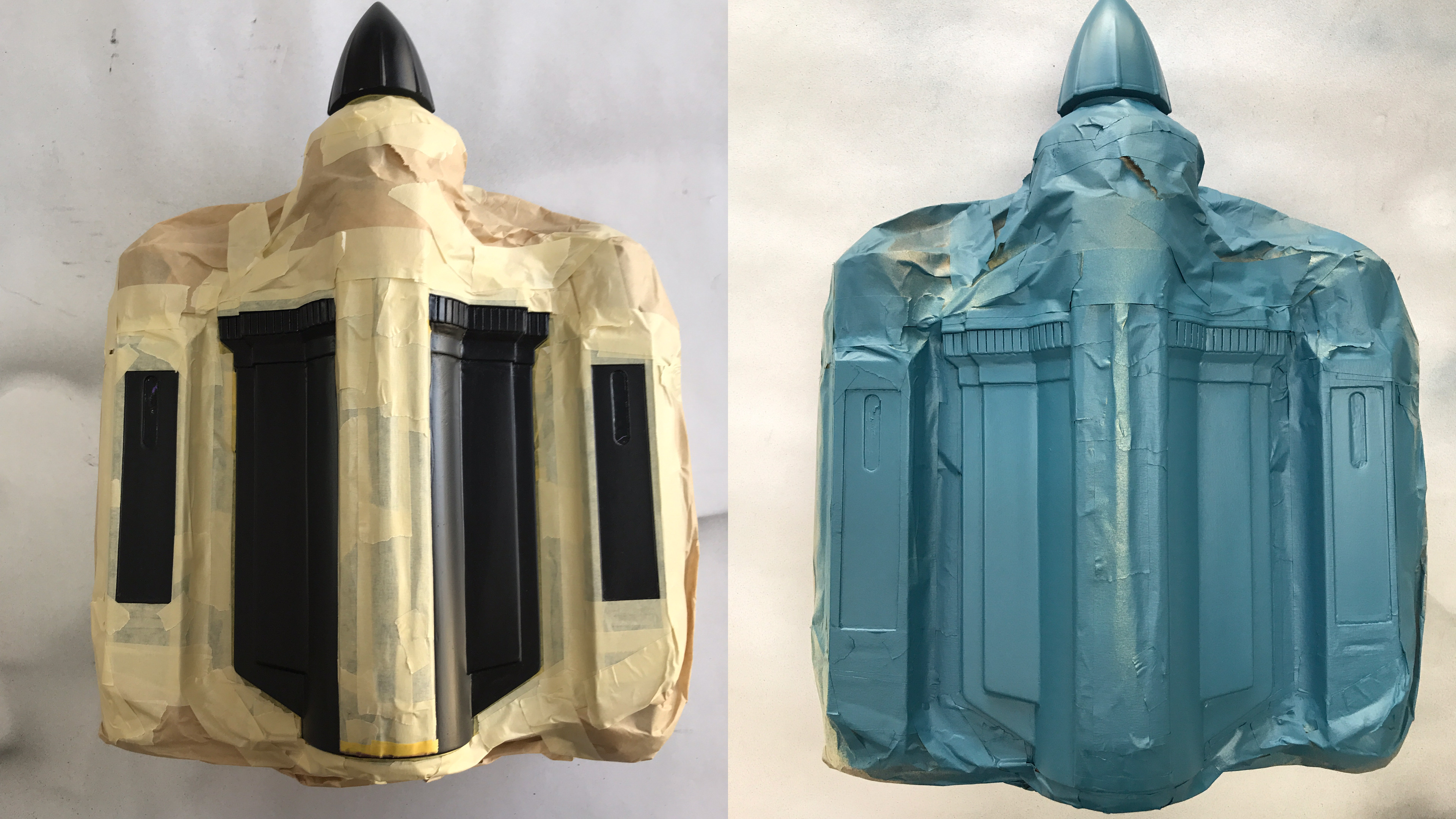 I sprayed it down and was happy with the coverage. I then spattered some lighter blue for texture using a thinned down Humbrol #89
I then did an overspray of thinned down Humbrol #157. I then went back over and dusted the Nantucket Blue over it all to knock it all back
I then removed all the masking tape and moved onto the silver color of the main pack.
The silver on this pack is very hard to pick out. With all the weathering it's hard to judge the base coat. I went with my gut and used AK's Polished Aluminum. I love these paints. They stick well and don't peel off like Alclad and other brands will. I started with the backplate first. I laid down the base coat of aluminum. I masked off the bright silver areas (as seen on Mando's Jetpack) and over sprayed AK's Metallic Smoke to bring some of that darker luster to the silver.
It doesn't look like a big difference but it is in person. I then went in with Vallejo's washes of grey and black. I'd mix the two and go back and forth till I was happy.
I then added some rust and sand colors that I had laying around before calling it done.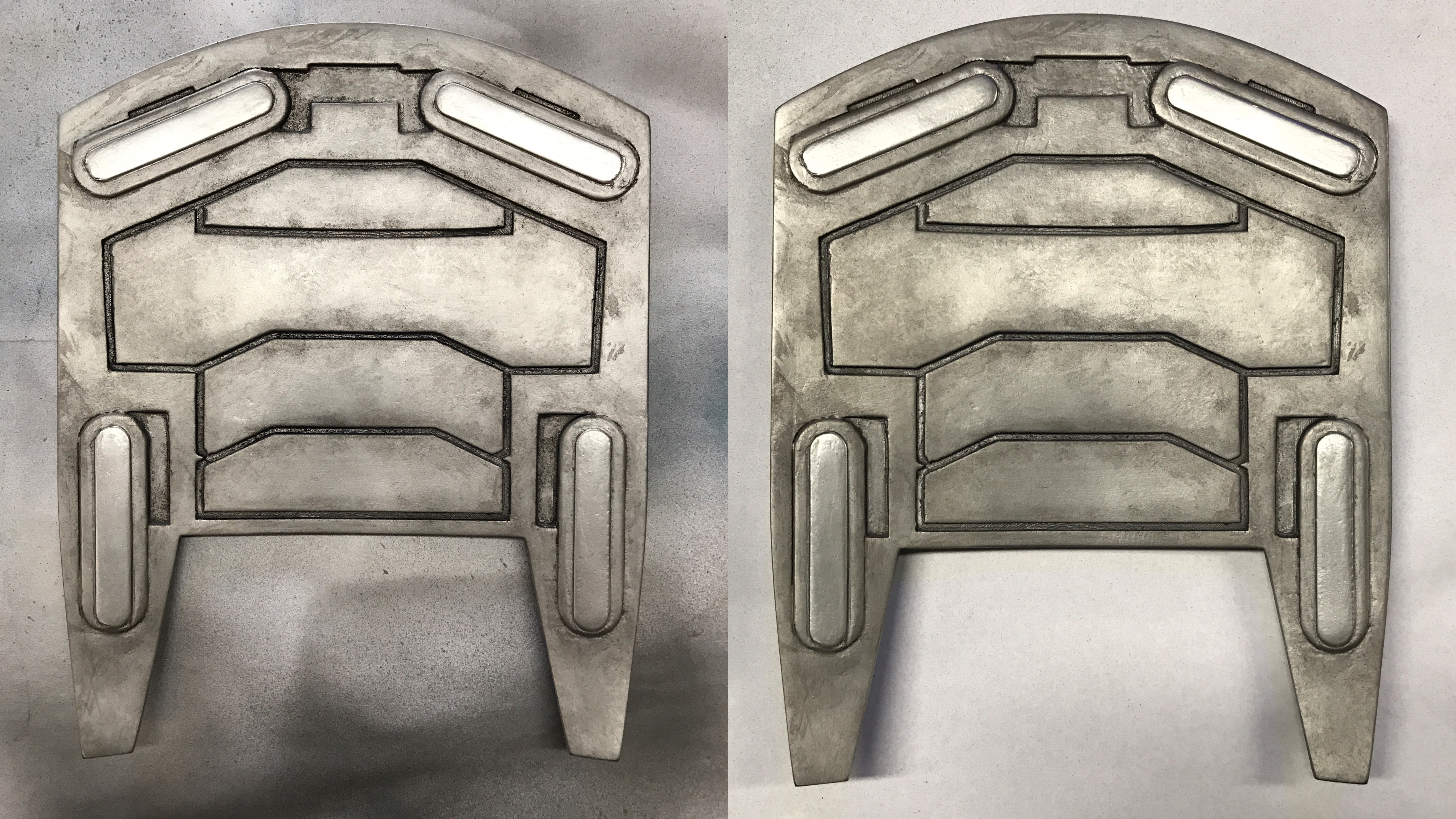 Back to the Jetpack body I went ahead and did the same process. Masked off the blue and laid down the polished aluminum then overspray with metallic smoke.
I then masked off the rings and painted them using Alclad's Chrome. It's not a huge difference but it's noticeable.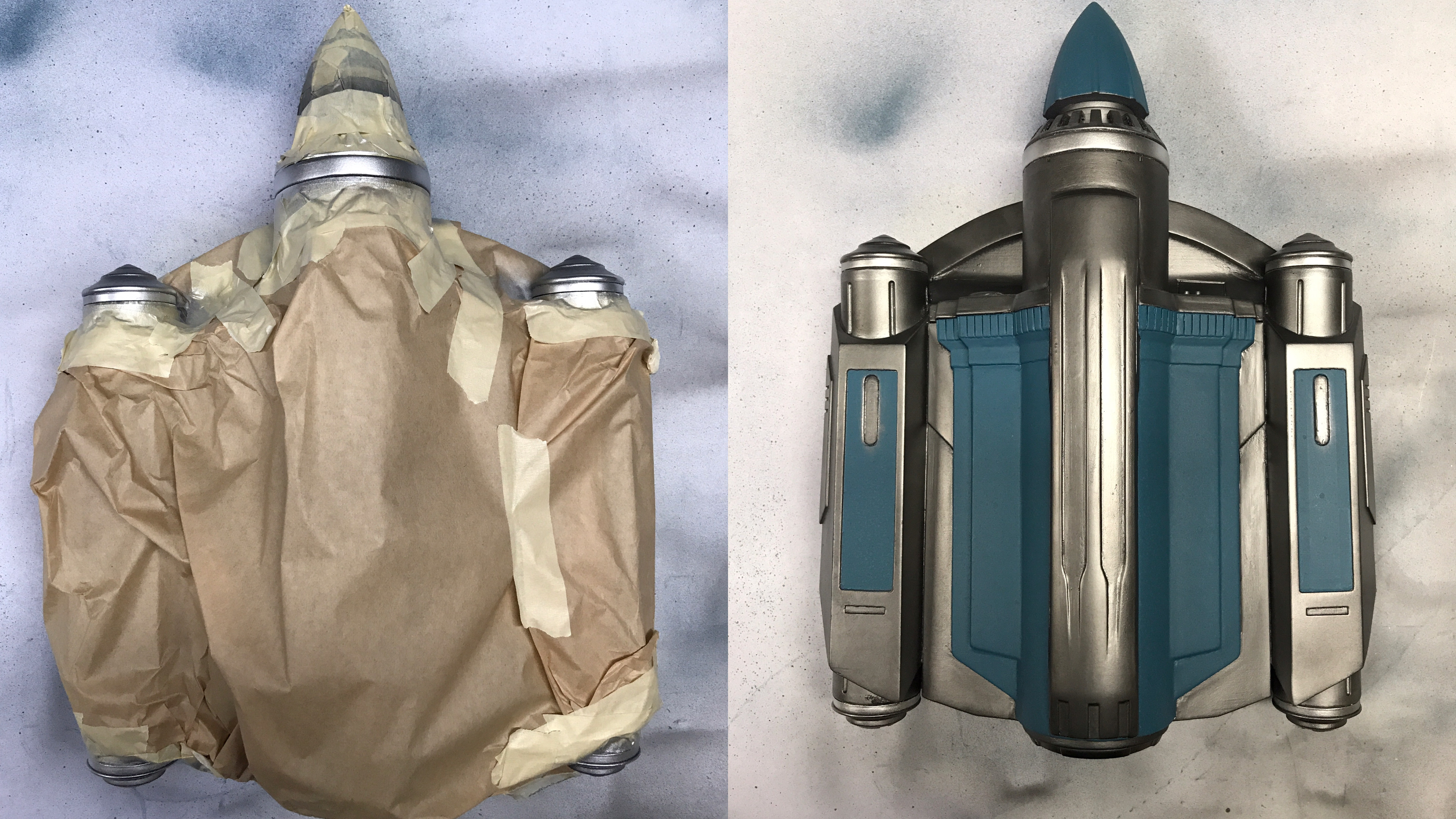 I then went in and painted the triangles on the sides using Humbrol #225
I then went in with the Vallejo washes and went back and forth till I was happy again. After I was happy with the washes I mixed up a thin wash of earth tones and spattered them over the pack quickly knocking them back with a tissue before they dried. I think this gives it that extra bit of texture as seen in Bo Katans armor and helmet. I also buffed down the pack using these 3M pads just to tie everything together.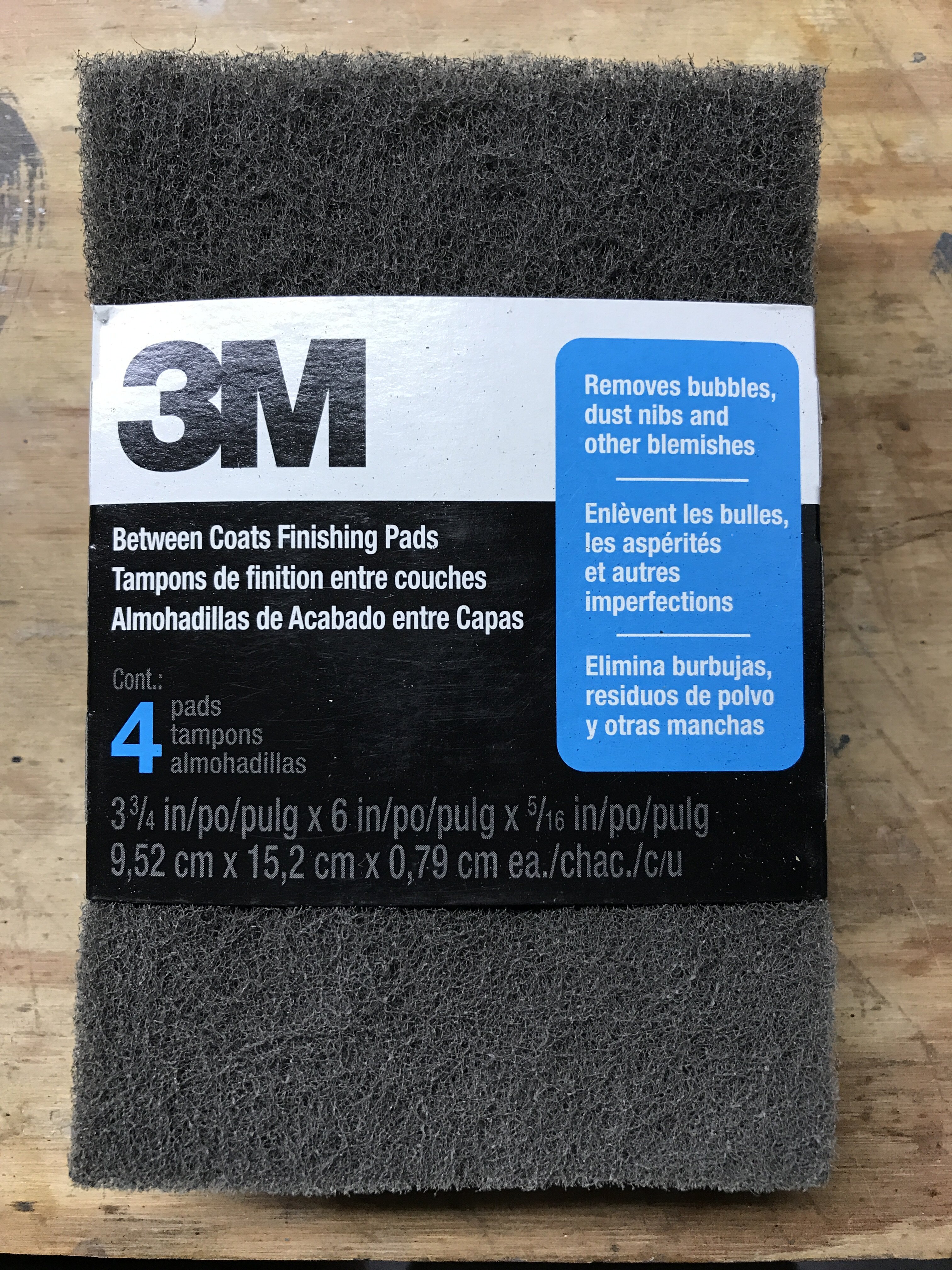 And that's it for the pack for now. I still need to attach the backplate and hardware for mounting. I'll be printing the armor and helmet shortly. Stay tuned!
***Comparison shot***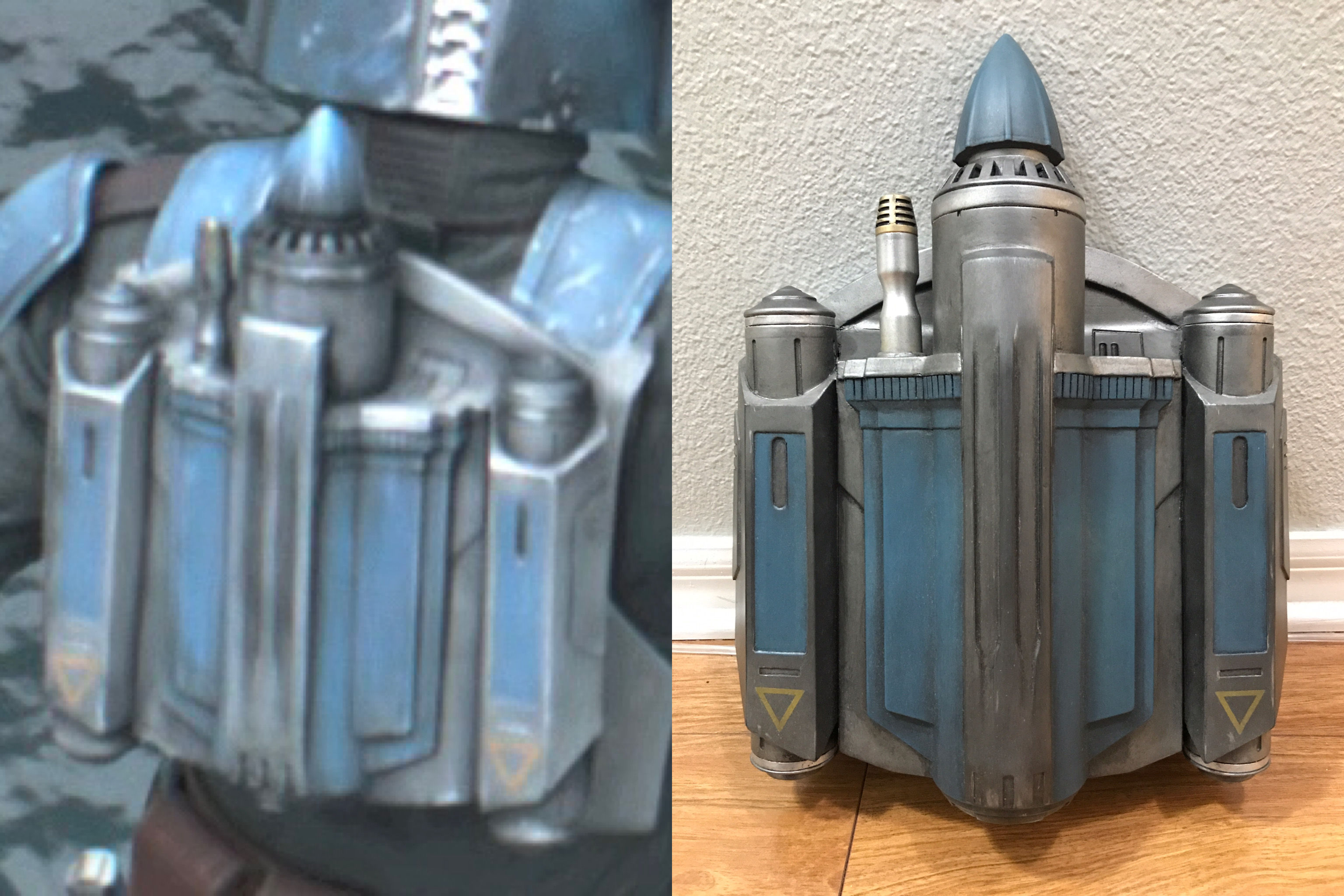 Last edited: