This is my first post, so to start: Hi to all of you!
2016:
By using too little hardening agent on the resin/putty mix for my first right gauntlet mold, after a few months - along with the stench - ugly cracks and wrinkles began to appear:
Late 2017:
Along with some other problems with the model, being a perfectionist led me to the conclusion that I had to do a new, perfect one!
I started with 1mm and 0.5mm polystyrene (PS) sheets (thanks to my local art supplies shop for their great selection and for being cheaper than Amazon!) and WizardOfFlight's gauntlet blueprints, printed out on adhesive full-page A4 labels.
Cutting was done with a generic X-Acto knive, gluing with cyanoacrylate (a.k.a. super glue) and n-Butyl acetate (Revell Contacta Professional, which works great with PS if you have the patience).
Then, I reinforced the structure with polyester resin, glass fibre fabric and putty on the inside.
The polystyrene surface was pretty even so only "little" work had to be done on the outside. Plastic putty, rattle can filler, sanding, some more filler, more sanding, primer, paint coat, sanding,... (rinse and repeat) until everything met my ludicrously high standards.
Drilling holes, cutting threads, hiding magnets, adding hinges.
Those few lines of text are actually many evenings and weekends at my dad's garage and basement. Lazy me took no pictures of the process though... This was the outcome, the upper half with plain silver and clearcoat paint, with no accessories yet:
By using short bursts of chrome effect spray from a great distance I added some shiny speckles, which will become matte when sanded/polished.
Along with Revell Aqua Color "Rust", quite dry, applied with a little sponge or sanding fleece (at least that's what it's called in German - I used 3M Scotch Brite pads) this created a more realistic "dirty" iron/steel metallic effect. Even though little of that effect is visible in the end I think it really looks great and I might incorporate it in a Mandalorian Merc build in the (far) future.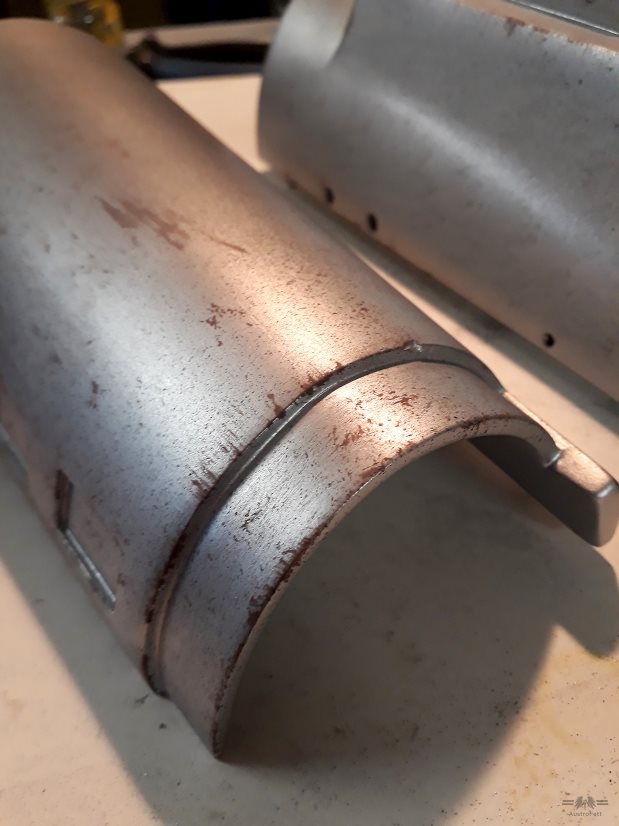 There's more to come soon!
PS: If you have any questions, feel free to ask. I'd be glad to help and give informations. However, with English not being my first language, translating tools and building processes can be quite complicated (especially if you don't even know the proper German word for e.g. "that nut/screw cutting thingy")...
EDITS: Still figuring out how to make thumbnails links to Postimage, worked fine in the preview, but on the final post, URL and IMG tags were replaced by ATTACHs...
Last edited: